Purple Reign: where to find the best wisteria in London
As the capital bursts into bloom, we find ourselves overcome with spell of wisteria hysteria. To satisfy our lilac longings, we've come up with a hitlist of the city's hotspots – and are sharing our wisteria 101 too…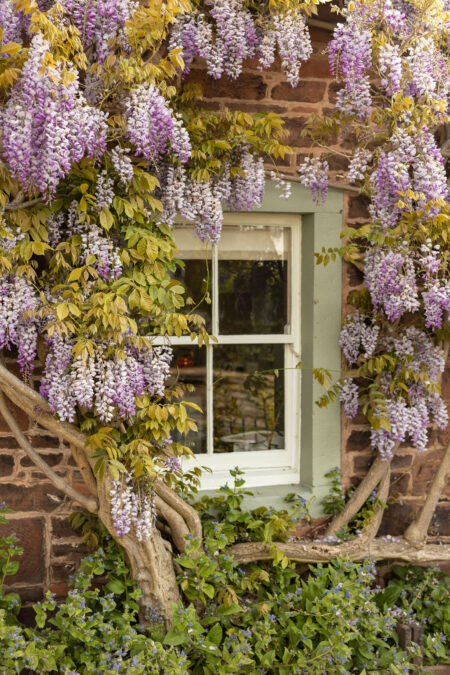 Notting Hill
When the royal purpleness deigns to come into flower, this pretty corner of west London becomes all the more princely, its handsome houses elevated to something spectacular. For the most vibrant vines, Bedford Gardens is a good starting point – it's where this house with the pink door is. Campden Grove and Lansdowne Crescent are also good bets.
Hunter's hint: while Notting Hill has some of the best wisteria around, wander to neighbouring Holland Park before strolling down to Kensington's Kynance Mews and you'll find even more bloom for your buck.
For sale in Notting Hill: Pembridge Mews, London W11
Clapham
We love wisteria for all sorts of reasons: those romantic tumbling racemes, their delicate lilac hue and soft sweet scent, always that bit more discernible on a sunny day. When the weather's right, we recommend a trip to Clapham Common and, specifically, its northern side. Here, many of the brick-fronted houses on Orlando Road, the Chase and Victoria Rise, built for well-to-do Victorians, are swathed in purple petals come May.
On one street, a particularly vigorous plant clambers across nine townhouses – though we're yet to discover exactly where it is… Answers on a postcard, please.
For sale in Clapham: Clapham Manor Street, London SW4
Camden
While Camden is commonly associated with the naughty noughties, perfectly grungy pubs and Dr Martens, there's another side to this part of town that's rather more delicate, when its winsome streets are awash in a purple haze.
In fact, when spring comes, a pair of DMs wouldn't be a bad shout – the perfect footwear for a stomp around Albert and Delancey Streets (round the corner from one another), before you make your way towards Lyme Terrace, right on Regent's Canal. Thence, no doubt feeling inspired, to nearby Camden Garden Centre.
Richmond
A little further out, but worth the jaunt. Wander the streets of this London suburb and you'll find wisteria aplenty. But while many of Richmond's houses are made all the more ravishing by rampant vines come spring (those on Old Palace Lane get an honourable mention), the best can be found at the National Trust's Ham House, an Elizabethan red-brick beauty overlooking the Thames.
And since you're in the area, a trip to Hampton Court Palace, a little further afield, might be sensible. Look out for the particularly exuberant climber scaling a wall, as well as the one surrounding the arch over the gateway leading to the Pond Garden​, which was planted in around 1840.
Peckham
There's more to Peckham Rye Park than just the triangle of green that most first think of. Make your way around the picnickers and bat-and-ballers that flock to its 113 acres on a sunny day and, in the middle of the park, you'll find a string of formal ornamental and water gardens.
Among them is Sexby Garden, created in the Edwardian era and restored in 2005. Small and sweet, it's a lovely spot to linger with a book, but it's the entrance – a dreamily wisteria-draped pergola of poetic plenitude – that warrants its inclusion here. Even if you visit just for that, it'll be worth it. It's best accessed along Strakers Road.
For sale in Peckham: Lyndhurst Way, London SE15
Homeowners' wisteria 101
– If you're thinking of planting a wisteria, remember it doesn't have to just climb a sturdy wall – you can create a pergola or even train it to appear like a tree, using a post. The plant will need lots of sun, though, and watering in dry spells. A new vine will take about three or four years to flower.
– Wisteria doesn't just come in one shade of purple. There are more than a dozen species of this woody twining vine and its flowers can range from mauve-tinged blue to white, by way of lilac and coconut-ice pink.
– It can grow very forcefully and will ramble if ignored. To stop it sprawling out of control, you will need to prune it once in the summer after it's flowered, cutting back the long green whip-like shoots, and again in the winter, when the plant is dormant. The RHS has a good guide here.
– Wisteria generally only flowers once a year, but if you're lucky you might get a second showing come late summer.
– Of course, instead of planting your own wisteria, you could choose to inherit one. Here are some more homes currently on the market that come complete with their own thriving vines:
Vicarage Road, Sheringham, Norfolk
Greyfriars Lane, Pulborough, West Sussex
Church Road, Rotherfield, East Sussex
Church Lane, Lucton, Herefordshire
Main Street, Leiston, Suffolk
Eye Road, Rishangles, Suffolk