A Private View: a Georgian farmhouse in Suffolk as adaptable as it is alluring
Buy the things you love, says Ottilie Stevenson when asked about the key to designing interiors that don't age. And never underestimate the value of storage. As it comes on the market, the textile designer reflects on the many facets of family life in her handsome house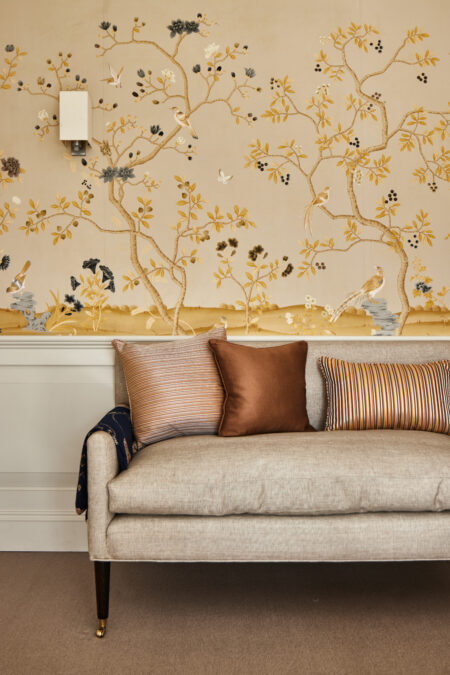 When it comes to redesigning a house, some people start with style. Others are more pragmatic, considering where pots, pans and plugs will go before beginning to dream of paint colours. And then there are the lucky few for whom these two approaches merge to become one, without any hint of contrivance. Ottilie Stevenson is one such person.
The textile designer is quite matter-of-fact when asked about how she reimagined the Georgian farmhouse in Suffolk she and her family have called home for the last 17 years. "The house wasn't listed," she explains, "which was remarkable to me, as it's so pretty, but it was also a real bonus. It meant we could make the changes we wanted to." With three small children tearing around, Ottilie's priority was, she says, "that it worked for us as a family, that it could absorb the inevitable mountain of clutter that children bring – the football boots and the sports bags and the toys – while still looking lovely."
In fact, this logical approach to aesthetics has served her well over the years, first as a wallpaper designer, then as one of textiles (she co-founded Vero Fabrics in 2016). "Getting patterns to repeat while looking beautiful on a flat surface is such an interesting challenge," she says. The dilemmas of home décor, however, are somewhat more three-dimensional. So how did she manage? Ottilie laughs. "On reflection, a lot of the decisions I made came from a desire for practicality. I even installed two pairs of taps in the downstairs loo, so two kids could brush their teeth at the same time without pushing each other out the way."
That explains the functionality. But what about the flair? "I've always been a strong believer in buying the things you love. If you love something enough and try not to overthink it, you'll make it work. Oh, and storage. Lots of storage. Being able to hide mess is vital!"
An air of changeability suffuses this house too. Over the years, Ottilie has developed the outbuildings here beautifully but without specific purposes in mind, and she's keen to expound the benefits of the large, wall-like doors she has installed between rooms to divide – or open up – spaces as desired: "Great when you need to keep an eye on a small person playing."
All these details have been informed by Ottilie's understanding that "life isn't static," she says. "It's made up of chapters. This house has been a wonderful home for us as a family. It was as comfortable for toddlers as it was for teenagers as it was for adults." Now however, with her children grown up and nearly flown from this most nurturing of nests, Ottilie has decided to put the house on the market. "It's time," she says wistfully. "But I'm excited too." And so: a new chapter begins.
"I loved this house from the moment I saw it, but it needed work when we first moved in. It was very 'country', with a dated wooden kitchen and a twee garden filled with box hedging. But because there weren't any listing restrictions, we were free to adjust it as we saw fit. Everything was done slowly, over the course of two years, which – looking back – was quite a wild time. It was stressful but so rewarding – and the kids had a great time: they could paint on the floor and draw on the walls as we knew they were all going to come out.
"Having always worked in interiors, I had a clear vision of how I wanted the house to work – and at the core of that was storage. That was, in every room, my starting point; I knew that otherwise, with kids, I was going to spend my life clearing surfaces and floors. Just think: three children with two feet each, for instance, means a lot of shoes – hence the shoe cupboard. It's a bit mad to say, but I love that shoe cupboard. We even have a bread drawer here, at the suggestion of a friend who helped me with the kitchen. When she said it, I thought: 'Who has a bloody bread drawer?!', but now I love it – no bagels on the kitchen counter!
"All the spaces have been properly considered and as a consequence I've never really had to redo them. I zhuzhed things up two years ago, but I've never had to reconfigure them. Elements have naturally evolved over the years – I've changed fabrics here and there, and new bits of furniture have come in, but what's amazing about this house is the way it absorbs things. For instance, many of the antiques only came here when my grandparents died, yet somehow – perhaps it's the classic Georgian proportions of the room – they seem to fit. I've since added to them – In da Cottage and Dix-Sept Antiques, both in Framlingham, are my favourite shops.
"The kitchen was extended a few years ago and then the coach house was converted. That space has been wonderful. At various points in time I've run my business there, it's been a studio, a music room, a gym, a teenage hangout for parties and gaming. It's had all sorts guises.
"The key to longevity in a house is flexibility – not just being able to change a room's function in the long-term but in the short-term too. That's why I've installed the large doors that close off the kitchen from the room behind it; they're like false walls. Having them open can be lovely, but being able to close them – and any mess you can't quite be bothered to deal with at that moment – is also fantastic. I think they also appeal to my childlike desire for surprise. I still find the idea of a hidden jib door so enchanting.
"The two things you can never change about a house are its outlook and its location; we're very lucky in both of those respects here. We're 20 minutes from the coast, eight from the local market town, 20 from Woodbridge… And the views are exceptional. Upstairs, staring out across the fields is like looking at a painting, except better: the scenes change throughout the seasons and with the weather, sometimes the hares and deer dance across the frame.
"Having something beautiful to look at matters to me. I have a number of paintings by Rob Wyn Yates, which I love, and having those views has been a great joy. I designed my bedroom with that in mind too; when the curtains are closed, I can get lost in the gorgeous Fromental chinoiserie paper on the walls. I turn the lights down so that the gold glimmers and it's just me, the birds and the butterflies. That is happiness."
Further reading