A Home With a History: Paul Benney and Renata Adela's self-designed artist retreat in rural Suffolk
Inigo pays a visit to Colmena House, the home of artists Paul Benney and Renata Adela, to learn how the threads of the house were woven together and why they take a monastic approach to their workspaces
Words

Celia Lyttleton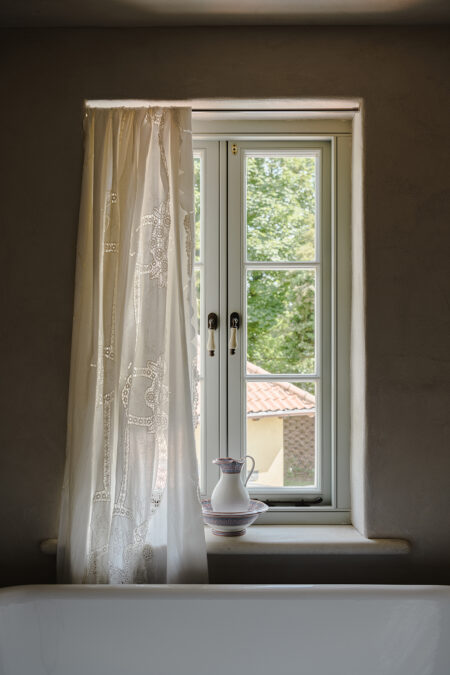 Colmena House, loosely modelled on a French manoir, is a far cry from the timber-framed, pink-painted vernacular so typical of rural Suffolk, where artists Paul Benney and Renata Adela live, paint and sculpt. Colmena, a terracotta-coloured house built from scratch and finished only weeks ago, is a feat of imagination and technical innovation, gleaning inspiration from antiquities and architectural salvage but made in the modern age. Stepping into the entrance hall, with its baptismal font, church candlesticks, columns and arches, the feel is that of a Byzantine church: consummately calm, spacious and spiritual.
It is the perfect setting for its inhabitants to work in. Paul is a prolific artist with work in the Metropolitan Museum of Art in New York, The Royal Collection and The National Portrait Gallery, to name a few, and he has immortalised through paint and canvas the great and the good: among them Cate Blanchett, Queen Elizabeth II, Sir Mick Jagger, and the late Marquess of Bath. Currently, Lord Darzi, an Iraqi-British surgeon, is sitting for Paul.
Renata, meanwhile, works figuratively in all kinds of media: clay, bronze, oils, pastels, etching, embroidery in the form of tapestries, and she draws masterfully too. Recently her work was selected for the Royal Academy Summer Exhibition, and she is showing in Venice at the Spazio Arte, a gallery on the Grand Canal near the Guggenheim, this September.
Here, having recently finished Colmena – named after the Spanish word for beehive ("We are building a hive," explains Renata) – Paul and Renata reflect on its unusual conception, why less is more when it comes to art in the house and the ideas driving the work they are currently making.
Paul: "The ideas for the house were threads that came together gradually. Renata is of Spanish heritage and we have spent a lot of time in the Mediterranean. In France, we discovered architectural salvage yards filled with remnants from tumbledown chateaux. We started to collect tons of tiles, bricks and architectural oddities, which we stored and then had shipped over here. In that period we were designing the house and everything we bought was incorporated into the plan.
"Usually the design and measurements of a house come first and then you source the materials, only we did it the other way round. For instance, the kitchen size was dictated by the number of tiles we had for the floor. The pillars in the hall, the columns, all the door surrounds and window lintels were made by a French stonemason, a friend. Similarly, the height of the pillars and columns dictated the height of the rooms. It wasn't a retrofit per se, but everything we collected was integral to the home's construction. As artists, we feel this house is more of a sculpture, reflecting everything we cherish, rather than an architectural statement."
Renata: "Sightseeing in Rome, we were struck by the aesthetics of classical proportions, so the house is partly based on the geometry of the ancient Roman architect Vitruvius. It is an aesthetic that is pared down – restrained and yet lush. We have an innate feeling that the house tells us what it wants. It doesn't want to be overwhelmed, so there are no cupboards in the kitchen. The kitchen is saying, 'Leave me alone!'
"So often, especially with the English country house style, the proportions of an interior get completely lost because rooms are too full of 'stuff' and pictures; you can barely see a wall. We have kept our walls bare, so you are aware of the dimensions. The finish throughout is simply lime plaster. Not painted, not waxed. The reflected light from outside changes the colour of the plaster and the tiles with a pinkish hue. Upstairs, you might get a green haze."
Paul: "We used a golden ratio divider to design the entire house, which gives it the classical proportions – some 20th-century architects like Le Corbusier proportioned their buildings to approximate the golden ratio, as it is aesthetically pleasing. It is an ancient practice and philosophy stemming from ancient Greek geometry, Euclid in particular.
"It took four years to build the house. Our builder, Lex Zarins, is superlative – he took on the challenging task and completed it with perfection. We are also indebted to Roland Foppa, a master craftsman, for all the tiles and stonework around the house.
"The sitting room contains many curiosities and artefacts, like the stuffed ravens from the Tower of London, which were given to me by my father when I was only 15. There are large disc plates worn by Ethiopian women of the Mursi tribe; fossilised faeces; arrow and spearheads found on our land, and intricately carved ivory cricket cages and an ivory dragon hatching from an egg. The hearthstone is from a Roman pavement and on either side of the fireplace are ghee lamps and beneath it a stuffed badger – our guardian of the hearth."
Renata: "In Roman terms, the garden room is an internal courtyard with a skylight. It's there that I am making an embroidery of the Tower of Babel on Fire – my last one sold and I'm compelled to make a bigger, slightly different one. The anteroom between the garden room and hall is a modest gallery and showcase for our work. Displayed is a tapestry Kourous Thanatos, a glass phallus and a Dadaist hairbrush, All of This in Her Dark Hair; the bristles are match sticks."
Paul: "I have recently hung Conceptus and some new paintings done in lockdown, which are a series of Pinocchio figures referencing the post-truth times we are living in. It also relates to the beaked masks filled with fumigating spices Venetian physicians wore to combat the Bubonic plague. There is a portrait of the former Bishop of London, Richard Chartres, and a scrying mirror portrait of Renata, her face gradually appearing beneath the obsidian resin. The image exists on the very edge of perception and the viewer is left to discover something for themselves."
Renata: "Upstairs, we fitted 16th-century, hand-painted Florentine doors from the dressing room to the travertine-floored bathroom. The bedrooms curtains are linen, and there are some looking glasses and Jacobean chests – it's quite monastic in some ways. It makes you feel calm when your brain fizzes over and you need to empty your mind, which is why we only have art in a few designated places. One doesn't want to be distracted. We have our studios to show work if people want to see it.
"I cleared out my studio to make space for a large painting, for which I am making preparatory sketches, and a series of gynaecological models from 18th-century midwifery models – a uterus, umbilical cords stirrups. This midwife made models out of fabric, so I am making soft sculptures out of calico and cord.
"I'm also making pen and ink and graphite studies from Velasquez's Las Meninas and works by Goya. They are not copies but reinterpretations and will be included in my Venice exhibition. Embroidery and drawing are an integral part of my art practise."
Paul: "Like many Renaissance painters, I was an apprentice to my father, who himself was a master silversmith (by Royal Appointment). As a young man and teenager, I learnt the tenets of craftsmanship and a rigorous sense of discipline. This has informed my work ever since.
"At the moment, I am completing a large triptych for Winchester Cathedral. I also have a painting of Grenfell Tower still in the studio. It was painted from a friend's garden underneath the tower less than a week after the fire. The RBCK and the Government Art Collection baulked at acquiring it, even though I offered to donate the proceeds directly to Justice 4 Grenfell. It is an outrage considering how much money the Royal Borough have, and I believe this painting needs to be seen in a public space. My only recourse would be to flag it with someone like Stormzy, who has campaigned for 'Justice 4 Grenfell' tirelessly."
Further Reading
Renata Adela on Instagram