Home Improvements: Eva Sonaike's guide to mastering colour and pattern
The designer and founder of eponymous interiors brand on weaving possibility and personality into your home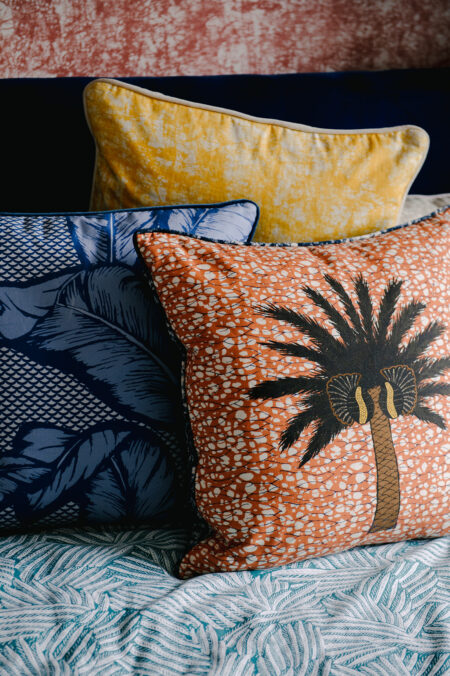 For many people, the idea of painting a room with bright colours or introducing clashing patterns can be pretty daunting. It can be tempting to take the easy route, to pick out neutral colours for the walls or soft furnishings in plain tones. Yet embracing colour and pattern is one way to stamp your personality on the place where you live, and it can have a big impact on your mood when you're at home.
Self-expression through interior decoration is central to designer Eva Sonaike's approach, who launched her eponymous homewares brand in 2009. Guided by an ethos of "bringing colour to life", Eva's range of cushions, rugs, furniture, wallpaper, lighting, and fabric by the metre draws on the traditional vibrant textiles of her West African heritage. Bold and bright colours and patterns inspired by a West African way of life are combined with European antique and mid-century furniture traditions that she experienced growing up in Germany, as well as from her experience as a trend forecaster and fashion journalist.
As Eva pointed out when Inigo caught up with her, there's no reason anyone should lack confidence when it comes to interior design. "These days, people are quite happy experimenting when it comes to the clothes they wear; they should feel the same way when it comes to their homes." Here the designer offers five ways to begin to experiment with colour and pattern at home.
Don't be afraid to use your favourite colour as an accent, or even for a full room
People often say to me that they don't know how to use colour in their home. There's a tendency to just rely on beiges and whites, which can look stunning, but when your walls are plain you need to know how to work with texture and pattern. Research shows there's real evidence that colours can have a major impact on happiness and wellbeing, so it's something important to think about.
An easy way to begin integrating different colours is to simply use your favourite colour. Soft furnishings are a perfect way to introduce colour – you can use cushions or throws – or perhaps you could have a beautiful artwork in your preferred shades. Start small and build up from there.
Make a chart to experiment with colour combinations – paint samples are great
Rather than looking to colour wheels, which can be quite cold and scientific, it can be useful to make your own chart. Most DIY shops these days have a great range of colour samples – I can spend hours there choosing colours. I would recommend buying a range of colours, painting them out onto a piece of paper, and playing with combining them in different ways. I always think you won't know what works until you try it, so cut them up, paste them on the walls and see what you like.
Another simple way to play with colour is to use flowers. Follow what's in season – try peonies, roses or tulips in different colours, for example, and see how you feel about it.
When combining patterns, look at the shapes
Less is more with patterns. There are people who are great at pattern clashing but you need to know what you doing. Start with just one or two patterns with complementary colours and shapes – round shapes with round, geometric with geometric. Be careful that it doesn't become too overpowering. On a recent project, for example, I used some really beautiful patterned cushions and alternated these with cushions in plain velvet, to avoid it becoming too much.
If you are looking at pattern clashing, mixing stripes and floral is the more conservative approach but can be really beautiful.
Once you've found your shapes, don't be afraid to play around with the scale of the shapes that match
It's important to think about scale as well as colour. Look for patterns that are similar shapes – I always tend to gravitate towards geometric shapes – but that are of different sizes. It can often look like they would clash horribly but the results can be surprising.
The majority of textile houses offer a sampling service, including us. Order your samples, cut them into smaller pieces and hang them in the space, against the light. You will quickly be able to tell what works and what doesn't. Your eye normally doesn't lie.
Don't be afraid to break the rules. It's your home!
It's possible to take interior design far too seriously. People can get really nervous about making decisions that reflect their personality, but it's important to remember that it's your home. In the past, I've painted whole rooms in my house and a month later realised that it doesn't work and painted it again. It's not the end of the world.
I think your hallway is a great place to start experimenting. They're normally small, quiet places and you can make a real statement there, playing with colours, textures and clashing patterns until you get it right. Be experimental!
FURTHER READING
Eva Soniake on Instagram