A Place Like No Other: the mysteries of Suffolk Pink
Inigo investigates the somewhat murky history of the east English county's signature architectural colour, which has been around, in one form or other, since the fourteenth century
Words

Alice Wright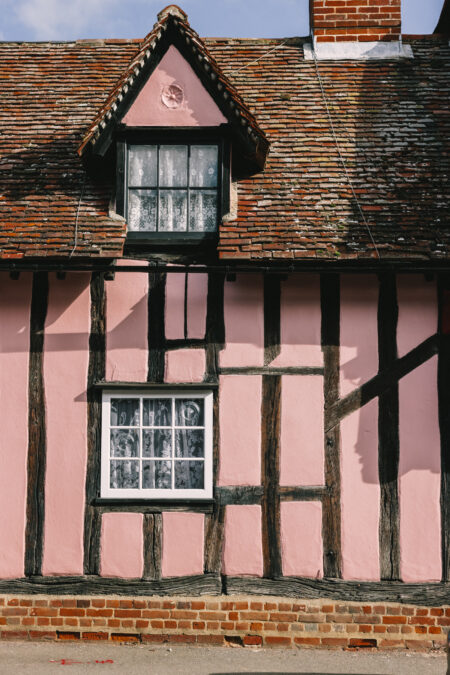 "Suffolk Pink" is the name given to the unique shade of pink found in abundance on the buildings of Suffolk. Its murky origins are often indistinguishable between local legend and historical fact. What is indisputable is that the colour's mysterious strands are inextricably embedded within Suffolk's geography and architectural idiosyncrasies.
Use of the colour can be dated back to at least the 14th century, from the traditional practice of adding limewash to natural ingredients native to Suffolk, such as ox blood, sloe berries, elderberries and Blackthorn. The limewash, it is believed, was used to protect the houses, and the ox-blood to thicken the paint – a necessary addition, as Suffolk had no brickworks or quarries so homes were put together with flint and similar stones, or clay and timber.
The mixing of beautiful dyes is woven into the fabric of Suffolk's heritage since much of its wealth was built on the cloth trade, in places such as Long Melford and Lavenham. Lavenham retains many Suffolk Pink cottages, just as it did when Robert Louis Stevenson visited the village in 1873 and claimed it looked like "what ought to be in a novel."
"My grandmother felt very strongly about it. She was adamant it should be a dark pink."
– Angela Brown
Yet other theories surrounding the curious colour abound. These include the thought that the more reddish hues are created from ladies-bedstraw mauves or from sloes and damsons. "Its origins have always been a matter of conjecture in our family," says Angela Brown of the Suffolk Institute of Archaeology & History, whose roots in Suffolk go back centuries. "My grandmother felt very strongly about it. She was adamant it should be a dark pink, as she was of the opinion damson skins were used as the dye."
Tony Redman, a chartered building surveyor and historic buildings consultant, says that all the stories are possible, but that "most of my reading has suggested that this was made by either adding crushed brick, burnt clay (to make red ochre) or burnt ironstones, all of which would have been readily available locally. The uses of fire and water and earth were significant protecting influences to superstitious medieval builders."
"The use of Suffolk pink is restricted by a series of quirky bylaws and regulations"
Redman believes Suffolk Pink has such an enduring appeal because "it has become part of our identity, but also a cliché. I don't think there ever was a standard pink until the Victorians experimented and industrialised the process of paint dyes." Indeed, there is concern that the lighter shades – what is now most recognisable as "pink" – have corrupted the traditional colour. Suffolk Council are even more cynical, suggesting on their website that it is the commercial marketing of 'Suffolk Pink' in the early 20th century that has led to an over-egged perception of the long tradition of the colour.
Though this may well be true, the use of Suffolk pink is nonetheless restricted and protected by a series of quirky bylaws and regulations. One cannot simply buy a romantic English cottage in Suffolk and paint it pink. Such behaviour could could get you into trouble with planning permission authorities, English Heritage and protective neighbours.
The most high-profile case came in 2013 when Marco Pierre White was forced by residents and the council to repaint his newly acquired restaurant in Lavenham, and to agree the new colour with English Heritage – the first time he had chosen an incorrect "blancmange" shade that, while it perhaps appropriately gastronomic, was certainly was not in keeping with the area.
"Of course, this rather bold palette is not for everyone…"
The style of Suffolk Pink buildings varies greatly from moated manors to quaint cottages but broadly speaking, they often tend to have thatched roofs, beamed interiors and over-sailing upper storeys. There are various shades of pink throughout the county, and particular areas tend to prefer a particular shade and expect other pink buildings in the area to conform. "Most of the pink houses tend to be in the category of small 'hall houses'," says Bowman. "Many have charm but are not the large lordly halls such as Fleming Hall."
Famous impressions of Suffolk cottages, and their variety of colour are depicted in the paintings of Thomas Gainsborough and John Constable. Gainsborough, who was a founding member of the Royal Academy, depicts St Mary's Church in Hadleigh and its surrounding cottages in his c.1748 painting of the same name. There is still Suffolk Pink in the buildings of the town today, such as The George pub.
Of course, this rather bold palette is not necessarily for everyone. Alison Bowman, a Suffolk-based art historian and curator of the Lanman Museum at Framlingham Castle, lives in a Suffolk Pink home herself, but hates it. "Pink is my least favourite colour," she says. "This dislike is compounded when houses have the woodwork painted blue which also seems to be part of the tradition." But Suffolk Pink is about rural character and charm, it will never please everyone – and it doesn't have to.
FURTHER READING