A Room of One's Own: lush fabrics and family keepsakes appear throughout Lonika Chande's bedroom
The designer gives Inigo a glimpse of the sumptuous sleeping quarters inside her 19th century cottage
Words

Natasha Levy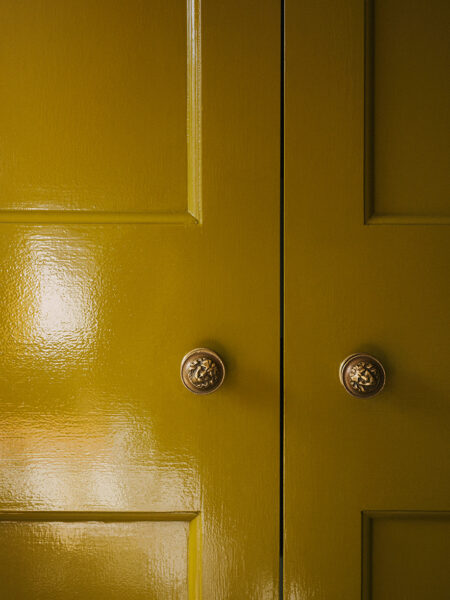 "It's pretty much all bed" says Lonika Chande when describing her modestly sized bedroom, "but I thought it may as well be a nice bedroom, so I just went all out." It's not unusual for the west London-based designer to take this approach with interiors. Peruse the projects she's completed at her eponymous studio and you'll see that no matter the scale of a space, she indulgently uses colour, fabric, texture and pattern to make it look both inviting and well-lived in. Her own sleeping quarters, no less, are adorned with plump, hand-embroidered cushions, Chinoiserie-style cabinets and a rather palatial-looking yellow canopy that gently spills down from the ceiling.
However, as much as the bedroom serves as a calm haven for Lonika and her husband, who have two young children, it is also a repository of memories. From the stripey headboard upholstered in leftover fabric from her wedding décor to an embroidered artwork crafted by her great-great aunt, the designer has squeezed in plenty of personal mementos which only add more richness to the space. Below Lonika talks more about meaningful keepsakes, her Indian heritage and the art of clashing prints.
"You want a room to feel like it has evolved naturally."
"One of the things that sold the house to us was the beautiful big sash windows in the bedroom. It's not a huge room but it does overlook the street, so we wanted to get blinds in there – I picked the sunniest linen I could find and had some really relaxed Roman blinds made.
"There was a chimney breast already there that we decided not to take out. Instead we made a feature out of it, using the niches either side to put our bedside tables in. That provided the perfect backdrop for our headboard; we had some fabric left over from our wedding, a sort of striped deck chair fabric which we'd rigged up behind the top table, so we used that to cover our headboard.
"Textiles heavily influence my work, and I think fabrics add softness to space. I kept the walls in the bedroom pretty light, but as they were quite plain I felt it really needed the canopy. There's the tactile nature of having some fabric behind you, it feels very cosy – I'm big on cosy, and comfort. It also feels quite luxurious having fabric over your head in a bedroom. Some people like having a piece of art above their head, some people don't, but fabric is actually a good midway because it has that softness and character.
"I hate the word "theme", but fabric is something that I tend to use a lot. I try to incorporate it as much as possible into any room that I design, even if it's a bathroom or kitchen.
"A yellow block-print fabric from Jaipur was used to line the bed canopy. I also use a lot of block prints and Indian fabrics in my work, I'm really heavily influenced by that. I'm half Indian and have traveled quite a lot around there over the years. Not so much to see family, because sadly they don't live there anymore, but I just find it very inspiring. I guess that's what kick-started my career many years ago, when I travelled there after university. India has always been a special place for me.
"On top of the wardrobe there's also a pelmet I designed, which a builder made up for me. It's sort of inspired by Indian palaces but done in Kensal Rise [laughs] so not quite the same!
"I always think it's nice to have something that's not obviously matching, something a little bit off."
"Because it is such a small room, we have tried to maximise space. We have a bank of wardrobes on the opposite side of the room which I painted  in a gloss paint because it has reflective qualities so it gives extra depth of colour.
"Maybe my combinations of colour can be a bit unusual, but I always think it's nice to have something that's not obviously matching, something a little bit off. I guess it's just part of my DNA and how I put stuff together. There is also an element of trial and error; I think your house is the perfect backdrop for that because you can be a bit experimental and you can try out things that you don't know are going to work on clients. I think this room is a good indication of my style…things do clash.
"You want a room to feel like it has evolved naturally – sometimes, even when it hasn't, I've gone rooting around in my mum's back room or something to give it that feel. But with the bedroom, it legitimately did come together over time. With the bedside tables, it had been a question of needing bedsides that had storage and I'd seen these pretty "Han"-style Chinoiserie cabinets. They're new rather than old, which is quite unusual for me, but it was quite hard to find a matching pair. The cushions on the bed I picked up from one of my favourite fabric houses, Vanderhurd, and a vintage textile designer called Penny Worrall.
"In my home, it's the pieces that people have made which mean the most."
"I think my favourite things in the room are probably a few of the pieces of art. There's a crewel-work bird in there that was hand-embroidered by my great-great aunt, so that's very special. It was my grandma's, and then my mum begged my grandma give it to her, and then I begged my mum to give it to me. There's also a beaded piece that belonged to granny on my dad's side who passed away. We're quite an arty family. In my home, it's the pieces that people have made which mean the most.
"The bedroom's the only space where the kids can't really get to, we don't really let them in very much so it's a safe place to keep nice things [laughs]. It's our sanctuary; the rest of the house, which is quite a small cottage, is full of the kids' stuff. I would love to spend more time in there but it's just not realistic for our lives at the moment, we're both incredibly busy – it's literally a place that we rest, so I have tried to make the bed as comfortable as possible.
"A lot of the rooms in the house have changed function over the last few years. In the bedroom itself, I've swapped around a lot of rugs. I have swapped artworks in there as well and little postcards, just light stuff. As things get given to you, you can then swap out something else.
"I don't think any room is ever finished. It's always evolving, changing as your needs and the space shift together."
FURTHER READING
Lonika Chande on Instagram 
The Indian Textile Sourcebook: Patterns and Techniques, Avalon Fotheringham, 2019