Home Improvements: Benedict Foley shares expert advice on how to frame a piece of art
The frame that surrounds your artwork shouldn't merely be a second thought
Words

Natasha Levy

Photography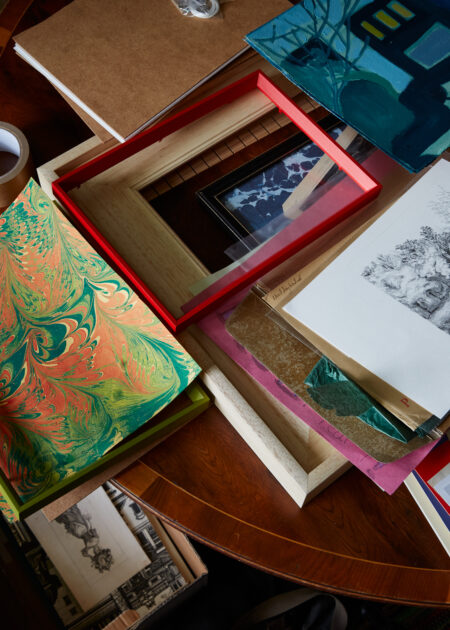 Sourcing the correct frame for a picture can often be a bewildering and frustrating experience, even for those who consider themselves design-savvy. After the joy of finding a photo, painting, drawing or sketch that takes your fancy, there then comes the daunting question of how to present it in your home – do you opt for a modern black trim, a simple wooden border or something elaborately gilded? There's also the matter of where to put it; should you go traditional and hang it on a wall, or perhaps consider perching it on a bare mantelpiece?
Making the decision process markedly easier is creative Benedict Foley, whose London-based gallery and consultancy company A.Prin Art helps individuals grow their personal art collections, match their chosen works with complementary frames, and advises on where pieces should be placed inside the home. Benedict also heads up antiques dealer Foley & Prin, and has even recently released his own range of ready-made picture frames – a move which he tells Inigo was fuelled by his natural inclination to challenge and reimagine "static" areas of design.
We tapped into Benedict's rich expertise and asked him to share some tips and tricks for framing and incorporating art in your dwelling.
Why is it important to choose the correct frame?
Once your artwork is framed, the whole thing becomes one object. It's all about context – a pleasingly decorative work can look really special in the right frame or can be killed by the wrong frame. If you don't get the frame right, you might think your choice of artwork is the issue and not enjoy living with it as much as you could have done.
What are three key factors to consider when selecting a frame?
Its colour should be complimentary, not antagonistic to the work.
Weight is more important than size – a large but very thinly framed work doesn't have nearly as much impact as a smaller, deeply framed one.
Framing is a language, and like any language, effective communication is down to vocabulary. Most people don't have time to acquire the vocabulary, so a trusted source is the first and foremost factor: find a good framer whose style you like and build a relationship with them. They will provide you with a safe space to try out your choices and guide you to a good outcome. In current times, Instagram is an ideal as a place to get to know a framer. Good high street framers will also have works hanging in their shop as examples of what they do well.
Where in the home should artworks be displayed?
I love artworks in every room of the house. Just make sure that they will withstand any localised atmospheric conditions for example, don't hang works on paper in full sunlight.
Hang things where you see them, and not just in the middle of a wall. If you have a big wall and only one picture, it's better to put it near a lamp, for instance, where the picture will be well lit, and add more to the wall later. Don't leave a lonely picture marooned far out in a sea of plaster!
Have fun – small artworks particularly are ideal for propping on a mantlepiece, or on your working-from-home desk. Remember, art gives you the opportunity to have the view of your choice, regardless of your current bricks-and-mortar situation.
Any framing faux pas that should be avoided?
The list is far too long to even begin to do this question justice! Here are a select few: avoid machine finished mouldings, they have little veracity and it is highly unlikely that something spat out of a factory will look happy next to an artist's handwork. Don't go big on mounts; a big mount generally does not make a small work look bigger – it makes it look like a small work in a big mount. Also avoid multiple window mounts, which are very distracting, you can't see the artwork because you eye is trying to count all the recessive lines.
Any advice for art novices who want to buy pieces for their homes but aren't sure where to begin?
Don't be scared! Exercising confident choice in buying and trusting your instinct is something that comes much more easily with practice. When you see a work anywhere – in someone's house, a gallery, online – think, do I like it? Is there any particular reason why? The colours, the style, the medium in which it's executed? Then think, would I like to live with it? It's a thought exercise so you don't have to tell anyone you are trying out their pictures mentally in your own home – a public gallery is generally a safe space for discussion with a friend, but discussion in other people's homes is not recommend as art taste is as varied as we are!
Start with buying small works; works on paper and prints are great as you can buy things inexpensively to see what you like living with. Framing these well will still make a pleasing object to hang in your home.
FURTHER READING
Benedict Foley on Instagram