A Private View: the slow, purposeful restoration of a period-spanning house in Hastings's Old Town
James Stevens and Hugo Macdonald talk to Inigo about returning to a more elemental way of life in the distinctive surroundings of the seaside town
Words

George Upton

Photography

Edvinas Bruzas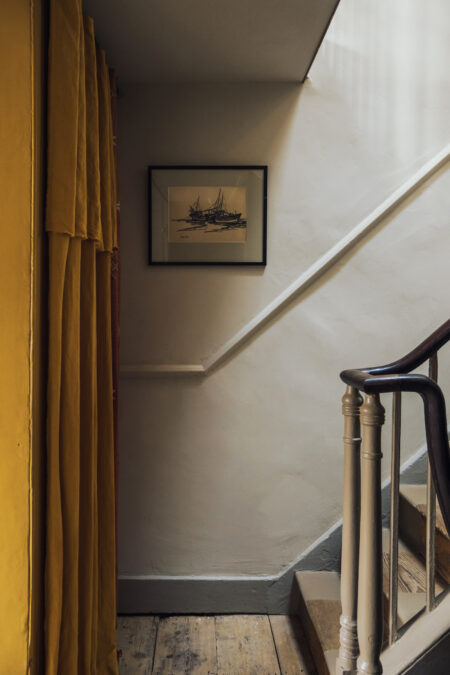 When Hugo Macdonald's partner, architect James Stevens, said that he could see them living together as long as they could each have their own study, Hugo worried they might have to end things. "I thought it would be impossible to find something like that in London," the writer and design consultant says. "It felt like a very gentle letdown."
Thankfully, the couple decided to look further afield. In Hastings they found not only space enough for them both to work, but a creative community and the proximity to the sea that they craved. Like the "eclectic and enigmatic" town (as Hugo describes it) in which it sits, the house they moved to seven years ago, currently for sale with Inigo, is an amalgam of different ideas that records the passage of architectural periods and previous owners. This slow and accretive development complements the pair's sensitive approach, drawing on Hugo's experience as brand director for Ilse Crawford's studio, and James's work with architectural salvage company Retrouvius.
Hugo and James, who married last year, have never thought of the house as being finished. With each new antique chair or lamp, with every fireplace excavated and brought back into service, the house evolves. As it comes on to the market, they reflect on this organic and gradual process – and explain how the house has nurtured them too.
Hugo: "We moved to Hastings nearly seven years ago. We'd both grown up by the sea but at opposite ends of the country – James on the Dorset coast and me on the Isle of Skye – and we found we had increasingly missed that connection to nature.
"Unlike a lot of coastal settlements in the southeast, Hastings still has a fishing community, which gives the town its beating heart; it doesn't have that faded seaside glamour that you get in a lot of other communities. The Old Town is sandwiched between two cliffs and is an impossible jigsaw of architectural styles. It creates these very interesting houses that have been chopped up and pushed together over different periods."
James: "This was the first place we saw in Hastings and it summed up everything we loved about the town. One part of the building is the end of an old hall house that you can still see next door. It was then extended by the Georgians and a shop was added downstairs by the Victorians. It's really very piecemeal, but in a way that's wonderfully legible, as with the rest of Hastings.
"We only made a few tweaks to the layout, so instead of there being a lot of small rooms, it became something that had much more of a gentle flow. I'd previously been living in a warehouse conversion in Bethnal Green and that was wonderful, but as soon as we came here we realised we had missed having separate spaces for separate things."
Hugo: "And having spaces with different moods. The house has an east-west aspect and when the sun comes up over the east cliff, it fills that side of the house with the piercingly bright light you get by the seaside; by the end of the day it's shining into the living areas and the bedroom.
"Watching the passage of light and the changes from season to season is very special. It creates this visceral experience in the house and we tried to accentuate each room's different feelings with our paint choices.
James: "I was keen that the palette should reflect the surrounding topology. The cliffs in Hastings have a wonderful mix of yellows, greys and pale whites, so there are a lot of those colours in the house. It's a bit of a balancing act in the spaces that are very bright in the day but very dark at night. Our sitting room, for example, is a dark blue, including the ceiling. It gets wonderful light through the afternoon and then in the evening it feels incredibly enclosed. You want to close the curtains and have a fire."
"I've done almost all of the work myself, short of what needs to be done by people with the right certificates. I studied architecture because I felt it would train me in design while giving me a chance to be hand-on. I realised that in professional practice that's rarely the case! This house offered a rare opportunity to be able to design through making. I really enjoyed it."
Hugo: "Everything that James has done while we've been here has been by hand. It's a very sensitive and appropriate restoration of what it would have been originally."
James: "I planned the kitchen before we arrived because I knew itwas the first thing I wanted to change. I wanted something more appropriate, based around some wonderful units Retrouvius had salvaged from the extension to Sydenham Girls' School designed by Basil Spence. It feels more like floating furniture than something more fitted.
"The bathroom was a more recent amendment. I like to have long baths and here you can look from the bathroom straight up the east cliff to the funicular railway, which resembles a castle. You can see the mist rolling in off the sea and the moon rise behind the hills – with the fireplace we discovered it's wonderfully elemental. It's a lovely way to end the day."
Hugo: "I don't think a home should ever be 'finished'. The longer you live in it, the more attuned you become to what makes sense. It's something very serendipitous and unplanned. It's about feeling and texture and mood, rather than a 'style'."
James: "This house has really evolved over time. Our process was designed around the things that we found – Hastings is an amazing place for antique shops – as much as what the building was dictating."
Hugo: "It felt like every time we left the front door we'd come back with chairs and lights and tables. But then I think it's important not to live anywhere that feels stuck and brittle. It shouldn't be so precious that you are too afraid to live in it properly.
"I feel like we're leaving this place at its absolute pinnacle of what it can give us in term of security, comfort and sanctuary. We've created this home around quite primal sensations. I'll miss lying in bed with the window, listening to the noises from the cliff and the crackle of the fire."
James: "I'm looking forward to working on a new project in Edinburgh, where we're moving. It will be a challenge. Everything's so architecturally diverse in Hastings, so it was important to make each of the spaces here feel different, to accentuate that lack of resolution; it will be interesting to work out how to approach the absolute rationality of Edinburgh's neo-classicism."
Hugo: "I think the pandemic has accelerated this questioning about what matters and what we want in life. It will be nice to see my parents in Skye without the need for so much planning and we want to put down roots in Scotland for what I think will probably be the rest of our lives. But we will miss this place. I really have never experienced anywhere like it.
"I think because the house is so particular it will find the right person to live here. It will speak to them."
James: "It's somewhere that really nurtures the relationship between two people, allowing them to work from home and have privacy but also to come together in these lovely spaces. I would be thrilled if it was able to be that for someone else, in the way that it has been for us."
Further reading