Inspiration of the Week: restrained elegance amid Gothic grandeur
A pad of princely proportions might be nice – but just think of the upkeep! This week's listing to lust after, in Essex, offers manorial magnificence on a more modest scale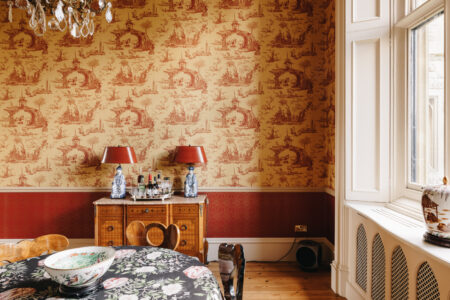 Anyone who's ever harboured dreams of living in a grand country pile but were worried they might rattle around in all that space will be thrilled at the prospect of Hobart, currently on the market with Inigo. The five-bedroom apartment is spread across a sizable chunk of Hassobury Manor, just south of a Medieval village in a quiet corner of north-eastern Essex, on the border with rural Hertfordshire. There's been a settlement on this site since at least the time of the Saxons, as it's situated on a strategic route between Bishop's Stortford, to the south, and Cambridge. The building here now, however, is a Victorian stone mansion in the neo-Gothic style, designed by Phillip Charles Hardwick and constructed between 1866 and 1888. While there are plenty of pointed arches dotted around, there's none of the Strawberry Hill-style excess that's so often associated with the Revival – and all the better, we say.
What the Gothic style does afford Hobart, however, are its guiding principles of light and height. The rooms in these grand quarters are notable for their soaring ceilings, which lend a sense of space that belies its 4,300 sq ft footprint. Those arched window frames and doorways are gracefully curved rather than sharply pointed. The effect is refined, airy and rather sublime.
What the current owners have done with the interiors only underscores its elegance. All the light that pours in from those arched windows bounces around merrily on walls painted in either pales or brights with white bases, spanning creams and ivories up to jade green or the blue of sunny skies. Pattern, where it's been used, is mostly quiet. There is, however, a notable exception in the dining room. And exceptional it truly is. With its red-on-gold Chinoiserie paper, it is a masterpiece of bold décor, its difference only serving to amplify its splendour.
In all, Hobart offers a slice of greatness on a manageable scale – and rare chance to experience the best of all worlds.