Dropping By: artist Haidee Becker paints a picture of the good life in Newington Green, north London
Inigo is excited to debut its film foray with Haidee Becker. While the painter may have left Italy some 50 years ago, the spirit of 'la dolce vita' remains her guiding light, as we discover
Film

Jan Vrhovnik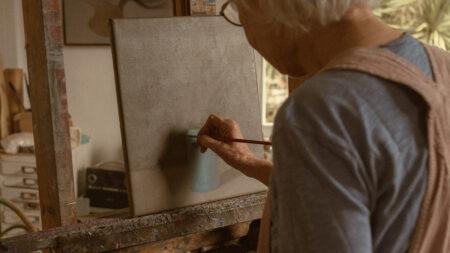 Inigo has some rather exciting news: we're on the move – moving into motion picture, that is. That's right, our first film is here and with it a chance to step inside the beguiling world of artist Haidee Becker, who lives and paints in a Victorian house in Newington Green, north London, along with her dog, Lobos. 
Haidee, now represented by Patrick Bourne & Co, was born in California in 1950 but shortly afterwards moved to Rome, where she lived with her parents – her father a writer, her mother an illustrator – until the family came to London when Haidee was 16. Those formative memories in the Eternal City remain with her, not least of all as a guiding source of inspiration for her painting: "I remember very clearly a very early memory in Rome," she says, "With a beam of light coming through a crack in a shutter and the particles of dust floating in it. That's almost the essence of what I try to go back to, capture again." Today, that takes the form of still lifes, in which her everyday subject matter – everything from cut flowers and prawns to joints of meat and lettuce leaves – are observed with a palpable sense of closeness: "I sit and work in wonder at the object that I'm looking at, really just complete wonder," she says. 
But it isn't just that special Italian light that left an impression on Haidee; the country's primo cultural identifier did too: its food. For, as you may have inferred, it features heavily in her work. Eating well – as you'll discover in the film – plays a big part in her life too: Haidee's father thought that "good chocolate was a sign of civilisation", while her son, Jacob, is the chef behind Italian eatery Bocca di Lupo and gelato shop Gelupo. Haidee herself can often be found at her local grocer in search of good vegetables: "When I go away from home on holiday and I come back, the first thing I do is go to the greengrocer's and buy stacks of salad: green, green, green!" 
But, we give too much away. Watch the film now and let Haidee bring you into her world herself, as she paints, ponders and reposes on a sunny summer's day earlier this year. And make sure to subscribe to our nascent YouTube channel where, over the coming months, there will be more films to brighten up the coming autumnal days. Buona visione.