Inspiration of the Week: Tudor excellence in the garden of England
Hey nonny nonny! We've a real peach here: a 15th-century Wealden hall house in Benenden – and it's yours for the picking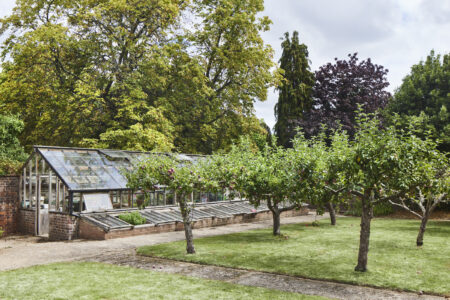 The Tudors had a special connection to Kent. Close to London, offering a link to continental Europe and chock-a-block with castle and palatial piles, the county – famous for its fruit-growing – was a regular retreat for kings, queens and courtiers. Henry VIII was often to be found lolling around at Leeds Castle, when not wooing Anne Boleyn, who lived at Hever (which Henry would later give to his fourth wife, Anne of Cleves). He also built the fortresses at Walmer and Deal, preparing for a French invasion that never came. In fact, the county's nickname – the garden of England – was supposedly coined by that good-time guy after he gobbled a plate of Kentish cherries.
Where there are kings, there are courtiers – and all the pomp and ceremony to suit. It explains why Kent is home to some of the finest Tudor homes in the land, among them Old Manor House in the village of Benenden, currently for sale. Built in the 15th century, it's one of the oldest in the area, with roots dating back to the Domesday Book in 1086, when it was given by William the Conqueror to his brother.
The house is textbook Tudor from the outside, all blackened box frame and higgledy-piggledy tiled roofs. There's even a partial moat. Thanks to the building's Grade II listing, nobody has been allowed to muck about with the place, which means any modern interventions – including the western wing, added in the 20th century – are seamlessly integrated.
Inside, the decoration is similarly sensitive. Original timber beams – Old Manor's defining feature – are extant in almost every space, lending the rooms rhythm and handsome heft. Take the grand double-height hall, complete with gallery, gothic arches and leaded glass. If it weren't for the electric lights and wood-burning stove, one might expect the appearance of a ruff or doublet.
None of this is to say history hangs heavy here, however, for there are plenty of light touches, from the bathroom's 'Willough Boughs' wallpaper in zingy turquoise and olive (by Ben Pentreath for Morris & Co) to the dining room's jolly jumble of folky furniture and pictures. And don't think that age should beget problems either; here, all the plumbing and electrics have been overhauled, while discreet double-glazing has been installed alongside thermal curtains. Age and beauty without the drafts? Hey nonny nonny indeed.