Dropping By: Eleanor and Peter Pritchard's country cottage… in south-east London
The weaver and lighting designer had dreams of swapping their sleek contemporary house in Bethnal Green for a rural idyll and a smaller pied-à-terre in town. Instead, they found a single-storey structure in Honor Oak Park that ticked all their boxes, as we discover in our latest film
Words

Grace McCloud

Film

James Coyle

Photography

Ellen Hancock

Production

Harry Cave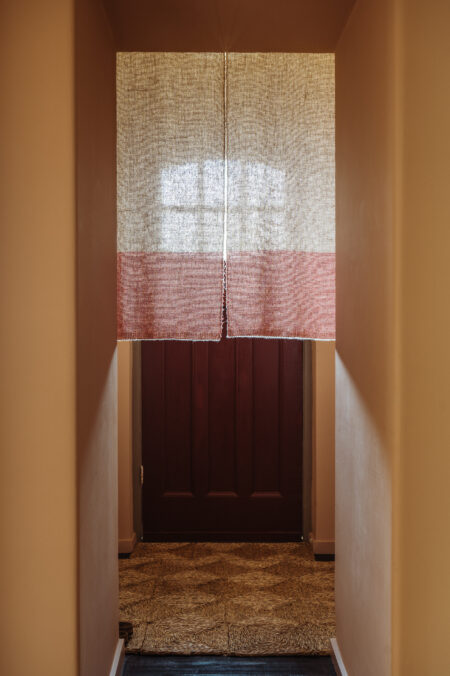 "We had this dream," said Peter Pritchard when we visited him at home with his wife, Eleanor, "of having a place in the country and a place in the city." What they landed upon when they moved, however, was something they soon realised somehow offered, quite miraculously, the best of both. Built into the upper reaches of one of south-east London's treacherously steep hills, the couple's low-lying brick house is fronted with a gloriously tousled mini meadow of wildflowers and girdled by handsome hazel hurdling that screens it from the surrounding townhouses. It is, with your blinkers on, remarkably rural.
As well as offering the couple a chance to live in another part of town, the house – in need of love when Eleanor and Peter bought it – also saw the couple rethinking their style. Eleanor admits that they had originally been looking for a 20th-century house in which to live (their last home, a former flour store they converted themselves, was strikingly modernist, with its palette of steel, asphalt, plain oak and reeded glass). This place, however – all dusty pink walls, warm painted timber and pottery-stuffed shelves – is somehow infinitely softer around the edges.
This tonal shift came about, as Peter explains in our latest film, as a result of "getting to love the house" before they did the work. Pivoting their original plans for the building, which they believe may have been a Victorian piggery or gardener's hut for a larger house on the opposite side of the street, they discarded the original set of drawings. Deciding not to add another floor, for instance, they instead hoped to keep the integrity of the original intact. Today, the original scuffed floorboards remain in situ – a reminder that this is a home, somewhere lived in and enjoyed.
Peter's work as an architectural lighting designer has meant, naturally, that the play of brightness and shadow here is exceptional – by turns peaceful, moody, romantic – reflective of his own desire to "enjoy aspects of darkness" as well as light, something he's not usually able to express in larger, more commercial projects. Since moving here, Eleanor admits she's felt a shift in her work too. "I can see there's a progression," she says, noting how her textiles have moved from feeling more modern to more "vernacular, a little bit softer, a little bit less strident" – something typified by the first thing she wove, by hand, on moving into the cottage. Her Japanese noren, a door curtain, now hangs between the hall and the porch as a symbol of welcome, warmth and transition.
But while the couple say they think they've settled here, having created a home that "will fit our lives for many years to come", one gets the sense it's not the end of the story. For, as Peter says, "a house is never a finished deal."
Further reading
Fancy setting up shop in a similar corner of town? Take a look at this house on Cranfield Road, in neighbouring Brockley, now for sale