A Home with a History: in praise of shadows in deepest Herefordshire
More devamp than revamp, the stripping back of Elle Kemp and Martin Gane's formerly trussed-up farmhouse has been light-fingered, materials-focused and guided by their search for the intrinsic beauty of the building
Words

Grace McCloud

Photography

Elliot Sheppard

Production

Harry Cave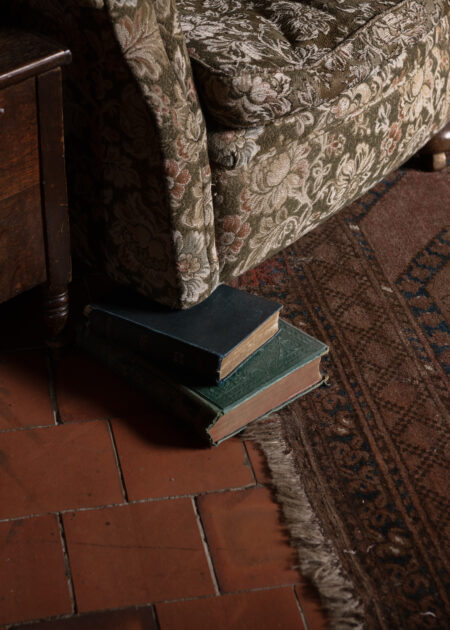 In his 1933 essay on aesthetics, In Praise of Shadows, the Japanese author Jun'ichirō Tanizaki describes the way his native architectural vernacular – heavy tiled roofs, deep eaves, no glass – was designed largely to keep away the sun. "A light room," like those common in Western architecture, "would no doubt have been more convenient for us, too," he writes. "The quality that we call beauty, however, must always grow from the realities of life, and our ancestors, forced to live in dark rooms, presently came to discover beauty in shadows, ultimately to guide shadows towards beauty's end."
There are some 6,000 miles and 90 years separating Elle Kemp and Martin Gane from Tanizaki but, stepping into the stygian shadowiness of their farmhouse in rural Herefordshire, one feels the author's words ringing true. "I hate turning the lights on," Elle says, standing in the cavernous medieval double-height hall space, its balcony and huge crucks just visible in the glow coming in through the small leaded windows. Next door is the Georgian section of the house, where the walls – some mottled plaster, others limewashed – are almost radiant in the gloaming, every variation in their texture picked up by what silver light does steal in. Once again, Tanizaki's words seem to hover: "A lustre here would destroy the soft fragile beauty of the feeble light."
It wasn't always like this. Or, rather, it was – only not when Elle and Martin moved here in April 2022. In fact, the couple, who met while both working for the garden designers Julian and Isabel Bannerman – make a living from stripping places back to their original fabric in search of their fundamental beauty, as interior-design duo Ridge & Furrow. Elle, an artist and seamstress, has in the past described their work as a form a rewilding, "undoing the strangulation of years of neatening and modernising, to allow the materials to show themselves and then let them be." Here, that has seen them embark on a slow process of peeling and pulling out, undoing botched jobs and prior bad decisions themselves – always with fingers crossed that the original fabric lies beneath.
Despite the consideration that has clearly gone into it, the house, Elle explains, is far from finished. The barn, its structural integrity only slightly questionable, needs some work, for instance, and there are some bits and bobs to do on the balcony too – "along with the rest," Elle laughs. She'd really like to move the kitchen back into the medieval hall with its inglenook fireplace, once the very centre of this house (a potent reminder that the words 'heart' and 'hearth' share an etymology). "I want the modern comforts out," she says, instead picturing a huge dining table and a fire fuelling the original bread oven that remains in the inglenook (naturally the 1970s stove and crazy paving will have to go).
In fact, this ascetism guides much of Elle's creative decision-making. "Luxuries should be just that. The way we live here means the luxuries we do desire are much more achievable: a hot bath, a pile of duvets on a cold night, a new jumper that will last for years." She likes the idea that comfort doesn't exist without discomfort – just as Tanizaki believed a little light is made all the more beautiful by the mystery of shadow. With this abstemiousness naturally comes a degree of frugality – something Elle regards as "essential". "We don't have much to throw at this place – so we do what we can, when we can." That parameter suits them: "I honestly think the best thing you can do with a house is not spend any money on it." As she explains here, she believes it's the key to preservation of old buildings – and, of course, their beauty.
"People assume an interior designer's job is to change everything. Martin and I defy that expectation. We go into people's houses and, more often than not, say: 'Stop! Don't do anything.'
"Our focus is always the building. Any decision we make is always centred on the fabric of the structure itself. For me, without wanting to sound too fluffy, it's often about feelings – what feels right for the place. Martin, who is an artisan builder and garden designer – he also used to be a pig farmer – is much more practical. Together we make a good pair. He can make anything and he can see what does and doesn't make sense in a space. Take the wooden proscenium-like moulding around our bed, which he made out of offcuts. Before he installed it, the room looked like it had been split in two at some point, perhaps with a wall, and felt quite disjointed. Now, it's seamless.
"Of course it would be disingenuous to say that we don't actually do anything for our clients. There is a consistency to our work and there's definitely a look, which is almost entirely led by materials. The key lies in making sure you're using the right materials for the right building – again, it's about being led by the structure. For any house constructed before the late 20th century, you'll likely be looking at solid timber and natural plaster. Not only are those materials good for the building and for our pockets, they're good for the planet too. You don't have to be an eco-warrior if common sense is driving your decisions.
"We first learned about such things while doing up our last place, a pigsty outside Stroud in Gloucestershire, which we turned into a house. Because it was an ancient agricultural structure built straight on to bare earth, there was no damp-proof coursing, no insulation, no plastic anywhere in its construction and it had a curtilage listing, which meant we had no choice but to work with what was there rather than against it. The needs of the building – the necessity that everything was breathable, for instance – led everything we did. It was a wonderful education.
"When we moved here, we had a lot to undo. It was very uptight, white and polite – the term 'gracious living' always pops into my head when I think about it; it was the kind of place you'd see in a middle-of-the-road interiors magazine. The previous owners had worked so hard on making all the wobbly bits straight, covering up the crooked shelves with straight frontages and smoothing the walls. The floors had been covered and the staircase had been boxed in at some point too. And there were bright lights everywhere. The weirdest things were the Palladian pediments they'd installed above every door – including the cat flap! I can't think of anything less suited to an ancient Herefordshire farmhouse.
"Slowly, we started poking around and lifting things up. (The pediments were the first to go!) A near neighbour who knew the house came over and gave us some clue as to what it had looked like before the last people had been here. She had a video of her kids playing in front of the sitting-room fireplace, which had a vast and very wonky oak surround. When I saw that, I was convinced it still had to be there. Happily, it was. In fact, everything we've uncovered is great – though I think we've reached the point of finding all there is to find here. Now we have to work out how we choose to live in the place. That always takes a long time.
"We've had quite a bit of luck here. I think we've become the people that people give stuff to, which helps – you know, the bits that other people throw away? And once you start using reclaimed things, it becomes hard to stop. But we're also good at looking for things – an upshot of not having lots of expendable cash. Among our best discoveries are the beaded boards and display cabinets that came out some old offices in King's Cross station. We've also saved some good bits from being burned in bonfires; it just happened that we've been to some nice bonfires!
"Inevitably, it has led us to thinking about things more creatively. Necessity is the mother of invention, and all that. You come up with solutions to make a beautiful thing work in the space you have, rather than throwing money at the problem. And wonderful things can happen when you do."
Further reading
Ridge & Furrow on Instagram