Inspiration of the Week: a Georgian apartment in Soho, reimagined for life today
In this special edition, we speak to one of our sellers, asking her about what makes her West End flat – her home for 21 years – quite so special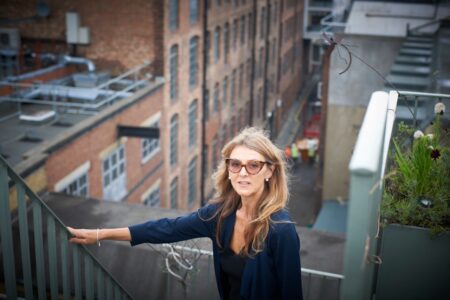 Meard Street, for those unfamiliar, is in the middle of Soho, sandwiched between Dean Street and Wardour Street. And it's here, the West End, that the city's best spots – the most exciting new restaurants, the finest theatres and undiscovered watering holes – are to be found. Yet for all its urbaneness, the Georgian history of this part of town is still keenly felt in its fabric. And the terraces that line this particular thoroughfare, beautifully built in two stages in the 1730s and '40s from London stock brick, are still intact.
In fact, it was this history and craftsmanship that led the current owner of this apartment, occupying the top two floors and roof terrace of one of Meard Street's townhouses and now on the market, to fall for it. Wanting to live right in the thick of it and struck by the artistry of the terrace's architecture, Tiggy Maconochie begged the previous owner to sell the apartment, which she duly did – only not to Tiggy.
"Then, a year later, it was on the market again!" It had been four years since she'd had the idea, but finally, she was in. While modern alterations obscured much of the original architecture, Tiggy – who has always had a good eye (first sharpened as a child growing up in a house designed by Robert Adams and later honed in her long and successful career working as a photographers' agent, managing the likes of Helmet Newton), "could see through what was there," she explains. "As soon as I walked in, I just knew what I'd do."
So began the slow process of reimagining the existing space as a contemporary home that pays due respect to its 18th-century origins. Admirable additions include the strikingly modern kitchen with stainless-steel worktops, and the mezzanine, which was Tiggy's office for many years, lit from above through a huge window offering a vast view of the sky. Painted white, it has historically acted as a gallery-like hanging space for Tiggy's art collection – among them various pieces by the YBAs. In fact, the whole apartment is filled with the things she amassed over the years – books and beloved objects – that she responds to creatively and which inform the way she lives.
Today, the history, craftsmanship and artistry remain – only now, the gentle rethinking of the rooms has seen this centuries-old home made fit for life today, amid the bright lights of buzzy, busy Soho. Seize your chance.