Dropping By: Paul West and Michelle Bower on learning to listen to your home
We all know about respecting our elders… And, as we learn by visiting this Georgian gem in east London for our latest film, it seems the same extends to houses too
Film

James Coyle

Photography

Ellen Hancock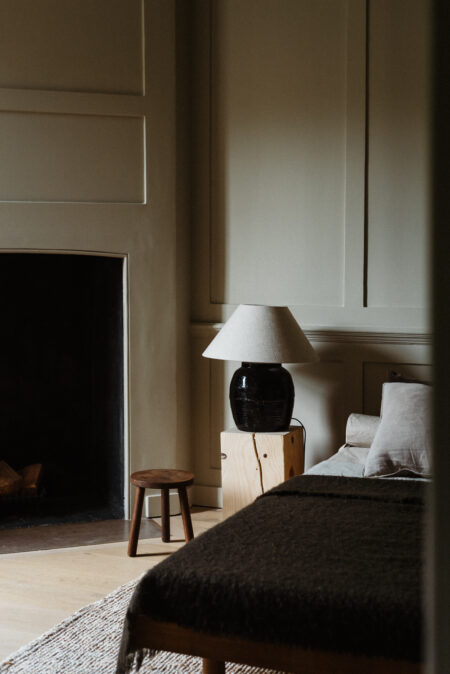 When it comes to domestic tastes, who says you need to be in a box (white or otherwise…)? Does one have to be either a sleek modernist or an arch maximalist with a fondness for history? While Inigo may fall firmly into the final category, we know that not everyone is so easily pigeonholed, as our recent encounter with brand strategy and design consultants Paul West and Michelle Bower, reminds us.
The couple moved to their elegant Georgian townhouse in Stepney Green, east London, from a Victorian maisonette in Stoke Newington. When he was profiled by The Modern House, Paul explained the influence of the cool, calming aesthetics of Ilse Crawford on his interior style – pared-back, yes, but with a respect for the building's bones that allowed them to breathe. This marriage of simplicity and sophistication with a profound admiration for history defines his and Michelle's new home too – and the way they live in it. The house has "been here since 1717," Paul explains in our latest film. "It's 305 years old. We had a huge amount of responsibility to not mess the place up."
The Spitalfields Trust and the previous owners had really cared for the building and its elegant 18th-century panelling, fireplaces, and wooden box cornicing. Wanting to ensure they did the same, the couple were careful to pay attention to the way in which they occupied the house and used the spaces before making any drastic decisions, taking pains to watch how the light fell at different times of day before defining the layout, and picking materials and paint colours, for instance. As Michelle explains, before you take up residence, "you can be open to all combinations of how you could live in a home, but there's nothing like moving in and trying to figure it out in different seasons and just listening to the building."
It's something he and Michelle continue to do, Paul says, as he takes us through a day in the life of this extraordinary, atmospheric building, following the pale morning light up from the basement kitchen up its four storeys. "There are some clues in the way that the building works," he explains elegantly, "and that's given us a few ideas of how to use it ourselves as well." We couldn't have put it better ourselves – and we shan't try. Instead, you should watch the film here, before subscribing to our YouTube channel, so you don't miss the next.
Further reading
Paul West on design for everyday life in his former home, on The Modern House
Design inspiration, collaborations, and shoots at Stepney Townhouse can be found @consideredthings on Instagram.