For the Library: a new book on designer Daniel Cottier explores the glorious excesses of the Aesthetic movement
Inigo takes a fresh look at the ostentatious, ornamental schemes of the Glasgow-born designer, decorator and dealer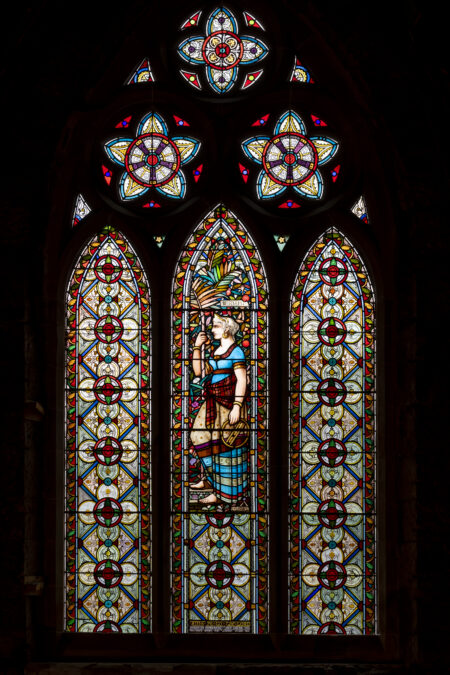 The Aesthetic movement is one that we tend to associate with some of the more frivolous aspects of the late 19th century. Characterised by a focus on ornamentation, exoticism, opulent colour and, to put it bluntly, plastering every visible surface with as much gold as possible, the Aesthetics' central philosophy of "art for art's sake" might seem quaint and unfashionable at a time when, generally speaking, our creative outpourings (and our homes) are generally expected to serve the purpose of authentic self-expression, rather than simply ostentation. However, argue the authors of a new book on Daniel Cottier, the Glasgow-born visionary whose wide-ranging work in ecclesiastical and domestic interiors typifies the – actually, rather glorious – excesses of this multifaceted aesthetic, "Aestheticism" is not only a distinct artistic style that deserves appreciation, but an influential and inherently modern set of ideals that helped to erase the boundaries between fine art and decoration.
Like today's interiors professionals, Cottier, it seems, was both artist and businessman. Trained as a designer of stained glass windows and inspired by the example of William Morris, he established his own business in London in 1869–70. By 1873 he had already expanded, opening branches in New York and Sydney, where he plied his Scottish connections to find new customers. Though, at the time, thanks to a rising middle class that was increasingly interested in beautifying its homes, Cottier was far from alone in offering extravagant decoration services to anyone who could afford them, his broad network of collaborators meant that his offering was one of the most comprehensive.
In the introduction to Daniel Cottier: Designer, Decorator, Dealer, out May 2021 from the Paul Mellon Centre for Studies in British Art, co-authors Petra Ten-Doesschate Chu and Max Donnelly reel off a list of his services, and it's impressive, to say the least. Not satisfied with offering "Painted wall and ceiling decorations for houses", "furniture, stained glass and decorated ceramic tiles" and "textiles, upholstery and carpets", Cottier also dealt in antiques and sold contemporary and Old Masters paintings. Though few clients at this point in history were willing to relinquish enough control to allow Cottier's business to do all of these things, simultaneously – and so create the ideal Gesamtkunstwerk which was the end goal of Aestheticism – it's clear to see, where he was given freedom to create, how his aesthetic ideals resulted in compositions that were not only astoundingly complex and overwhelming beautiful, but also, rather modern.
In fact, browsing through the book, what's surprising about many of Cottier's creations, from the stencilled ceiling of the Elms, Arbroath to painted music cabinets, pianos and, naturally, some dazzling stained glass windows, is that much of it chimes rather more neatly with contemporary interiors than might be expected. The winsome extravagance of Cottier's patterned walls, starry ceilings and references to both ancient and classical tropes exhibit a gleeful, magpie-like approach to decoration that is having something of a revival – think of the folksy stencilled interiors of the Swedish designer Beata Heuman's summer house, or mix-and-match historical referencing of designers like Martin Brudnizki or Luke Edward Hall. On reflection, you have to wonder whether we ever left the Aesthetic movement behind – and whether, perhaps, that's a rather good thing.
Image credits: Pomona, by Cottier & Co., London, c.1870–5. Photograph © Colin McLean; Dante, Homer and Chaucer, University of Sydney, by Lyon, Cottier & Co., 1878. Photograph © Noel Mclaughlin; Camille Corot, Orpheus greeting the Dawn, 1865. Chazen Museum of Art, University of Wisconsin, Madison. Image © Chazen Museum of Art, University of Wisconsin; The Four Seasons, birds and flowers, by Cottier & Co., London, c.1870–3. Photograph © Colin McLean; Nave of Dowanhill Church, Glasgow, with painted decoration and stained glass by Cottier and assistants. Photograph © Colin McLean
FURTHER READING
Daniel Cottier: Designer, Decorator, Dealer is published by the Paul Mellon Center for British Art, via Yale University Press.