A Home with a History: how antiques dealer Max Rollitt embraced the prior lives of his patchwork farmhouse
Inigo visits the Hampshire farmhouse of antiques dealer and interior designer Max Rollitt, where he shares his treasure trove of pieces with us and explains his textured approach to design and decorating
Words

Nick Carvell

Photography

Chris Horwood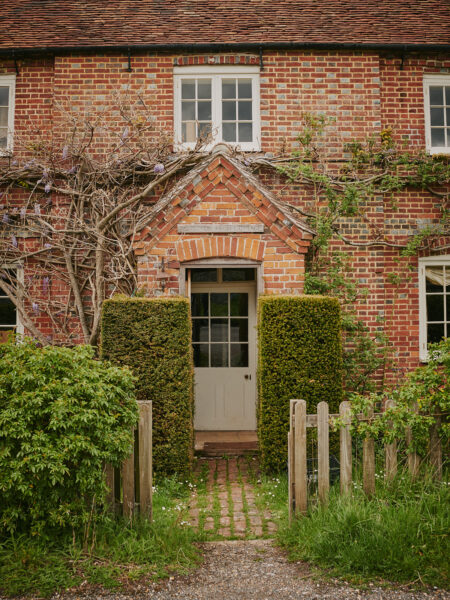 On a single-track road that provides the only link between the Hampshire villages of Ovington and Avington (a nightmare for those who deliver mail, surely?) you can't help but find the family home and workspace of antique dealer and interior designer Max Rollitt. That's because, despite it being nestled in between a patchwork of bucolic glades and open fields, Max's home straddles this very street. Peep over the ancient flint wall to one side and you'll see the farm's former outbuildings that have become both his showroom and his wife's therapy studio. Turn around and you'll see the former farmhouse, whose front door lies less than a metre from the road. Considering the vast, open space between the two villages, if you're passing through, the proximity of these buildings to the road makes this little stretch feel suddenly like a little cocoon – an architectural hug as you go on your way.
"I love the situation of the house," says Max, who lived with his family in an 1830s townhouse in the centre of bustling Winchester before moving to this country pad in the South Downs around twelve years ago. "The road is full of traffic on the weekends with people walking and cycling, but come three o' clock, everyone's gone and we're back in our own landscape. As a former townie it's nice to see people, but we're also left in splendid isolation at the end of the day."
Here, we briefly disturb Max's peace to take a look behind the wisteria-laced façade of his family's home – a patchwork building filled with pieces that are just as eclectic as the details of the house itself.
"I have always admired this house. I used to have a shop in Alresford and cycled past it each day on the way to work. The plot is what the estate agent called an "amenity farm" – we've got a small 10-acre part of a much bigger 500-acre farm. The house isn't necessarily as big as I would have liked, but it had all this property that I saw we could develop for both mine and my wife's work. I've got about 6,000 ft of showroom and about 1,500 ft of office space in the old grain drying building across the road. It's in a series of rooms in a constantly changing situation depending on the pieces I have at that time.
"When we first came to see the house, we were shown in using the back hall and my head hit the ceiling – I'm 6ft 5in! However, the rest of the place is quite tall for a farmhouse from this period (although I'm not sure exactly how old it is). What I do know is that between us and the river, there used to be a priory that was dissolved by Henry VIII, and there are elements in our house that must be from that time. The Caen stone quoins on the corners of the building are certainly very old and there's gargoyles down the side of the house built into the flint and stone walls. There's also a large figure of a saint in the corner of the kitchen, which has been integrated in, and some of the exposed beams have some sort of gothic molding on them. I imagine lots has been cobbled together from various different buildings.
"Over the years, I've discovered that it was probably quite a sophisticated house in its day. Buried behind built-in cupboards I've found the original skirting, dado rails and cornicing that feel very grand for this sort of farmhouse – all typical of around 1780 or 1790. It used to be part of Avington Park Estate, which was sold off in the early 1960s, so it sat within quite a wealthy area.
"As it's on the road, I feel the front of the house, with its checkerboard of burnt headers and brick, might be a later addition that was installed to smarten it up a bit – although I'm not sure. The porch on the front was probably stuck on in Victorian times. There are various ties that run through the building to hold it together and bits on the corner to strap it up. But it's survived really well and so far, we've had no real problems.
"I'm not a great one for total refurbs in my work with clients, so I don't feel the need to do it myself. For example, the kitchen we've left pretty much as it was when we moved in. It's a Mark Wilkinson Kitchen from the 1990s which we've adapted. We removed a fitted island in the middle (you can still see where the grout of the terracotta floor underneath is different) and added in an antique cabinet with its original green paint.
"Interiors are far more interesting when there's a mix of things. It's enriching to have lots of different stimuli – if you can take it! They just all need to work together. For example, you can put grand things into a smaller space if they're sufficiently suffused with softness.
"There are two rooms downstairs that have new fireplaces. There's one in the sitting room which has a blue surround and a register grate that was made for us by Jamb, and one in the morning room which is slightly more complicated, with fluting beneath the mantle. Both work and have a pretty simple form, in the same language as the mouldings I found behind the built-in cupboards, so reference the late 18th century.
"There's an enormous Bechstein piano in the morning room, which was an inheritance from my wife's side of the family. All the members of my family are musical, but they don't play instruments enough! My wife is very good on the piano and my son is annoyingly good too, but he doesn't play. I play the guitar.
"My approach to decoration here has been, 'I love this thing and I need to house it somewhere, so how's that going to work?'. I'm a collector, so the pieces I have dictate the look of the house rather than the other way around There's a fantastic early 17th-century lacquer work escritoire in the corner of the morning room and a burr elm chest of drawers above, next to a Chris Levine picture of Kate Moss.
"The house is a canvas for my pieces. Maybe that's led to more neutral colours than you'd ordinarily see in this sort of farmhouse, but it's still very rich in its colour and texture, from the soft furnishings to the varied finishes of the antiques. To me, that makes for a very warm and interesting home. There's everything from a large Tibetan hanging of the Buddha to various delft pots dotted around.
"First and foremost, this is a home for myself and my family. It's been decorated with what we enjoy, but also with what's appropriate for the house. It sits between my sort of decoration and a country cottage – but pushing it with a bit of extra grandeur. For example, I found the canopy over our bed while I was in France. The fabric is from the 18th century. I bought the trim, built a framework and infilled it with some antique French linen that we dyed to that colour. I love it.
"This house reflects my personality because it suits my creativity. I don't need to be in a big house. I have plenty of space to play in my workshop and the garden, whereas this is a cocooning space for me and my family. All my children have grown up and three out of four are artists, so I don't know what that says, but maybe this environment has helped them.
"One of my sons is currently at art school studying sculpture, but he's a collector of all sorts of things. He can't actually sleep in his bedroom there's so much stuff in it. He's always having to rearrange it. When he redecorated, he found the original 18th century floorboards, so he polished those up, and painted the walls in Edward Bulmer's 'Sang de Boeuf' and the trim in 'Azurite Blue'.
"Another of my son's bedrooms has a very high bed in it, probably about three feet off the ground. It's a relatively small room so some might raise an eyebrow at placing such a large bed in there, but I think it makes it more exciting as there's a great view out of that room – it looks out to the east over the wet field, towards the woods.
"The best view in the house is from Alfie's room (another of my sons), which has one of my 'Bala' beds in it – a copy of an Indian bed. The window there looks out over the garden and the river, where you can see The Grange vineyard on the other side of the water.
"It's such a permissive house – it breaks rules. It's an odd house in the way it's been put together and evolved over time. There's a uniform line of taste that runs through it, but there's very little uniformity in the house itself! It's also a great space for parties – we've had up to 120 people here at times.
"As an antiques dealer, I enjoyed moving house. It gives you the opportunity to take stock and switch things around. I like to live with things that suit the house. It's nice to have a few slightly grander things and not try to live this farmhand experience, surrounding myself with folk art and primitive stools."
Further reading
Max Rollitt on Instagram