Built History: the finely crafted architecture of Georgian Bath
Inigo takes a look at the 18th-century development of Bath, famed spa city and arguably the jewel of England's south-west
Words

Jabin Ali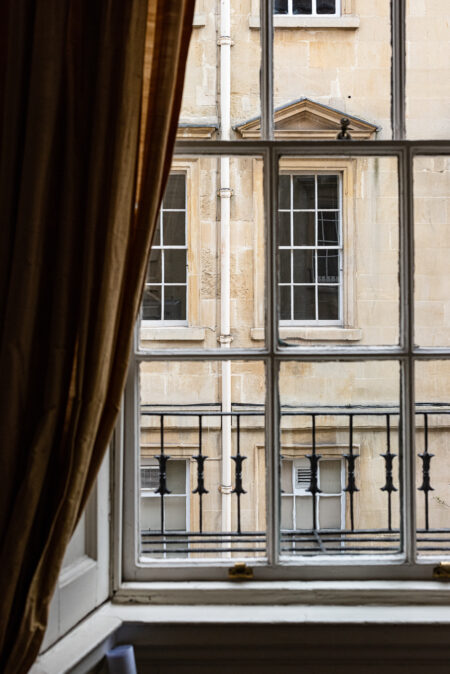 "Oh! Who can ever be tired of Bath?" cries Jane Austen's Catherine Morland, upon her very first visit. Her impressions are echoed by Fanny Burney's eponymous Evelina when she writes "the charming city answered all my expectations"; while elsewhere, Charles Dickens ensures that his Mr Pickwick is regaled by the MC of Bath's Grand Pump Room with tales of nights in the city filled with "moments snatched from paradise". We cannot help but agree with this parade of literary accolades – nor can, it would seem, the many visitors who have been enticed to Bath's ancient ruins and elegant crescents for centuries.
Bath was formally established by the Romans as Aquae Sulis in the first century AD. This period was the first of two significant architectural eras in the city's history (indeed, the features of Roman Bath are still impeccably preserved). For a time after the Romans, the city was an important centre for the wool industry, but it was not until the 18th century that it developed into the thriving spa town of Austen's novels that remains in popular consciousness today. Many attribute the start of this growth to Queen Anne, who visited to take the thermal waters in 1703 – Bath was originally famed for its natural hot springs and at the time, was mainly attended by those seeking cures for poor health. However, following Anne's visit, a lively social scene began to flourish, presided over by Master of Ceremonies Richard 'Beau' Nash (1674-1761).
A celebrated dandy, Nash was exceedingly influential in Bath, second-in-command only to his predecessor Captain Webster. When Webster was killed, Nash quickly assumed his position, transforming Bath into a genteel, fashionable resort. He was an eccentric, foppish personality who coordinated much of the city's entertainment; he also drew up a code of behaviour for public social life, written with wit as opposed to regulation in mind (see Rule 9. That the younger ladies take notice how many eyes observe them. N.B. This does not extend to the Have-at-alls). Nash's efforts were fruitful, and many newcomers – sophisticated or otherwise – flocked to the city for pleasure, such that by the time of the 1801 census, Bath harboured a large population of around 40,000.
This reinvention saw Bath's borders expand dramatically beyond its medieval walls. Key architects such as John Woods (the Elder, 1704-54; the Younger, 1728-82), Robert Adam (1728-92), Thomas Baldwin (1750-1820) and John Palmer (1738-1817) laid out their vision of a complete neoclassical city onto its streets, influenced by the architectural principles of the great Andrea Palladio (1508-80), whose style underwent a popular revival in the early 1800s. For example, Bath's Pulteney Bridge was designed by Robert Adam from an unused Palladio design for the Rialto Bridge in Venice. Meanwhile, the heart of the Georgian city, the Grand Pump Room, is perhaps Thomas Baldwin's most illustrious contribution to Bath; Great Pulteney Street, where he eventually lived, is another of his designs.
Bath's increasingly popular social calendar necessitated yet more housing for its visitors. John Wood, the Elder and John Wood, the Younger were largely responsible for the creation of these handsome residences, many of which were designed as purpose-built lodging houses. Transposing Palladio's ideas, the Woods set out a series of refined crescents, terraces and squares across the hilly landscape, achieving a pleasing uniformity of design.
Perhaps most notable is the curved Royal Crescent, the façade of which was designed by the younger John Wood and completed in 1774. Made up of around 30 houses with symmetrical fronts, their rears differ in height and layout, as purchasers would buy a length of the Crescent's façade before hiring their own architect to build the house behind. Elsewhere The Circus, considered to be the elder John Woods' masterpiece, was inspired by the Colosseum; it consists of three long, curved terraces intended to form a circular space for public function. The façades are adorned with progressively more ornate classical orders at each level: Doric columns at ground level, Ionic columns on the piano nobile and Corinthian columns on the upper floors.
And so, this group of 18th-century architects deliberately fashioned the foundations of a classical metropolis, in which public and private spaces seamlessly intersect via an innovative form of town planning. Using the locally sourced, honey-gold limestone for which Bath is now renowned (obtained from the nearby Combe Down and Bathampton Down Mines), they, alongside Nash, oversaw Bath's complete social, economic and physical rebirth, creating the city as we know it today. A UNESCO World Heritage accreditation in 1987 is testament to its continuing importance – really, who could ever be tired of Bath?
Seeking somewhere more permanent?
Homes currently for sale in or near Bath:
FURTHER READING
A Place Like No Other: a walking guide to Bath, in the footsteps of Peter Smithson
Bath: Pevsner City Guide (Pevsner Architectural Guides: City Guides) via Waterstones
The Complete Works of Jane Austen via Waterstones