A Home with a History: the sons in splendour who revamped their mother's Regency townhouse
Recognising that the family home needed refreshing, Roland and Fred Woodward called upon their respective creative skills to give the building – and their beloved mother – a new lease of life
Words

Celia Lyttelton

Photography

Chris Horwood

Production

Harry Cave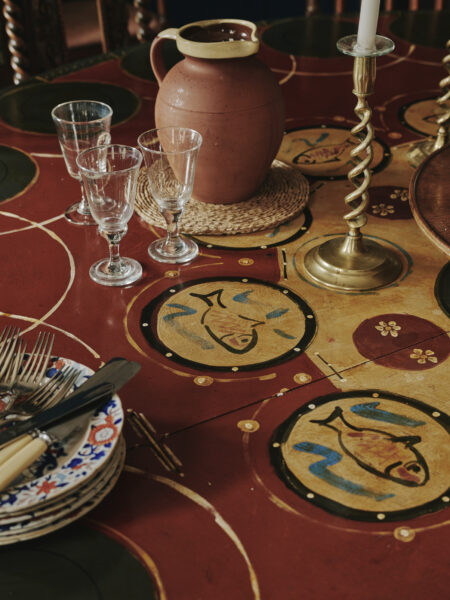 In the sash window of a stucco-fronted Regency house in west London, an antique bust sports a bright-pink bikini top, hinting at the eccentricities within. Stepping over the threshold, one enters a hallway hung with Piranesi engravings of Vedute di Roma and a lambent 17th-century oil of the Colosseum.
Artists often make for excellent interior decorators, with their innate sense of colour; the vibrancy of those here, the home of Rosemary Woodward, sing. It has recently been given a complete makeover by her sons Fred, an artist specialising in paper cut-outs, and his older brother Roland, who runs a building company specialising in refurbishments. Together they have restored and repainted the elegant rooms across its four floors.
Rosemary is an accumulator with a good eye who has collected some real gems over the years. Many of her finds have been displayed with great sensitivity on her sons' part, along with their father's collection of Grand Tour artefacts (Greco-Roman busts, architectural models) and legions of books. Some of the rooms could be sets straight out of Bridgerton and there are barely any traces of the 21st century – let alone a TV. The kitchen is preserved in aspic, 1970s style.
Here, the brothers chat to Inigo about the ways in which they've revamped Rosemary's home, while retaining its retro charm.
Roland: "The house dates to the early 18th  century. My parents moved here 28 years ago from around the corner and did very little to it. First, they called in the carpet fitters, who covered the Delft tiles by the fireplaces. My parents redid the façade too, which was coated in white pebble-dash, with details picked out in turquoise. Structurally, it was sound but there was a lot of woodwork to restore and the balcony was wobbly.
"My father, who died 14 years ago, painted the kitchen units a dark lead green and decorated the existing kitchen tiles with Bloomsbury motifs. He also painted the MDF dining table with Charleston-style designs.
"Originally the panelled dining room was a gloomy off-white; we've redone it in Little Greene's mystical 'Deep Space Blue'. At night it glows in the candlelight, which casts flickering shadows on the busts of Hercules and other ancients and gods. They were my father's. He was a history of art teacher who, in 1973, co-founded Mander, Portman and Woodward (MPW) tutorial college. He also led art tours in Italy.
"My father designed the library too, fitting it with a door covered with a faux bookshelf, displaying witty titles and jokes from our old house. It didn't need real books; we already had too many.
"I had worked on some renovations here once before. Fifteen years ago, when my father was alive, I redid the main bathroom. I thought it would take six weeks, but it took six months – partly because my father gave my assistant a Guinness every lunchtime. It was an unusual project, because it's not typically 'bathroomy', so it was a great challenge trying to make the room fit with the history of the property. It's aged well, I think."
Fred: "During lockdown, while living here with my mother and girlfriend, we decided the whole house needed doing. My mum is 68 and she needed to declutter. It took a bit of persuasion; at first she protested, but eventually she gave in.
"The bedrooms each held a sea of plastic bags full of clobber and childrens' presents. The carpets were moth-eaten and pretty tatty; they had to go, so we replaced them with dark-green ones. I took inspiration from Sir John Soane's house, Pitzhanger Manor, with its striking colour schemes and decorative effects.
"I chose all the new colours in the house. We painted the drawing room in Little Greene's 'Atomic Red', also inspired by a room at Pitzhanger, which had a warm undercoat of orange. We picked out the mouldings and Corinthian pilasters in a lustrous but very much OTT gold leaf.
"My studio is in the basement here. It's where I currently make graphic cut-outs; it's also where we've been framing our dad's watercolours and drawings. In January, I'm moving out. It will be a wrench but having given up my job to become a full-time artist, it's also exciting.''
Roland: "The medallions and busts are mostly reproductions, some of which were painted black by my father. He also collected cork architectural models. The one in the sitting room is a replica of the pyramid of Cestius Rome, by Dieter Cöllen; the cork modelling is so skilled.
"There's also a replica of the ruins of the temple of Vespasian and Titus in the Roman Forum, which has been made using the same marble as the original structure. My father bought it from a neighbour. He was a 'Grand Tour' man in the true sense."
Fred: "Mum, meanwhile, collects Lord Nelson memorabilia; he was apparently her great-great uncle. We used to have one of his chairs, but it vanished during a house move.
"Our older brother, who owns the Victorian lighting company Best & Lloyd, was involved with this project too. He designed new bespoke lights for the house.
"We got new curtains from Stitched, on Farringdon Road. They're made of pure wool and have thick tasselled tiebacks. Other curtains, which were made specially for the house, just needed a good dry-clean. We added pelmets to the ones in the bedrooms to freshen them up.
"Our mother loves this place. She doesn't want to leave it, so it was our job to give the house – and her – a new lease of life. It needed to feel like her own, not a place that harboured sad memories from the past. We hope that's what we've done.''
Further reading
Roland Woodward on Instagram
Fred Woodward on Instagram