A Place Like No Other: light, space and vision at Pitzhanger Manor, London
Inigo steps inside Sir John Soane's "architectural laboratory" to marvel at its freshly restored charm
Words

George Upton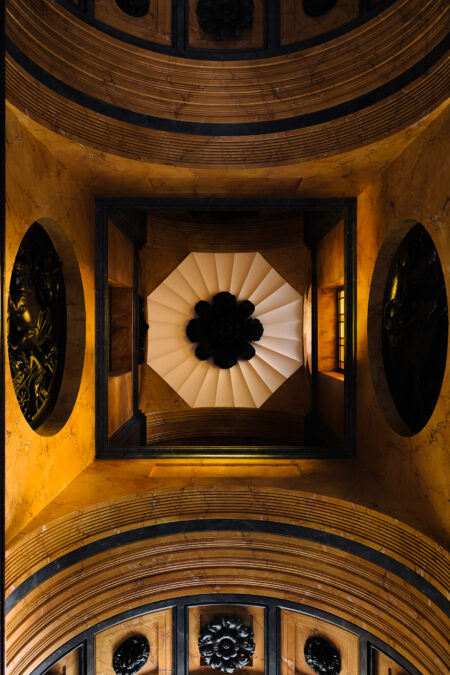 Pitzhanger Manor announced Sir John Soane's arrival as one of the greatest architects of his day. The son of a bricklayer, born in 1753, Soane rose from humble beginnings to make his name designing elegant country houses for the gentry. By 1788, aged only 35, he had not only become renowned for his austere, almost minimal take on neoclassicism, but had been appointed to one of the most prodigious posts in the country – Surveyor of the Bank of England – meaning he was responsible for rebuilding and expanding its headquarters in London.
At Pitzhanger, a village then on the outskirts of the capital, Soane hoped to reflect his status in a country house of his own. The building he created over four years from 1800 is modest (seen in the context of grand country houses at the time) but intricately designed, filled with new ideas. Having demolished most of the existing 17th-century manor that was on the site – preserving only one wing built by George Dance the Younger – Soane created a country villa that stands testament to his singular inventive talent and his mastery of space and light.
"The interior is a catalogue of typically Soanian spaces."
Even at a distance, Pitzhanger Manor is impressive. Seen from the road, framed by a brick-and-flint archway, the building is dramatically foreshortened. The oblique approach – now reinstated – was an ingenious way of making the house appear grander and more imposing. Face on, the unusual square façade can be read as Soane's CV, rendered in brick and Portland stone. Its form, modelled on the Arch of Constantine, is both a souvenir of the formative time Soane spent in Rome on his Grand Tour and a reference to his work at the Bank of England; the sculpted reliefs and caryatids anticipate the architect's extensive collection of art and antiquities inside. 
The interior is a catalogue of typically Soaneian spaces: canopy-dome ceilings, inset mirrors and trompe-l'oeil paintings of trellises and skies that play with perspective and space. Lanterns and generous windows fill the building with natural light. In the double-height hall, the surprising use of yellow glass in the high windows creates a contemplative atmosphere, emphasising the transition between the interior and exterior. The conservatory has views out across the landscaped gardens – almost modern in its uncompromising simplicity, a wall of glazing running the length of the entire room.
"His dream of establishing a dynastic seat and passing his legacy on to his sons had been shattered."
– Clare Gough
Pitzhanger was both an architectural laboratory and a portfolio for Soane, a place to experiment and to exhibit his work to prospective clients, whom he entertained here at lavish parties. "You can see ideas that he develops here used in later projects," says Clare Gough, director of the Pitzhanger Manor, now a museum and gallery. "His trademark domed ceiling, which he uses in a relatively simple form here, he deploys later and more elaborately in the dining room at 10 Downing Street."
Soane hoped Pitzhanger would foster an architectural dynasty. As a teenaged apprentice under Dance the Younger, Soane had worked on the earlier building that had stood in its place. He incorporated Dance's wing into the scheme as a visual link between two generations of architects. It was a lineage he hoped would continue with his sons – the house and its collection nurturing them as they followed in their father's footsteps.
The junior Soanes, however, showed little interest. In 1810, after the architect and his wife had grown estranged from their children, Pitzhanger was sold and Soane's collection was moved back to London. There he continued to work and develop new ideas until his death in 1837, his house in Lincoln's Inn Fields becoming an ever more haphazard site of experimentation. But Soane remained preoccupied with his country home. "His dream of establishing a dynastic seat and passing his legacy on to his sons had been shattered, but we know he continued to think about Pitzhanger," says Gough. "He was still commissioning drawings of the house as late as 1832."
"Pitzhanger reopened in 2019 as a near-perfect reconstruction."
Over the next few decades, Pitzhanger changed hands several times before it was sold in 1900 to Ealing Council, which used it first as a library and then a museum. When the decision was made to restore the house in 2012, a significant part of the work involved demolishing the Georgian and Victorian additions, as well as removing the changes made by the council. With the lantern and conservatory reinstated – and the original paintwork, uncovered through forensic investigation, restored – Pitzhanger reopened in 2019 as a near-perfect reconstruction of Soane's original design.
Most know Soane for his eccentric, labyrinthine house at Lincoln's Inn Fields, also now a museum. But with the exception of the Dulwich Picture Gallery, few of his great works have survived (his monumental Bank of England was completely rebuilt in the 1920s and '30s). Now, with the restoration of Pitzhanger Manor, the unique architectural legacy Soane hoped to pass on through his children can be glimpsed once again. 
Further Reading:
Sir John Soane, Architect by Dorothy Stroud
Pitzhanger manor: the painstaking recreation of a hand-painted Chinese wallpaper, by Studio Spelling