A Place Like No Other: Turner's House, Twickenham
Sandycombe Lodge in south-west London is a singular example of JMW Turner's underrated architectural eye – and proof there are masterpieces everywhere waiting to be discovered
Words

Jacob Charles Wilson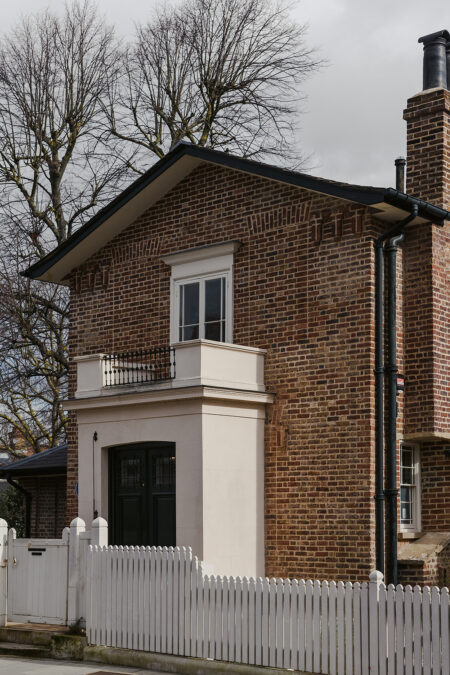 Standing alone amid the handsome Edwardian semi-detached houses of a quiet suburban street in Twickenham, south-west London, is one of Britain's lesser-known national treasures, Sandycombe Lodge. The house is already eye-catching given its balanced classical façade, Welsh slate roof, smart sandy-yellow bricks and elegant penny-roll pointing, but a blue plaque marks its special significance. For this is the sole extant building designed by one of Britain's greatest landscape painters, Joseph Mallord William Turner. Now a museum, it is his only residence open to the public – and a singular example of his architectural sensibility.
"Turner was born in 1775 in Covent Garden, but as a young boy was sent to relatives in Brentford, where he developed a lifelong passion for the Thames west of London," says the museum's director, Dr Matthew Morgan. "Once he'd become successful, critically and financially, he did what a lot of people in London do and looked outside the city for somewhere to have a holiday home." At the time, Twickenham was a desirable rural retreat, far enough to escape the noise and smell of the capital, yet close enough to be reached by horse or boat and popular with artists – Sir Joshua Reynolds had lived in nearby Richmond. In 1807, Turner settled on a two-acre wedge of land lying on a gentle slope in the bend of the river, not far from Eel Pie Island. Within a few years, he had set about building a house for himself.
Turner is thought of first and foremost as a painter, but in his youth he had trained as an architectural draughtsman and worked for several architects, including James Wyatt and Thomas Hardwick. While at the Royal Academy, he befriended Sir John Soane and read extensively about architecture. Towards the end of his life, Turner even said that, given another chance, he would rather have been an architect than a painter. His passion is evident in the preliminary plans and elevations for Sandycombe he sketched between 1808 and 1811. These drawings, held in Tate's collection, show the evolution of his design from a large mansion with a first-floor veranda, to the compact villa it is today, which was completed by 1813.
Sandycombe is modest – it has two bedrooms, two reception rooms, a dining room and a cellar kitchen – in keeping with the painter's humble background and reflecting his desire for a simple home in which to entertain his closest friends and to house his ageing father. But Turner's eye for proportion, space and light produced a deceptively ambitious building. For Matthew, "It is utterly unique and completely idiosyncratic – just like Turner was."
However, if there's one person Turner is indebted to, it's his friend Soane. Throughout Sandycombe there are various details bearing a striking similarity to those seen at Soane's houses, 13 Lincoln's Inn Fields and Pitzhanger Manor. Soane's fondness for fitting even the smallest of spaces with remarkable features is echoed in Sandycombe's curved staircase. "For a house like this, it's incredibly grand yet it has been achieved with a great economy of space," says Matthew. "You look up and feel the huge sweep of staircase coming up and round, as your eyes are drawn to the laylight in the ceiling. But it's only six feet across. It's very cleverly built."
That laylight, decorated with a bright-orange flower resembling a flaming sun, recalls Soane's fondness for coloured glass and Turner's own painterly fascination with light. "The sun streams through, projecting orange light on to the wall, which moves as the day passes. That can't be an accident," Matthew adds. "Turner must have considered this. He must have thought about how light and colour form part of the architecture."
The entrance hall and stairwell are lined with hand-painted faux-marble wallpaper, highly fashionable at a time when marble imports were restricted due to the Napoleonic wars. Matthew draws a connection to Petworth House, owned by Turner's patron George Wyndham: "It's Turner saying: 'I'm able to compete on this level. You have your faux-marble walls, I have my faux-marble walls as well.' He was famously competitive."
It's hard to believe that just five years ago, Sandycombe was all but unrecognisable. After Turner sold the house in 1826, it suffered nearly two centuries of decline. It's only thanks to an extensive £2.4 million restoration, completed in 2017, that we can today appreciate the artist's original vision. Ironically, Turner never painted Sandycombe. The only contemporary depiction the restorers were able to draw upon was a watercolour by William Havell. They instead resorted to physical evidence from close examination of the brickwork and paint samples taken from the walls. Some features were reconstructed from scratch; a model ship known to have been owned by Turner, and the floral wallpaper that lined his bedroom. No furniture remained, so period pieces were sourced.
The house may not be entirely Turner's hand, but Matthew believes it paints an honest picture. "When you look at a Turner painting in a gallery, what you're seeing is the public face of the man… This house offers a chance to see a different side of him; this is the personal, private side of Turner – the one you can't easily tease out from his art."
Further reading
This summer, the house will host an exhibition dedicated to Turner's first tour of Italy in 1819-20 and the profound effect it had on his work. 'Seeing the Light' is on display 7 July-29 October. For more information, visit the website.