Doorway to the Arts: Inigo's new partnership with Art History Link-Up, dedicated to diversifying the creative sector
A qualification in art history has the power to shape a young person's career – but the challenge is access. A new education partnership between Inigo and Art History Link-Up sets out to change that, helping to create a sector full of opportunity that's open to all, as Rose Aidin, Chief Executive of Art History Link-Up, explains
Words

Rose Aidin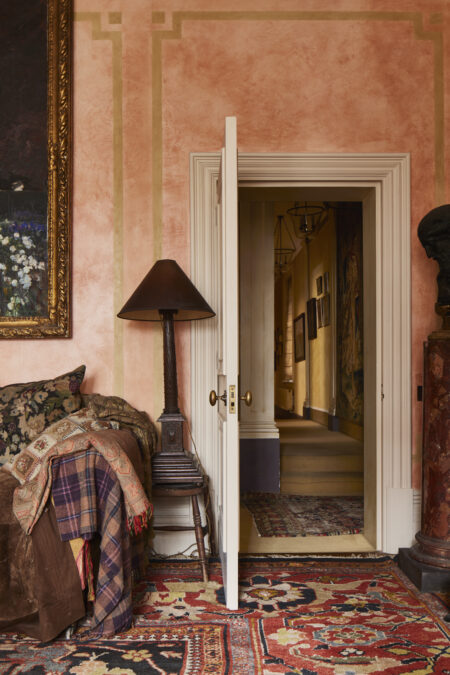 Art history matters because understanding why things look the way they do matters. The ambition of Art History Link-Up is to make art history accessible for everyone. In that way, there's a parallel with Inigo, which aims to give everyone access to historic architecture. This is why Art History Link-Up (AHLU) and Inigo are embarking on a new partnership together, called Doorway to the Arts. Together we're planning to open more doors for young students from diverse backgrounds.
Currently only eight state-supported schools in the UK offer art history as an A-level. It's a cause for great concern, not least given that in 2017 the creative industries contributed more than £111 billion to the country's economy. We need diverse, dynamic and innovative entrants in the creative sector to maintain and develop this creative output and, of course, to generate income for the UK. AHLU supports this directly, by offering free art history A-level and EPQ (Extended Project Qualification) courses for state-supported students, taught on term-time Saturdays. Founded in the 2016-17 academic year, we've expanded rapidly, thanks to the support of the sector. There have been classes held at The Wallace Collection and the National Gallery – as well as teaching space, these galleries gave students invaluable access to their great treasures for free, as part of our sessions. It meant students could study Botticelli, Leonardo and Michelangelo in class, then a walk a few hundred feet to see and study Renaissance paintings first-hand, in The National Gallery's Sainsbury Wing, for instance. A discussion on the genre of portraiture could be followed moments later by a visit to The Wallace Collection's Great Gallery to debate the merits of Frans Hals' The Laughing Cavalier.
Most of our students say that, as a result of our courses, they want to study the arts at university and pursue careers in creative industries. Our alumni are currently studying art history at the Universities of Oxford and Cambridge, The Courtauld Institute of Art and many other Russell Group universities. We believe that studying art history is transformational for our students – they tell us so themselves. They in turn have the potential to transform the sector. As one recent student told us, "I always knew I had an interest in art history but my time with AHLU has really helped to confirm that it's something I want to study at university and beyond. It has also been really helpful to listen to people who have found a career in art history, as it has made my goals seem more achievable and made me want to work harder to reach them."
In March 2020, as a result of the pandemic, AHLU pivoted to online teaching with great success. Online teaching has allowed us to offer opportunities to more students from more places in the UK. Our courses are still structured around works of art in our great public collections and we hope to be able to return to the galleries in some shape or form before too long.
Now, thanks to our partnership with Inigo, AHLU will offer our students architectural-based events and tours, access to additional careers advice and work experience opportunities, the chance to write for the Almanac about their amazing projects and achievements, and contact with Inigo's Guild, a select group of creatives luminaries and thinkers who share the company's principles. Taking inspiration from its namesake, Inigo Jones, whose work initiated a golden age of design in this country, Inigo aims to give young people with an interest in art, architecture and design the chance to start along the path to further education in the arts and to support their entry to and enjoyment of the arts sector.
Emma Mansell, managing director of Inigo and The Modern House, says she finds the partnership with AHLU "particularly personal and resonant", as so many of Inigo's team have arts backgrounds, including Emma herself. She adds: "through our partnership with Art History Link-Up we hope to contribute to a creative industry that's multi-faceted and full of opportunities for creative people, regardless of their background."
This is an exciting year for AHLU, with the launch of a pilot 'Introduction to Art History' course for younger secondary school-age children. We believe that studying art history should be available for everyone, not because it's a special subject, but precisely the opposite. On one hand, it's a subject like any other – English, history, maths, or biology. However, it's also a subject with cross-curricular applications and career prospects that make it uniquely relevant to young people, especially in today's times.
With this new venture, Inigo and AHLU aim to support not only the longevity and wider uptake of art history, but also the opening of doors for talented young people from all types of schools and backgrounds, from across the UK. We greatly look forward to sharing news of our partnership and our students' progress with you over the coming months, and to opening more doors for young people to the arts.
Photography (gallery images): Quentin Newark/Art History Link-Up