A Private View: a job done well in a terraced townhouse in Brixton
If you want something done right, the saying goes, do it yourself. That's Doug Albon's motto, it seems, as a tour of his meticulously remodelled townhouse in south London, currently for sale with Inigo, shows
Photography

Edvinas Bruzas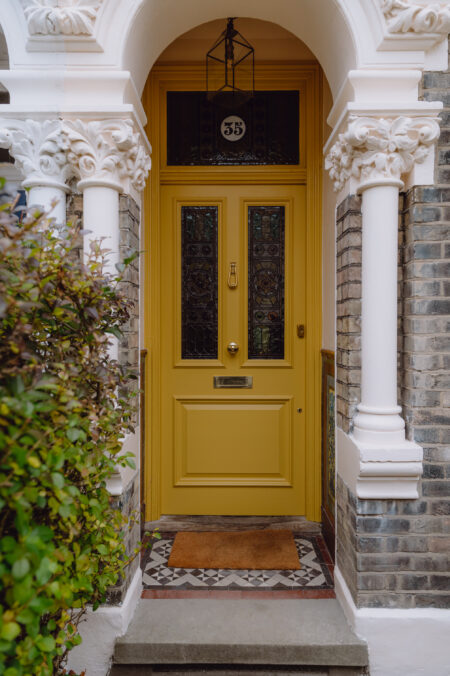 Doug Albon made all 19 of the sash windows in his house himself. He also made the french doors in the kitchen (and, yes, he made that too). Oh, and all the panelling in the bathroom. Then he did the loft conversion. That then needed a staircase so, naturally, he rustled up a carbon copy of the house's Victorian original.
Doug is that rare talent: jack of all trades and, it seems, master of them too – though he balks, ever self-effacing, at the suggestion. "It's quite funny," he goes on. "I never know what to say when people ask me what I do. I haven't officially trained in anything. I've just taught myself along the way."
"It can be annoying, doing everything yourself," he half laughs, half sighs. "My standards for myself are pretty high. And it seems that if I can make something more awkward for myself, I will!" It's perhaps the reason why this project has taken a little longer than he and his wife, Sophie, anticipated. It didn't help that the house on Arodene Road needed a new roof, he says, nor that the pandemic took hold. (Nor, as Doug readily admits, he's been happily distracted by the joinery workshop he's set up in Sussex.) But now, nearly three years later, they've made it. As the house comes on the market, Doug waxes lyrical on the fun, freedoms and occasional frustrations of his DIY approach – and why, ultimately, it's worth it.
"The thing that was really nice about this place, when we bought it, was that nothing had been done to it. And while that meant it had been really neglected, it also meant there had never been any builders in here, mucking about and ripping features about. There wasn't even any central heating, so nobody had pulled anything apart to put in extra pipes. The roof had suffered, though, which meant there was a lot of work to do, but overall it meant things hadn't been butchered.
"When we started on the project, I really wanted to make sure we weren't too 'clean' about things; I didn't want to strip the house of character. That's why, for instance, the floors have been treated, but they haven't necessarily been totally flattened and repaired. Once you start with that kind of thing, it's hard to stop, I think. Suddenly everything looks new.
"The house now has five bedrooms and four bathrooms. We deliberated about what's now the master bathroom. It was a spare room ­– and a rather big one too – before we decided to turn it into our bathroom, but I didn't want to carve up our bedroom to make space. Nor do Sophie and I like en suites all that much. It's nice to have the separation between the two rooms, I think, which is why there's no linking door. The room itself was knackered, but we've got there. Our bedroom was in a slightly better state, luckily. It needed a new ceiling, but I've managed to retain 99 per cent of the cornicing. My approach, in the whole house really, was: if we can hang on to anything, we should.
"I've done pretty much everything in the house, including the loft conversion. There was originally access to the roof through a little cupboard door, but now there's a wooden staircase that I built to match the original. I was adamant I didn't want to do it the usual way, as often the access through those cupboards is quite poky. I know why people do it, not least because it's a bit cheaper; that makes total sense. I'm lucky that I'm able to do it myself; that's where my cost-cutting comes.
"We extended the stairwell all the way up to the roof and put in a skylight, which means borrowed light falls all the way down to the ground floor. One thing I really like is that when people see the staircase in this upper part of the house they don't know that it's new. I want things to look like they fit in, so that brings me a lot of pleasure.
"I've renovated flats in this hands-on way before, which can be a bit nightmarish with the leases, but the dream was always to do a whole house. That said, my past experiences have been the best lessons. I've tried to learn every single trade. It helps that my mum's side of the family is full of tradesmen, so it means there's always an uncle to ask. I've learned a lot from them and, in particular, my granddad. He was carpenter, very much of the old school, and it was working with him that I realised I was most happy. As a result, I'm trying to concentrate on joinery, bringing in a few modern touches alongside his traditional methods. It's been really useful here – I made every sash window – but the house has tested all my other skills too.
"I don't mind being unfashionable, if it makes a house work better. You don't need to do everything just because you can. We toyed with doing a side return downstairs, for instance, but in the end decided the house wouldn't necessarily benefit from it. The kitchen is definitely big enough. It makes total sense in flats, when space is at a premium, but here it would have taken away so much of the light in the room behind that it didn't seem worth it. It also meant we got to keep the bay on the side wall, with its original leading. Similarly, we bucked the trend for bifold doors in there and added a huge picture window at the back instead. It means that space is solely for eating, for sitting on the banquette, rather than a thoroughfare into the garden.
"Sophie's been instrumental in the interiors, particularly in terms of colour. She's got a great eye for the finer details, though it has taken time to get things just right – I think the sitting room has been four different colours. I think our ideas came together really nicely, at different ends of the projects. Most of the time, though, I worked on the building itself on my own. It took longer than perhaps it should have, but my trouble is that I always want to do that little bit extra. Everywhere! I do realise that it would be so much easier to just buy a kitchen and fit it, that I don't need to panel the entire bathroom myself, but it wouldn't be the same. Halfway through every job, I curse myself for making extra work. But it's about doing things the proper way, rather than taking the path of least resistance. I hope that comes across here."