A Home with a History: Gemma Moulton's slow-burning romance with a flat in east London
Gemma Moulton's Hackney home wasn't all she'd ever dreamed of – until it was. Now, after a sensitive revamp, it's become a long-lasting love, both a sanctuary for the seamstress and a showcase for her skills
Words

George Upton

Photography

Ellen Hancock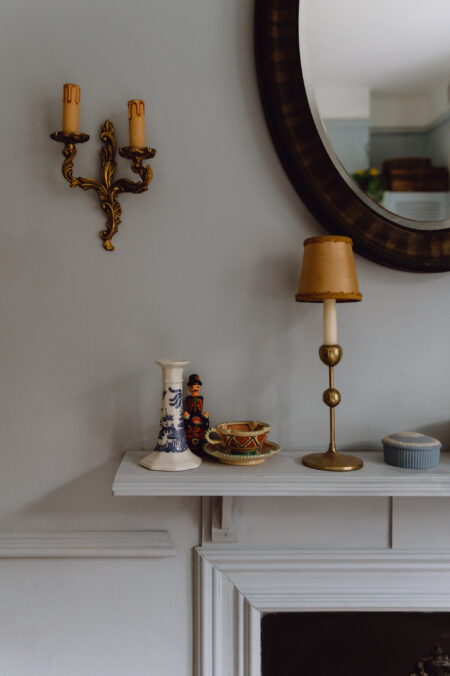 The first time Gemma Moulton looked round her future flat, in a quirky Arts and Crafts house near Victoria Park, she hated it. "We'd been looking for a classic east-London semi. This was a complete curveball," says the curtain maker and founder of soft-furnishings company East London Cloth. "It just seemed too odd to me," she adds, of its unexplained extra walls and raised floors.
Yet for the next week, Gemma could think of little else. Seeing a wealth of potential in its split levels –­ and having always wanted to work with a listed building ­– she set out on a gradual and sensitive program of restoration. Four years on, having long since embraced its idiosyncrasies and built a considered collection of antiques, the flat has been transformed, becoming both a sanctuary for her family during lockdown and an impromptu workshop for the company she launched in 2020.
Gemma retrained as a curtain maker at a time when there were so few practitioners of the craft it was in danger of disappearing. Now East London Cloth has grown to be a team of four, and Gemma is running an online curtain-making course with Create Academy. The flat, having been an instrumental part of her success, serves as a showcase for her individual take on a craft she has done much to revitalise – and one that has directly inspired the approach of East London Cloth, as she explained when she talked to Inigo about falling more in love with her home in Hackney every day.
"We had been living in a cramped basement flat in Islington when we first saw this place. I had just had my daughter and we had been looking at places further out of town, so that we'd have more room. The proportions were excellent – it had these incredibly high ceilings – but it wasn't the typical terraced house that we were looking for, so we walked away.
"Yet we just had this sense that it was right – it seemed to have so much potential. I've always had a strong interest in old characterful houses and this presented a real opportunity to do something out of the box. The building is listed, so we couldn't do much structurally, but I found I liked working within those limitations. I went in with very strong ideas of what I wanted to do, but rather than us imposing these ideas on the flat, it has very much dictated what it needed from us.
"We started with a very basic redecoration of the bedrooms – they were quite unloved and hadn't been touched for years. But having come from a tiny galley kitchen to a kitchen that, in London terms, is fairly enormous, that became the first big project.
"It already had a lot of lovely features, like the huge windows and high ceilings; there was a lot of light. We bought a big batch of reclaimed parquet from an architectural-salvage company and had planned to get someone to fit it, but we couldn't find anyone who could do it in time. We decided to lay it ourselves – which is not something I would recommend to anyone! It was hell – a week of almost constant sanding.
"I've always been a practical person though, and we also built a banquette with some panelling, mostly because we had a really ugly wall that we wanted to cover. In the end, I'm glad we did almost everything ourselves, because it meant we got it done. By the time the first lockdown came around we had a room that we could all live in.
"The kitchen has become my favourite space. I found an old workshop table in Stoke Newington for £7; it's the most solid thing I've ever owned. This is the place I gravitate to whenever I'm at home and it's where we meet as a family at mealtimes. And when I started East London Cloth and didn't have a studio, I could fold out an even bigger table in the kitchen to work on. It's been a real godsend.
"The living room was the most difficult to get right. Like a lot of our flat, it's north-facing and we really struggled to find a colour that would work. In the end, I came across some paint from Little Greene called 'Lead White', which completely transformed it from a cold, stark place to a wonderfully cosy room – though I think it helps that I've filled it with stuff.
"I feel like I've had a pretty good education in furniture. My grandparents' house was absolutely rammed with antiques, and my grandmother was great at working out how to restore everything. There's a lot of furniture and artwork from their house here, like the beautiful paintings of my great-grandmother's garden from the 1920s. I found other things on eBay, including a huge Georgian wardrobe that had been painted bright yellow for some reason. The amalgamation of things has been a slow process, though – finding pieces here and there.
"I didn't make any curtains for myself until the first lockdown, about 18 months after we moved in. I had been spending all my time making curtains for other people and it just wasn't how I wanted to spend my spare time. When we were forced to be at home, I realised that I should probably make some for the bedroom. Like everywhere else in the flat, they're really simple, in case I change my mind. I used a Robert Kime fabric in the sitting room, just because it's wonderful. Then there are some simple blinds in a very reasonably priced Ian Mankin fabric in the kitchen, and very fine Irish linen café curtains in the bathroom. I also created a heavy door curtain out of some Indian palampores [hand-painted bed covers] for the draughty hallway; I'd like to do more of those for my work.
"I have quite a strong aversion to the style of renovation that involves ripping everything out. I don't think it's necessary and I feel we proved that with our flat. There was a lot that was missing, and a lot that has been altered over time, but we've kept the sense of mystery that was always there: the unexplained external wall in the middle of the room upstairs, or the raised living-room floor that has nothing underneath. We have absolutely no idea why it's like that.
"It's been tricky researching the building's history. I do know that it was built in 1898 by the Church of England as part of an old ecclesiastical complex, so it's really well put together. But I feel the story is still unfolding. We're now nearly four years in and I think it will always be something of a work in progress. I'm not very good at being 'done' – and, besides, it's good to take one's time. I realise now that the decisions I made straight after we moved, and the ones I had over lockdown, when Instagram became the main source of inspiration, that I've revisited. They were quite faddy.
"So it's really grown with us, this flat. Rather than it being love at first sight, we've come to love it. It was only ever supposed to be a five-year stop-gap before we moved on to a bigger house, but I can't see us ever leaving."
Further Reading
Gemma's course, How to Make Beautiful Curtains, costs £127 and provides five hours' teaching. For more details, visit the Create Academy website
East London Cloth on Instagram