A Room of One's Own: the creative clutter of Walid al Damirji's antique-filled London studio
The designer and By Walid founder invites Inigo into his workspace, to explain how forgotten fabrics are a continual source of inspiration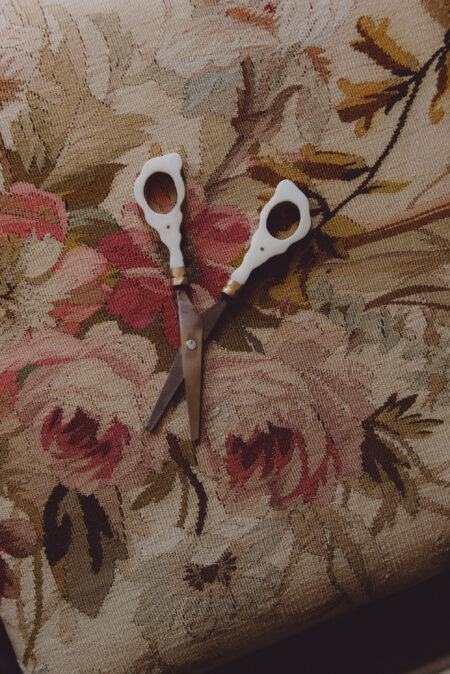 Walid al Damirji is something of a singularity in the fashion industry. Where many other designers are just beginning to cotton on to the idea of reusing, reclaiming and upcycling in the name of sustainability, the zero-waste approach has been central to Walid's work since he founded his eponymous brand By Walid in 2011. His method, to put it simply, is to create new products from exquisite antique fabrics. After carefully restoring and re-mounting these scraps of forlorn and forgotten textiles – from 17th-century French linen to extravagant 19th-century Chinese silks – he reimagines them as one-off, patchworked pieces, each bursting with its own unique history and character.
Though the By Walid range only released a few pieces on launch, focusing on just two simple jacket silhouettes, Walid has spent the past decade expanding and deepening his offering into a full range of men's and women's clothing, shoes and accessories. More recently, he has launched a homewares line featuring exquisitely distressed and lovingly reworked cushions; plus chairs and footstools crafted from rescued tapestry fragments and antique quilts, along with other unexpected materials.
His current studio in Hammersmith, London, is a reflection of both his collector's eye and his gleefully capricious approach to creativity, filled as it is with beautiful fabrics, intriguing knick-knacks and examples of his recent projects and experiments; from a new range of lampshades made from antique block-print fabrics to the playful head sculptures he's taken to making from his smallest fabric offcuts. Below, he talks Inigo through the space – an office, showroom and home away from home.
"I think I'm a natural nester, wherever I go."
"I've been here for three or four years now. Before, I was in a place in Marble Arch, a sublet. My landlady was renting it from the church commission and they wanted it back. I got fed up with having landlords and landladies and I just bought this mews myself. I think there was a publisher in here before. It feels homey now, but you know what? It just happens. I suddenly find that I have layers and layers… and they multiply. First I've got one thing, and then I put the mirror on top of that and then I think 'oh, I want this', and 'I want that'. I think I'm a natural nester, wherever I go.
"The studio downstairs is where the kids work. My head of studio says she's always worried that I'm going to bring down chairs and impose them on her. She wants a work environment. So downstairs I have to keep it clutter-free for her. But upstairs, I'm allowed to do as I please.
"The only thing I brought from my studio in Marble Arch was the mirror. It's French, a 19th-century piece. It was, funnily enough, sold to me by one of my textile dealers. She had bought it for herself and it was too big for her – she asked me if I would be interested. And she showed me and I said 'Oh, it's so camp. It's so beautiful!' I just took it… I needed something like that. The other space was so morbid. The rest of the decoration has been gradual.
"I'm into the French style one day, and the Victorian bourgeoisie the next…"
"I bought the tapestry behind the mirror from a dealer, after a quick glance. He told me it was in very bad condition, so I thought that there would be rips and tears in it, and I would have to convert it into cushions or seating. But then I got it here and thought, 'oh, it's actually in good nick'. So I've just held on to it. I don't know why, but I find it very good luck-ish. Beside it, there's a part of a French opera costume. There's tassels, I think, from a Lanvin dress, and all sorts of bits and bobs. And the rosaries. I love rosaries. I must have been a priest in a former life – I always think the church has the best pieces!
"The rug is a French Aubusson piece from the 18th century. I bought it from a dealer who's become my friend – he called me saying 'this is so you.' I said 'Well, bring it – let's have a look.' And of course I fell in love with it because it's changed the whole room. I have one at home as well that's really beautiful. I like the French style, but I rotate between them all. I'm into French one day, then the next day I'm into the Victorian bourgeoisie, and then I've moved back to Napoleon the Third.
"There is some organisation here. I know where everything is. But I like to be around a lot of things, because I'm always jumping from one project to another. I could be doing one of the head sculptures, then I could move back into overseeing a jacket, or more recently, the homeware – there are the chairs, and cushions and lampshades, but we're also going to do napkins and tablecloths.
"I've got a network of suppliers… people know me. I'm the crazy one…"
"Since lockdown, all my sourcing has been online, but I'm really lucky that I've got a network of suppliers contacting me from all over the world. It's continuous. And people know me: I'm the crazy one that buys all the distressed stuff. A lot of people wouldn't touch it. But I'm always up for a challenge – to reback something and to clean it. I spend most of my mornings talking to dealers or to auction houses and being shown things. Sourcing is quite a large part of the job. And now, post-Brexit, it's become more and more difficult. It's such a headache.
"All our designs start with the textile. And from that, we move into the garments. The shapes are very studied and very simple and are not meant to be seasonally changed. We make one jacket that we've done for 10 years now, and keep repeating and it still sells. It's the treatment of the textiles and the interpretations and the longevity of the garment that mean a lot to us. Also, we don't dishonour the fabrics. Some of these fabrics, they've probably turned people a bit blind in the stitching and making and embroidering of them, all those years ago. But then they've got into such a bad state. Rather than having them sitting in a drawer with waxed tissue paper on either side, my thought is, why not make them something that you can use and reuse and people can admire? These things are so beautiful. So irreplaceable. Some of them can be the most mundane things, but to turn them around into something new – it's always such a pleasure."
FURTHER READING
By Walid on Instagram