Inigo & The New Craftsmen: how furniture maker Alfred Newall is bringing back the bobbin leg
In the next installment of our series with The New Craftsmen, Inigo joins the Sussex-based artisan to discuss the pleasures of making and the appealing character of expertly turned wood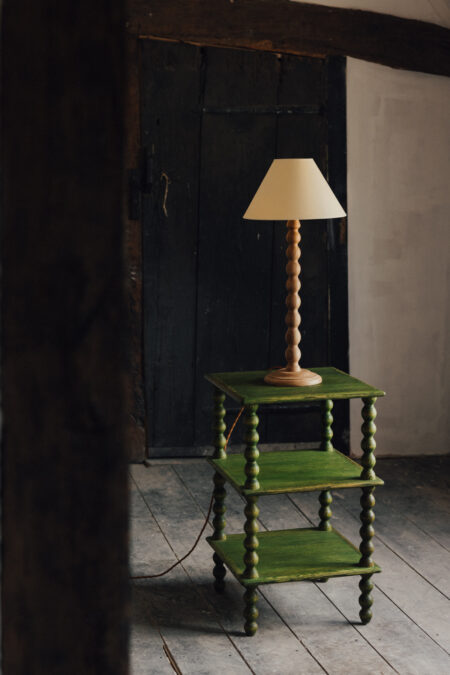 Since his schooldays, furniture maker Alfred Newall has derived immense satisfaction from working with natural materials. "I really liked making things," he says, straightforwardly, recalling his early enthusiasm for the lathe and all sorts of "little projects in which you saw something coming together." "I didn't really think that I was going to have a career in it," he admits, yet, this is indeed what happened – and business is booming. After studying at the Building Crafts College in London and working for various interior designers and retail clients, Alfred set up his own company, The London Workshop, in 2010. Today, his team works on both bespoke joinery and cabinet-making projects as well as manufacturing an irresistibly charming range of furniture, instantly recognisable for their quietly amusing bobbin-turned legs. When Inigo meets Alfred, he's busy – in the interiors-obsessed year of the pandemic, the success of these upbeat, cheer-inducing pieces has been so great as to be slightly overwhelming. But he was nonetheless happy to explain some of his inspirations and methods to us, from the timely charm of the bobbin leg itself to our country's fine tradition of artisanal wood-turners.
"It's an amusing design in a way – it's really pleasing."
"The bobbin leg is really an old design. This type of furniture, created using a lathe turning and a waving, bobbin effect is something that you see in lots of Victorian furniture or even earlier and my work is a reference to that. It's just such a simple thing that is really quite effective. You get a lovely cut into the wood, especially when we do them in oak. So you can see how the grain is affected by this cutting and waving pattern. It's an amusing design in a way – it's really pleasing. And when we combine them with colours they become quite contemporary. It's been fun to explore.
"I fixated on the bobbin because I'd seen bobbin chairs and other pieces with really ornate turnings in the V&A. I really liked this detail, and others – things like the barley twist, which is an asymmetric, spun component. It makes you think about how the piece might have been made, and it's very tactile, and beautiful, and also quite unusual. So I really wanted to focus on that. And I wanted to keep it simple, so I could really focus on the leg detail. In my furniture, the leg supports are flanked by very plain, flat shelves. There's no other kind of ornament. That simplicity allowed me to explore the design in lots of different directions, without it being too complex.
"Turning has a very interesting history in this country."
"I find that there's a lot more to turned components than square ones. And turning also has a very interesting history in this country. There used to be people called "bodgers" who would work in the woodlands and turn chair components for Windsor chair makers. These components were outsourced to people working out in the woods, and they would be bought in big bundles over to the factories and assembled. There's also a lovely action to the actual turning – the word chipping away as it spins. It's a bit like a potter's wheel.
"We mostly make in small batches now. So if we're making the tables, for example, we will turn the components out of English oak, and we'll make lots of spindles so that we can have them ready to use and assemble. Assembly is really the fun part, because you see each piece coming alive. In the earliest stages, they're like little boxes of components together, and you can't really see what they are, even to make sure you've got the right quantity of each thing. And then you assemble them and they become their own little characters.
"I love seeing old buildings with original period furniture."
"For inspiration, I love going to rural museums and looking at folk art. Places like the Highland Folk Museum in Scotland, where they've actually taken historic buildings apart into small pieces and then reassembled them There's also the Weald & Downland Museum in Sussex, which is the same sort of thing, but focuses on on medieval timber frame buildings. I love seeing old buildings, especially ones with original period furniture.
"There are so many opportunities in this country to explore that sort of thing. The low-key places are almost always the best. It's the unlikely things that you might see – like a lovely old country settle or just simple winter chairs with nice details somewhere. It doesn't need to be something famous, or something instantly recognisable. You can just find one thing, made by some unknown maker that's really special in it's own right – completely original. That's what I find really exciting."
FURTHER READING
Shop Alfred Newall's furniture collection at The New Craftsmen