For the Library: an expert guide to the beauty of dried flowers
In her new book 'Cut & Dry', botanical stylist Carolyn Dunster opens our eyes to the decorative and creative possibilities of this simple, sustainable practice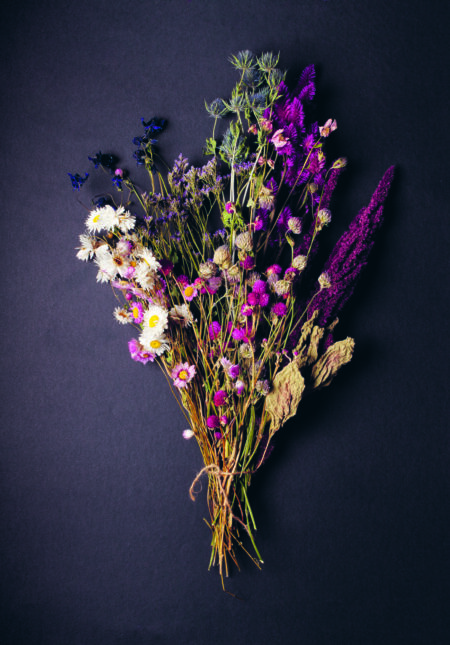 In June 2020, an article by Shruti Advani in The Financial Times drew the ire of the Twitter commentariat for its audacious unrelatability. Entitled "The awkward lessons of my luxury lockdown in Kensington", it chronicled, as you might expect, the writer's experiences of life in the opening stretch of the COVID-19 pandemic, and was particularly derided for one key detail: flowers. According to Shruti, her knee-jerk response to the dire situation was to triple her order from Freddie's Flowers, a London startup that delivers floral arrangements in weekly boxes. For her, this was an "obvious place to start." For everyone else? Not so much.
The antipathy is understandable: though fresh flowers are a lovely addition to any home, they're undeniably a luxury, and a borderline decadent prospect (in the old-fashioned, dissipated sense) when ordered in large quantities, on a regular basis. Quite beyond the sheer expense of it all, there is the waste to consider, as well as the environmental impact of the cut flower industry, which can only provide the choice and variety it does through the carbon-intensive practice of shipping flowers across the globe throughout the year.
However, says author, garden designer and botanical stylist Carolyn Dunster, there is another way to bring blooms into your home, and in a more long-lasting and sustainable fashion: the ancient art of flower drying. In fact, she writes, in the introduction to hew new book Cut & Dry: The Modern Guide to Dried Flowers from Growing to Styling, published this month by Laurence King, flower drying provides "an inexpensive way of bringing a little bit of the natural world into our homes with no added maintenance issues." Financial Times columnists: take note.
If there is one overarching theme to Carolyn's book, it's that "dried material does not have to mean dull and dusty". It's an idea she proves through example, taking the reader through a wide range of flowers, buds, grasses, mosses and more that can be easily grown or foraged in the UK and make particularly beautiful dried specimens. An enthusiastic advocate for the possibilities of dried flowers, she not only provides full instructions on how to air dry your own flowers at home, but finishes the book with a series of "recipes" for some beautiful dried flower arrangements that will perk up the home for months at a time. Yes, it's a little more labour intensive than the Freddie's Flowers method. But the results are equally impressive – and, more importantly, far less cancellable.
FURTHER READING:
Cut & Dry: The Modern Guide to Dried Flowers from Growing to Styling, Carolyn Dunster, out May 13 from Laurence King.
The awkward lessons of my luxury lockdown in Kensington, Shruti Advani, The Financial Times, June 2020.