A Room of One's Own: Matilda Goad's thrifty transformation of her much-loved kitchen pantry
The designer invites us in to look at the most-used room in her house, her pantry, which came together with reclaimed floorboards, internet-sourced grouting and discounted fabric
Words

Natasha Levy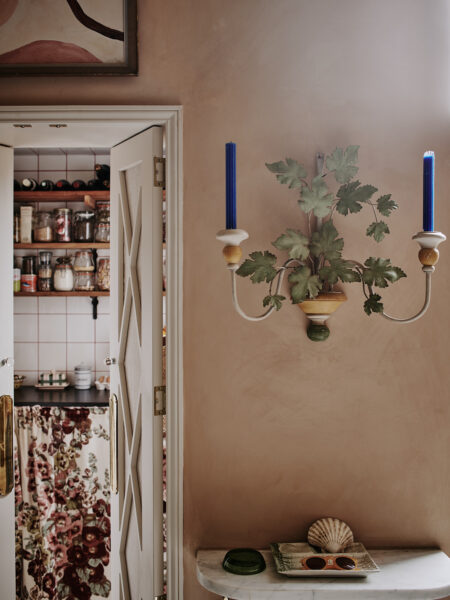 Matilda Goad's range of vintage-inspired homeware has become a hit for the instant cheery presence the pieces bestow upon an interior. Her collections effortlessly blend whimsical, kitsch detailing – she loves anything scallop-shaped and has a thing for rattan – with bright hues and sophisticated materials, appearing off-the-cuff but refined, casual but grown-up.
The smallest room in her house has been the recipient of the full force of Matilda's imaginative magpie-like approach. Far from being a place where dust settles on little-used appliances and forgotten-about tins of food, Matilda has transformed the pantry into a space that beckons enticingly beyond her kitchen with its jar-laden shelves, funky tiling and bold textiles. Here, she explains how she spent sparingly but wisely on creating what, for her, is perhaps the most visited room in her house.
"I used to do a food shop every day on my way back from work – but I've reevaluated."
"This is probably the smallest 'A Room of One's Own' that the Almanac has featured – I think the pantry is around 2sq m. When I first started designing the room, I thought of it more as a space that I could just shut off from the kitchen, but since then it's aesthetically developed quite a bit. It's become so useful; I think it's probably the most frequented room in the whole house.
"During the pandemic, I was heavily pregnant and at home most of the time, so I started ordering lots more food online – like pulses, lentils and all those sorts of things. Before having a baby, I used to do a food shop every day on my way back from work – but I've re-evaluated. Now I'm all for having lots of ingredients that we can store away, especially as my husband and I love cooking.
"I didn't really reference the style of any other pantries; we'd allocated a lot of our budget to other rooms in the house, so I didn't have a vast amount of money to spend. The granite worktop is an offcut that was left over from the kitchen, and we decided to have the café-style curtain underneath as it was a much more affordable option than joinery.
"I'm quite methodical with my design process… I work backwards."
"The one thing that I really wanted to make happen design-wise was the tiles, which help keep the room cool. I'm quite methodical with my design process; when I know I've got a certain amount of budget, I work backwards. As soon as I knew I wanted to line the room with tiles, I took an almost 1980s approach, focusing on the grouting, rather than looking at the tiles as the hero. These ones are from B&Q and are the most basic you can get. The grout is from Amazon; I discovered a whole world of coloured grouts on there.
"I didn't really know much about grout before, other than the fact you could buy varying shades of grey. I think coloured grout is a really fun idea because it's a much more affordable option that creates something aesthetically pleasing. Often, the tiles I love are not particularly affordable; however, if you look at tiles in another way, they can actually feel quite utilitarian and help the room serve its purpose.
"It's very old-fashioned to assume you should shove all your food in the fridge."
"I think the key to designing smaller rooms is working out how you're going to use the space. Rather than following the common assumption that a kitchen needs to have a dining table surrounded by eight chairs, it's better to work out how often it's just going to be you alone at home, for example, or how often you're actually going to use that blender in your cupboard.
"I used floorboards left over from my sitting room to create some narrow shelves; their width is based on the size of a standard Kilner jar. If shelves are too deep, everything ends up getting lost at the back; it's really impractical. Behind the curtain, I have stacked recycled-plastic crates from Hay, in which I keep things that I don't need every day. I also keep our coffee machine and toaster in here, so that work surfaces can be clear in the kitchen.
"I think it's very old-fashioned to assume you should shove all your food in the fridge; now I have a large collection of baskets on the floor filled with fruit, as well as onions and other vegetables – you can almost use them to dress the room.
"I don't really mind spills or mess; life's too short to worry about things like that."
"I've lately embraced shopping at delis; it's turned into quite a bad habit. There's a shop near Portobello Market called Liberté Cherie, which is a zero-plastic grocer's. You can go in with your own glass jars and fill them up with food. I find it so enjoyable decanting things; you don't even have to spend tons of money on storage. Kilner jars cost very little in the grand scheme of things. Sometimes I'll even use old Bon Maman jam jars, the ones with gingham lids. It's very pleasing when everything is eventually unified in glass jars – but generally I don't really mind spills or mess; life's too short to worry about things like that.
"I also love Perello olive cans and tins of fish with fun designs – it's always nice to have those in the cupboard. On a more practical level, I always have good oats, chocolate, rice and parmesan.
"I don't over-consider anything, to me that's what adds charm."
"The curtain fabric is by Jean Monro, which I got from a discount mill selling end-of-run fabrics. At the top of the room there's also an old wine rack that I picked up at Kempton market; I bought that early on in the renovation with the pantry in mind. I got the chandelier from another market a long time ago; I'd had it lying around for ages – I think it had once been in one of my pop-up shops. It felt like a juxtaposition to have it in the pantry, but I just thought 'Let's try it.' It almost softens the appearance of the tiled walls. My husband's company, Blockhouse Build, made the Venetian-inspired doors. I lined them with fabric so that if I've got guests here in the evening, I can tuck the room away.
"I'm a great believer in the idea that if you love something, you will always find a home for it. I don't over-consider anything; to me that's what adds charm and character to a room. I think some people probably think my style is bit of a mashup, but I'm just unafraid of mixing – something from the 1950s, say, with something from the Conran Shop. If it feels right, it will all work together in the end."
Further reading
Matilda Goad on Instagram