A Lesson in Craft: the cheer and cheek of Gavin Houghton's badly behaved slab ceramics
Inigo is invited for face time with Gavin Houghton, whose irreverent pots and plates make a case for a more frivolous home with beaming smiles, knowing winks and gleeful celebrations of the male form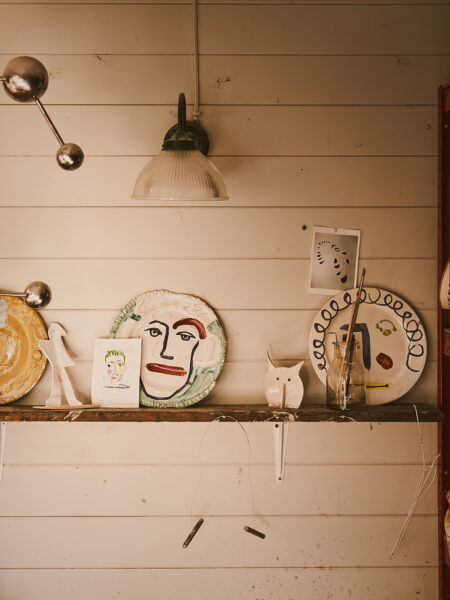 If you're now regretting not having taken up a lockdown craft, Gavin Houghton's story might induce a pang of jealousy. In the pre-Pandemic world, he was busy with interiors projects, reimagining what he calls a "quintessentially English layered style" with a colourful sense of modernity. ("If you are looking for the 'international beige on beige', look away," he says.) But then, of course, all that came to an abrupt pause. And so he ventured to the shed at the end of his garden in Stockwell, south London, to produce a proliferation of ceramics that have proved – at least to Gavin – an unexpected hit. Styles sold out. Others were privately commissioned. The media took interest.
But look at the panoply of wares for sale on Gavin's shop and you'll soon see why they've been well received. A Jack Russell gazes expectantly from the centre of a serving platter trimmed with dense green foliage. A knowing face smiles from the bottom of a teacup. Swirls, squiggles and spots abound from slightly wonky bowls, and head-shaped "pot head" vases. In sombre times, Gavin's gleeful works are a welcome burst of fun. And then there are what he calls the "naughty" ones, which have proved particularly popular. Male figures pose, embrace and… well, we'll leave the rest to the imagination.
Here, Gavin invites Inigo into his studio to capture his process and explains why, for him, having a sense of humour and a bit of fun always beats being tasteful.
"It's all quite simple, like child's play."
"The whole timing was just brilliant, completely serendipity. I was doing evening classes in a church hall to make plates, just for the fun of it. Then someone gave me a kiln, lockdown hit, and I was off. I didn't originally plan on selling them but I put some pieces on my Instagram and people started requesting to buy them.
"I do slab working, so I use a mould rather than a wheel. It's all quite simple, like child's play. You just roll out the clay, put it into the mould and let it dry. It makes for ceramics that are a bit more rustic and homemade – definitely not slick. And I like that. It's almost like they have an instant patina.
"If I want to put a handle on something, for example, I just roll two sausage shapes, join them together and slap it on the piece. That appeals to me a lot more than spending hours creating a perfectly symmetrical form.
"I don't like things to be taken too seriously"
"And then I decorate them. I'm quite inspired by the Bloomsbury group and their whole aesthetic, but I source inspiration from everywhere. Pictures just resonate with me, I grab them and they might end up on a plate. I have a place in Tangier in Morocco, so that informs some of them, and my two Jack Russells, Jack and Jill, also feature sometimes.
"I've been doing some quite naughty ones, which sell like hotcakes. It's bizarre, as soon as you put a willy on something it flies out the door. Some people can't even look at them, but others can't get enough. I have a whole folder I call the willy file, full of inspiration.
"They do put a smile on people's faces, which I like. I don't like things to be taken too seriously – I think this sort of stuff should be quite playful. You have to push yourself to be a bit naughty, I think, because otherwise you can just play it safe and be tasteful, which doesn't amuse me.
"It's only a plate, you know what I mean? That's what I think about interiors too – it's only a room. I'm not that precious about any of this, I'm really not. And maybe I'm deluding myself or pretending, but I think if any of it is over-laboured it looses its charm for me. I don't like most Lucien Freud paintings, for example, because I sort of just see them as technical feats, and they don't move me. I like spontaneity, I suppose.
"But everyone has different tastes, and I say good luck to all of them. I have no vanity about my taste. Over the years people have said very nice things to me, which is fine. But with clients, for example, my approach is if they like it, have it. I may think it's absolutely hideous, but I'm not vain enough to be precious.
"I like that it's just me in my shed by myself, listening to the radio, painting."
"I've always painted in my interiors work. Originally, I used to do paint effects like marbling and wood graining, so I've always liked surface design. That's it, I think. That's why I love wallpapers, I love fabrics, I love ceramics – because I love surface design. So there's no great jump for me from interiors to this. My interiors work is actually brewing up again, and it's quite nice to go back into it. I like doing both.
"This is a lot less stressful, though. I like that it's just me in my shed by myself, listening to the radio, painting. I love that process, from a bag of clay to making it, drying it, firing it, painting it, glazing it, to firing it again, and selling it. The whole process is mine, which is really satisfying."
Further reading
Gavin Houghton on Instagram