A Private View: Rachel Chudley and Nico Kaufman on creating a home and studio in a Victorian stables in east London
The interior designer converted the disused property into a unique live/work space with her distinctive design flair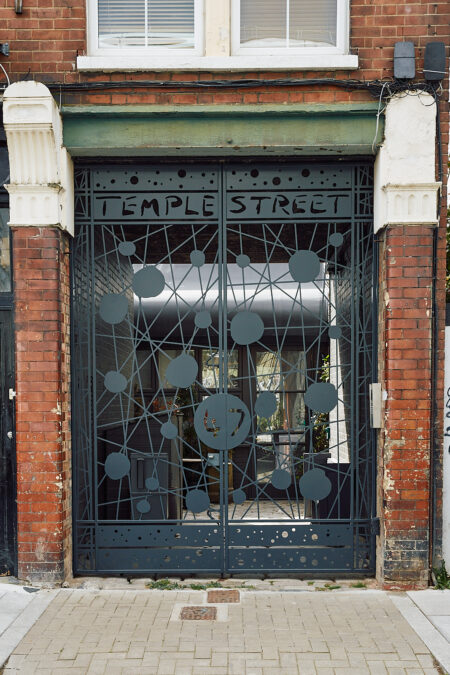 It may have been by chance that interior designer Rachel Chudley came across a dilapidated Victorian stables in Bethnal Green, but its transformation into a home has been determined and deliberate. Together with her husband, actor Nico Kaufman, her sensitive restoration has preserved the cobbled courtyards and much of the fabric of the building while also creating a striking studio space – all unified by Rachel's distinctive and expressive use of colour, texture and pattern. Now, with the house on the market, Rachel and Nico sit down with Inigo to talk us through what it took to make the stables habitable, the joys of living in a historic building, and how the house became a unique space for Rachel to experiment with her style.
Rachel: "We were really lucky to find this place. I was walking from our flat in Whitechapel to a project I was working on in London Fields when I saw these rickety old gates. There was a tiny sticker on the door that said 'workshops for sale' – that was the only advertising they did for the plot. I went back with Nico and we found we could easily push through the gates, so we had a look around."
Nico: "It looked like it had been left derelict for at least 20 years. There were signs that it had been used by squatters at some point, but I don't think anyone had lived here for a long time."
Rachel: "The ground floor was exactly as it was when the building was used as stables: there was a cobbled floor, a trough, and a floor sloped so you could muck out the horses. It felt so surreal that this was right in the heart of Bethnal Green, just off Hackney Road.
"We pretty much immediately fell in love with the place. Right from the moment we stepped in we could see the romantic possibilities, like how we could have a series of courtyards, which has been my dream for such a long time."
Nico: "It is quite a large plot and our heads were just spinning with the possibilities of what we could do here. It's in a conservation area and when we bought it we didn't have planning permission, so we were really lucky that we were allowed to go ahead with this crazy design at the rear.
"The first thing we did was to check the footings and foundations – the building was so old and we didn't know if it was safe. We then had to retrofit the walls to the original Victorian foundations and repoint all the brick. We removed the roof and there was scaffolding over the entire house – our neighbours freaked out, thinking we were building something much larger. We managed to save all the slate and reinstated the original roof, although we added almost a metre of height inside so we could use the top floor."
Rachel: "It was painstaking. We saved all the brick as well and rebuilt everything we took down. It's not the oldest building, but it had so many little idiosyncrasies that we loved and wanted to preserve."
Nico: "We also had to put in the gas and electricity from scratch, which involved digging a huge trench all the way down the yard to the road outside."
Rachel: "With the interior, I felt like I had a fresh canvas where I could really experiment. I'm lucky in my work to have lots of adventurous clients but I see myself as a sponge, picking up on what people want in their lives and squeezing it out for them. Nico and I don't have exactly the same style – there's always a compromise – but it was an amazing opportunity for me to play with what works and what doesn't."
Nico: "When we first moved from Whitechapel we lived in a caravan on the plot, so a lot of our stuff went to the four winds. By the time we had finished the house, our preferences had changed and we found different or better things. We ended up buying mostly new furniture for this place.
"What Rachel has done here really enriches your day-to-day life. All the effort that was put into creating this place somehow translates. It's as if the more colours and textures and interesting patterns you have around you, the more interesting your thoughts become."
Rachel: "For me, the real beauty of this house is how both the living room and kitchen feel connected, because they both open on to this very private courtyard, but they are also separate. It doesn't feel like you are in one long, skinny house. You can hang out in different spaces but still be communicating with each other.
"I think the kitchen – with its glass wall onto the courtyard and huge skylights – is my favourite room. There's so much light there. But then I also love my studio. It's such a good place to be creative and there's an incredible view, with the old Victorian workshops of the Winkley Estate on one side and Keeling House – a Denys Lasdun-designed Brutalist tower block – on the other."
Nico: "And that's not to mention the architecture of the studio itself. The effect of shadows on the wavy ceiling makes it feel as if you're underwater looking up. We didn't really plan that. We were just trying to design something that worked around the height restrictions to ensure we didn't block light for our neighbours. To maximise space we ended up with this crazy, irregular shape."
Rachel: "It's been a lifesaver having this place to work over the past year. I've been able to continue running my business throughout lockdown and it's so different from just having an office space in your home – it is connected by the courtyard but it still feels separate. You're able to close the door when you come back into the house and it feels like you're no longer at work.
"I think Temple Street is one of the East End's best-kept secrets. There's a real community here – it hasn't been too gentrified, and we know all our neighbours. It feels like a village and yet it is still very easy to walk to where the action is."
Nico: "We love E Pellicci's, which has been on Bethnal Green Road for over 100 years and does a really good breakfast, and Sonora Taquería; they just opened up in Netil Market and make some of the best tacos in London."
Rachel: "And it only takes 15 minutes to walk down through all the backstreets and Columbia Road – where there's the flower market on a Sunday – to Shoreditch and the restaurants there, like Clove Club in the Town Hall. It's all on your doorstep, whether it's Hackney City Farm in Haggerston Park or Broadway Market – one of the best food markets in the city. There's really something for everyone here.
"Living in a building with a history like this enhances every part of your life. You can look at a brick wall that's been there for 100 years and it really grounds you. The house has become a sanctuary for us. You could have a small family here while still living a very creative life and running a business.
"If it wasn't for the fact that Nico and I really enjoy doing these sorts of projects, this would still be the perfect house for us. We're ready for the next big thing but we're not going far – we love it here too much!"