For the Library: garden inspiration from the fertile mind of Tom Stuart-Smith
Tim Richardson present a monograph of landscape and garden designer Tom Stuart-Smith's most beautiful projects – garden envy doesn't quite cover it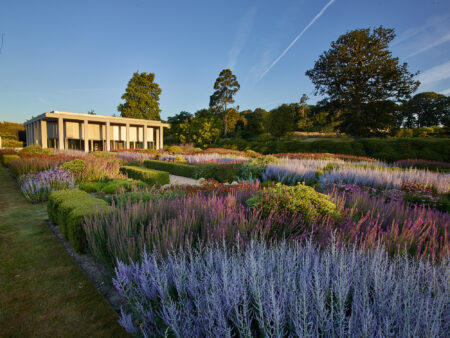 As the British spring seems to finally be getting into the swing of it – although just saying these words seems like tempting fate – we will all be spending more and more time in gardens. And hopefully, at last, because we actually want to. It's a fine moment, therefore, to celebrate the British garden; in particular, some of the most stunningly beautiful contemporary examples thereof, via a new monograph on celebrated landscape and garden designer Tom Stuart-Smith by Tim Richardson, out from Thames & Hudson this week. Covering a wide range of Tom's projects, both at home and abroad, the book, Tom Stuart-Smith: Drawn From the Land, is an awe-inspiring testimony to the possibilities of complex planting, subtle landscaping and inventive thematic design. Tom's is a thoughtful approach, in which both traditional formality and crisp modernity are certainly present, but never get in the way of the overall effect – one of rich abundance, with no single element too studied or too central.
The projects in the book are neatly separated: "Tradition", for example, features gardens for historic properties such as Windsor Castle, Wycliffe Hall and Madresfield Court in Worcestshire; "Scale" touches on epic projects such as Tom's garden for the Bicentennial glasshouse at RHS Wisley. But one of the most charming sections is the opening one, "The Nurtured Space", in which, alongside Tom's first large scale project at Broughton Grange in Oxfordshire, we discover other walled-in and enclosed projects, including Tom's own garden at his home, 'The Barn' – part of the large Hertfordshire estate in which he grew up and did his first gardening. With its "gradient of naturalism", which sees planting becoming more meadow-like as it moves away from the house, it's a wonderful expression of Tom's gardening philosophy. As he puts it in his essay, later in the book: "The more I have thought about gardens and their relationships to the surrounding landscape, the more I see the constant referencing between the internal and the external, like the negotiations we make in a complex social context – between ourselves, our friends, and the wider world." Something to think about, surely, as you head out this Saturday afternoon for the first – let's hope of many – of this summer's barbecues, jugs of cocktails and open-air dinners.
FURTHER READING
Tom Stuart-Smith: Drawn from the Land by Tim Richardson, with a foreword by Piet Oudolf and texts by Tom Stuart-Smith, is published by Thames & Hudson. A two-volume collectors' edition, featuring Drawn From the Land and a book of Tom's drawings, is available from Tom Stuart Smith's website.