A Home With a History: how artist Clare Woods uses colour to create connection in her art-filled Herefordshire home
Inigo feels utterly in the pink in this grand yet playful residence, in which crafty colour choices make the most of the light and space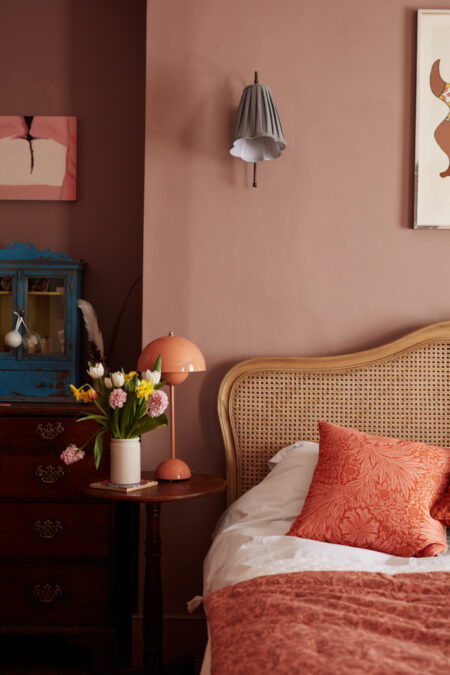 It was living through lockdown with two teenagers that made artist Clare Woods determined to move somewhere with more than a small courtyard garden. Not one to hang around, and with a number of renovations already under her belt, she spotted a photographer snapping a house on the other side of her pretty Georgian street in Hereford, put a letter through the door and had viewed and made an offer by the next day.
"It's a bigger house," she explains. "It's grander, it's got potential to be renovated and changed in a totally different way." Built in 1734 and near the cathedral close, the house has had many incarnations, including as a tax office topped with rental flats. When Clare and her husband, sculptor Des Hughes, moved in last September, they quickly set about adding colour to the white rooms. Having more space has also allowed for a rehang of the work she's swapped with artist friends over the years. But it also enabled her to explore a new approach to colour – something which, as anyone who has seen her vibrant collages, prints and paintings will attest – is a core element of her artistic sensibility.
Ahead of her latest exhibition at London's Cristea Roberts Gallery, which opens this May 21, Clare invited Inigo into her home to explain why pink is the right colour to take advantage of the ever-changing light, as well as to detail her ambitious plans for further work, including a glass extension inspired by Copenhagen's Louisiana Museum.
"In our previous house we did very dark early Georgian colours, so lots of greens and dark blues and golds – lots of contrast. This is very different as it's going to be pink throughout the whole house, but these very different shades and types of pink. We've already painted the hallway as well, because I think with a Georgian house it really is the main part of the house, so I had to have it painted. Although we've done a lot of the rooms quickly, we did live here for a few months before we started anything. You need to know how the light works and how you use the house.
"Pink just felt like the right colour. There are few original things in the house, not many, but there's a grey marble fireplace and there's a wooden fireplace upstairs, and there are also lots of curves and woodwork and structure, and because the house is so light, the shades of pink change throughout the day. I've never lived in a house that's so light, with floor-to-ceiling windows on two floors. The structure of the rooms changes, and you get these quite sharp shadows, and those plaster colours and the dirty pale browns lend themselves to that.
"I do feel colour is one thing I'm actually ok at. I can do colour. And I think that's why I wanted this subtle changing as you go around the house. The hallways are pink, but it's a blue pink and then in the drawing room we've got Farrow & Ball's Setting Plaster and the kitchen is almost a brown-pink, so it's subtle."
"I do like paintings and prints hung on coloured walls. The white wall thing just isn't for me and for a lot of my shows I paint the walls. So I've always been really aware of how colours work with the artworks and how they can kind of help each other.
"We're working with an amazing architect called Dean Benbow (of Warren Benbow Architects) on a glass cube that we're adding to the back of the house. I love the Louisiana museum just outside Copenhagen, and there's one room which has got this amazing glass window, so he's modelled the cube on that. I want it to be like a glasshouse, full of plants. And that's why we've gone for the pink, really, because you will see it through the two big windows in the dining room and through the whole house. It will be very green, with big palms, just like a proper palm room, and the green will glow onto the pink. It's a very deliberate contrast and we'll be true to both periods. The cube will use ultra-modern materials and glass technology and heating, and then you've got this very beautiful Georgian house. I think it's good to be true to two very different periods. I don't really like faking it when it comes to buildings.
"The thing we always do straight away whenever we move is fit bookshelves because we've got so many books, but we will get the kitchen done this year. The big job is to get rid of the 1980s country conservatory, get all of the metal fire escapes off the back of the house and paint it, then restore the original windows – which are a disaster and held together with mastic – and build the glass cave.
"You collect things that you keep, and they move with you. And I do like a combination. I don't necessarily want loads of Georgian furniture. We've got a few nice pieces, but I also like Danish design, mid-century British design, I think it needs to be a mix. We've got furniture that we've had for 30 years. It's not like we move in somewhere, and suddenly it's new furniture and a totally new style.
"Art has played a really big part in the house. In the other house we just hung all the work we had, and we've got a lot of work. There's lots of our own and I'm also lucky that we've been swapping work with friends and other artists for years now. But you do end up hanging it and it just stays in the same place. For six years, the paintings and prints never moved, so it's been really nice to move in and totally rehang. That was actually led by the kids, as they really wanted to change the artwork in their bedrooms. The house is great, because you can hang quite intimate, tiny pieces, and there's also space to hang quite big works.
"I think a house dictates the way you live in it. I'm really used to the symmetry of a Georgian house, where every floor is the same. I really like that. And with two teenage children it's amazing, because one lives in the basement and one lives in the loft, and I have three floors in the middle. My son isn't really allowed above ground level! The house works very well in that respect. We've had four people on Zoom pretty much the whole of this year, and it works. I think each house has a slightly different feel and this feels a lot more grown-up. It's really odd, the move, because it feels very familiar. Obviously, the bins go out on the same day, we've got the same neighbours, but I feel like I'm living in a totally different place. I think it's the light. In the other house you're very aware of the street, the comings and goings, whereas here there's no awareness of what's outside."
FURTHER READING
Clare Woods latest exhibition, The Great Unknown, is at Cristea Roberts Gallery London from May 21–June 19
Clare Woods on Instagram