For the Library: how Georg Baselitz dared to write his own history of art
In a new monograph on the German artist, curator Richard Calvocoressi pays tribute to a vision that has always looked beyond the limitations of its time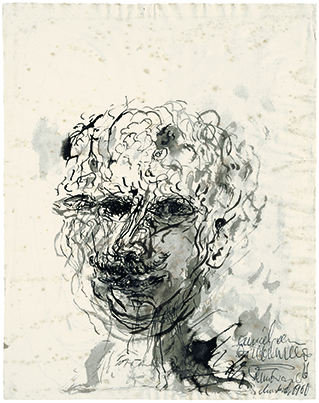 The career of German artist Georg Baselitz is testimony to the fact that engaging with the past is not always a comfortable or straightforward process. His body of work, celebrated this month in an exhaustive new monograph from Thames & Hudson, has been hugely influential in reintroducing the figure – alongside the Expressionist tradition that Hitler found so "degenerate" – into German contemporary art. His status as one of the great artists of our time has, however, been hard-won. In fact, as curator and Gagosian director Richard Calvocoressi writes in his introduction to the 400-page volume, Baselitz's work was largely ignored by galleries and curators until he was in his forties; while throughout his early career, he was often dismissed for his refusal to align with the political and aesthetic orthodoxies of the time.
Of course, part of the difficulty was that Baselitz – now in his eighties, but continuing to paint – was born in 1938, meaning he lived through one of the most tumultuous periods in modern German history. In the 1950s, he studied both in socialist East Berlin and democratic West Berlin. But he found himself rejecting both the socio-realist ideology of the former – he was expelled from East Berlin's Hochschule für bildende un angewandte Kunst for his "sociopolitical immaturity" – and, in the latter, an overriding focus on the so-called international language of abstraction. Instead, he forged his own path between both traditions, finding romanticism and emotion in his depictions of the human form, but eschewing the conventions of realist representation by fragmenting and complicating his figures. His subjects aren't drawn from life, but from photographs, memories and even his own work, and since 1969, he has largely painted them upside down – a practice which encourages both viewer and artist to focus on colour and form rather than figuration.
Published this week, the new monograph is a fine tribute to Baselitz's bravery, persistence and determination, guided by the expertise of Calvocoressi – a former curator of German art at the Tate who wrote the main catalogue easy for the Baselitz's first exhibition in London in 1983. Taking the reader on a chronological journey through the artist's work, from his colourful, symbolically charged paintings of the 1960s to the ghostly, monumental floating figures of the 2010s, it gives a powerful overview of an artist continually reinventing his own personal and national history.
FURTHER READING
Georg Baselitz at Thames & Hudson
Georg Baselitz, Gagosian Gallery
Georg Baselitz: master of obscenity and Bowie's inspiration, Jonathan Jones, The Guardian, August 2020
Image credits (all © 2021 Georg Baselitz): Daniel van Dubbelmeer – Rembrandt, 1960. Kunstmuseum Basel; Georg Baselitz, Der Narr von San Bonifacio – od. Ludwig Richter auf dem Weg zur Arbeit, Kunstmuseum Bonn; Die großen Freunde, 1965. Museum Ludwig, Cologne; Der Hintergrund Geschichte, 1996. IVAM, Institut Valencià d'Art Modern; Der Maler, 1969. Kunstmuseum Basel; Adler im Keller – Otto M, 1987. Collezione Maramotti, Reggio Emilia; Edvards Kopf , 1983. Kunstmuseum Basel.