The Antiquarian: Jarndyce's guide to building a book collection
The Bloomsbury bookseller – its name taken from Dickens' 'Bleak House' – knows all there is to know about antiquarian tomes. Thinking of stocking your shelves? We invite you to take a leaf out of their proverbial…
Words

George Upton

Photography

Ellen Hancock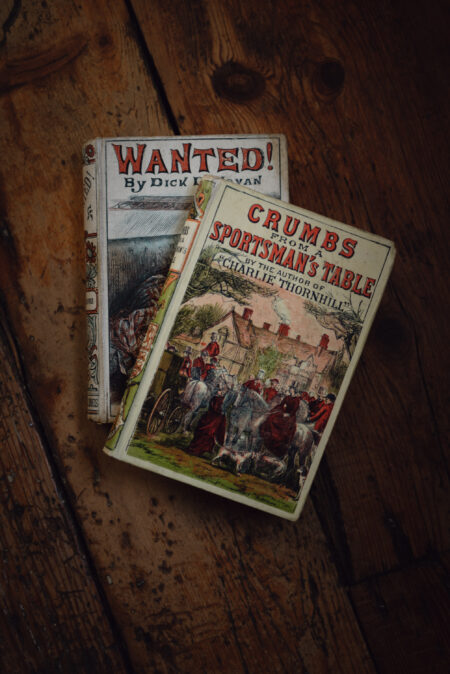 Ed Nassau Lake was born into the world of antique-book collecting. His father founded Jarndyce, the antiquarian bookseller, in 1969, before coming to run it with Ed's mother in the handsome 18th-century building opposite the British Museum it still occupies today – a structure that, in one form or another, has been a bookshop for more than 100 years. It would prove hard, Ed discovered, not to follow in his parents' footsteps. While he gave it a good shot, working as a chef in London restaurants for five years, Jarndyce eventually drew him in. "It was only meant to be a for a short break – and I certainly felt no pressure to work here," Ed says. "But I've not left the building since."
Such is the appeal. Despite the familiar image of dusty leather-bound books and vast imposing libraries, collecting old books is gaining in popularity – in part because of how surprisingly affordable it is to start. While some of the titles stocked by Jarndyce will sell for tens of thousands of pounds, Ed's keen to stress that it's also possible to find antique versions of well-known tomes for the same price as it would cost to buy new.
As well as being tangible – and ownable – artefacts from the past, antiquarian books can be a great way to introduce some period-appropriate literary cachet into historic homes. And, as Ed explains here, you don't need a country mansion with a library of its own to start collecting – just a bit of curiosity to get you started.
Buy what you love…
"People collect for all sorts of reasons. It could be that you have a connection to a particular book because you read it when you were younger, or because you studied that author and want to buy an early edition of their works. It could also be a purely visual thing. Many people collect because they are interested in the type of bindings, rather than what's inside the book. What's important is that you're passionate about the things you're buying."
… But buy the best copy you can afford
"In the book trade, condition is unbelievably important. At Jarndyce, we recently sold a perfect copy of Great Expectations for £185,000, which looked just as it did when it came out of the shop in 1861, whereas we have another copy, which is perfectly nice, for £45,000. Of course, that's still a huge amount of money, but it proves the point.
"Some books are so rare that you really have to buy the copy that's available and hope that at some point down the line you might have a chance to buy a nicer copy. As a bookseller, we never advise people to buy as an investment. Some books are so rare that you really have to buy the copy that's available. Otherwise, buy the copy you can afford. In either scenario you might hope to buy a nicer copy at a later date."
Make mistakes
"Collecting is all about refining your approach – and you can't really do that without making mistakes. You might buy some books and, two years down the line, decide that you want to take your collection in a different direction. It happens! Just remember that no one moves forward in life unless they make mistakes – book collectors included."
Build relationships with reputable book dealers
"It's important to have a dealer that you know and trust, and who you can go to with questions and ideas. That said, you shouldn't exclude everybody else; there will always be other dealers with great books. If you form strong relationships, you'll get the good intel, as and when things come up for sale."
Go to book fairs
"If you're just starting out as a collector and you haven't got a great deal of money, book fairs give you the opportunity to see and handle books that you might aspire to buy in the future. Dealers are usually incredibly generous with their time and knowledge – if you want to look at a book that's worth £200,000, they'll normally be very happy to show it to you. The more you see, the more you'll understand where your collection might want to go. And, in the meantime, you'll get to touch some incredible books."
Explore tangents
"Say you love Charles Dickens but you've bought all of his books. Where do you go next? Do you buy his letters, or the playbills of places he read in public? Do you buy different editions of his work? Perhaps you've bought the copies in leather bindings – you could now look into a collection of Dickens in original bindings. Whatever your style, be open to the idea that your tastes may change over time. And, whether you're curious about starting a collection or developing a new direction, we're always happy to talk."
Further reading
Jarndyce on Twitter