A Home with a History: Louise Roe's beguiling rus in urbe
After realising that she wasn't ready for life in the sticks just yet, the fashion journalist and homeware designer moved with her family to a leafy London suburb – bringing all her farmhouse-y furniture with her. The Victorian townhouse's renovated rooms have all the romance of a rural idyll – with none of the remoteness
Words

Cici Peng

Photography

Chris Horwood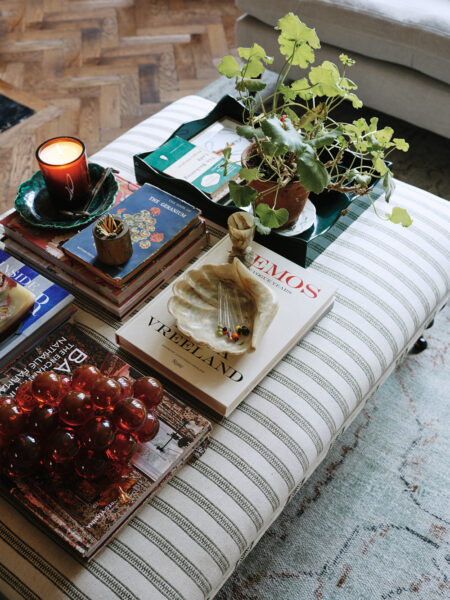 Moving from LA to London – via the English countryside – in the span of just two years is no easy feat. "Especially when, by the end, you're seven months pregnant," laughs the British journalist and homeware designer Louise Roe. Yet, with a vision in mind, Louise and her husband, TV producer Mackenzie Hunkin, packed their bags and went in search of their perfect home. They first relocated to a fairytale Georgian rectory, tucked away in rural Oxfordshire. But then, a year later, they went the opposite way, trading their country home for a Victorian townhouse in a south-western suburb of the capital.
The best of both worlds, their home is only a quick train ride from central London, yet it reaps all the benefits of village living, with ample greenery all around. Inside, Louise has created a haven, imbued with warmth from the dark woods and playful wallpapers she's used, all complemented by her brand, Sharland England's, handmade rattan home accessories, which has a new tabletop range launching on 6 May, with new designs dropping every Friday throughout the summer. "I wanted a house that still felt a bit farmhouse-y," she says, "untouched by the busyness of London."
Louise has always dreamed of living in a historic home, inspired by all the stories it might hold. "As everyone knows, I'm an old granny at heart," she laughs. A granny with a style, it seems, and a sharp eye for detail. Take her wardrobe doors, carefully hand-painted with folky scallop shells by decorative artist Amy Balfour, or that whimsically skirted basin – just like that of a farmhouse kitchen – cleverly concealing bathroom clutter. Whoever said you actually have to be in the countryside to nail country chic?
"We were in LA for 11 years and we moved back to Oxfordshire at the beginning of the pandemic. We lived in a beautiful Georgian rectory and spent the whole of lockdown there. Although it was a lovely village and house, it felt like we were two or three steps ahead of ourselves. We weren't quite ready for country life; we missed London and all it has to offer. When everyone else was leaving the city, we were the ones coming back.
"I grew up in Surrey, so I know this part of town quite well. You get the best of both worlds, with a lot of green spaces around. I can hop into the centre of London quickly, but when I leave, I feel like I can breathe again. I go for walks along the river and there are lovely pubs and farmers' markets around. The location is really what drew me to this house. The woman who owned it before us created a gorgeous garden too, which is about to bloom. That always makes it feel quite village-like.
"I love all the period features of the house. In the hall, we've got original mosaic tiles, some beautiful cornicing and an archway. I love knowing that someone made these details more than 150 ago. While my husband appreciates such things when you point them out, he could, I think, take them or leave them, whereas I need them.
"I don't like to mess too much with the structure of a house. If there are a lot of little rooms, as there are here, it's because it was meant to be like that. And, in truth, I quite like things not being open-plan. It's a bit cosier and it means each room can have its own identity.
"When we moved in, we redid most of the floors and added tumbled-oak parquet boards, which came from the Natural Wood Floor Company. The last owners had installed glossy wood underfoot that felt quite 1990s, but I wanted a more organic feel. The beauty of these floorboards is that they look old, but they've got underfloor-heating pipes beneath.
"I've largely decorated with natural materials: wooden floors, linen curtains, sisal rugs, cane chairs and antiques. Any metallic fixtures we have are made from darker antique brass, so there's nothing too glaring. For the bathrooms, I hunted for accessories that weren't too stark and shiny. I've got a towel rail from the 1920s, made from bamboo, which I just love.
"We spend most of our time in the kitchen, as there's great lighting in there. After living in LA for so long, I had begun to take natural light for granted. Coming back to British seasons was a reminder to soak it up where I can.
"In LA, our house had a much more neutral palette, with lighter colours. Antiques just didn't work there, which was a shame as I just love old things. They have so much soul. But unless you're consciously creating that aesthetic, you can't just plonk antiques into a modern setting and expect it to work. I think you have to wait until the house allows it. This place has let me indulge my love of the second-hand.
"I had our baby while we were renovating. It was nuts! We moved into a rental flat nearby, only eight weeks before I was due to give birth. The builders couldn't believe I was doing it while I was so pregnant. Luckily, we already had furniture we'd bought for our Oxfordshire house when we thought we were going to stay in the countryside forever. I didn't want to waste it, so we repurposed most of it, bringing the same farmhouse-y feel and aesthetic to our townhouse.
"There are lots of my own pieces around the house. I wanted to create a rattan line because I love the material's elegance. It's so easy to style too. My great-grandmother is the inspiration behind Sharland England; it's named after her. She lived in Buenos Aires, among lots of wicker chairs and antiques, and was quite mischievous. She used to throw lots of parties and she made entertaining so chic, which is something I wanted to recreate. I'm about to launch a tabletop range, with hand-embroidered linens and hand-painted plates, which owes a lot to her spirit.
"My taste in interiors is quite maximalist. I like paying homage to old traditions with the things I choose. I particularly love Flora Soames, Rita Konig and the Cloth Collective, though I like small antique brands too, like Lou & Pickle. They've got the best stuff.
"I used to work at Vogue and Elle and have learned that fashion and interiors go hand in hand. If you love styling things and are interested in how they're made, it doesn't matter whether it's a handbag or a placemat."
Further reading
Louise Roe on Instagram