Private View: secrets abound in a tranquil Victorian terrace in Clapham
Nina and Dan Murdoch were drawn to Clapham Manor Street for its quiet secluded garden and the opportunity it offered to make the house their own. Now, 20 years later, as it comes on the market, Nina reflects on how her home is a playful yet peaceful retreat from the city
Words

Rosily Roberts

Photography

Mark Anthony Fox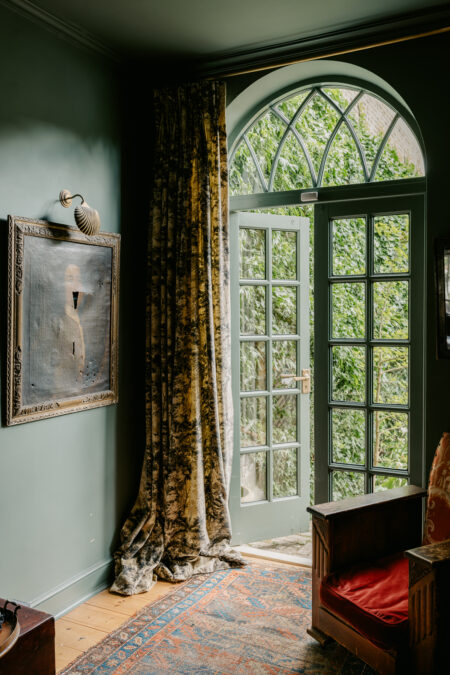 A hidden door disguised as a bookshelf is not something you might expect to find in a Victorian terraced house in Clapham. Neither, admittedly, is a ceiling completely covered in mirrored tiles. Well, Clapham Manor Street, currently on the market with Inigo, has both. "This house is full of secret things," says Nina Murdoch, who lives here with her husband, two teenage children, two dogs and a fairly impressive collection of birds, who fill the kitchen with an almost jungle-like symphony of chirps.  
 At first glance, Clapham Manor Street looks very similar to any other Victorian house. But it soon reveals itself to be anything but. It is, Nina points out, much wider than the average terraced house, which allows for both an unfettered sense of space in its central part, and a rambling arrangement of rooms, more akin to a country manor than a London home. The decoration oscillates between simple – letting, as Nina puts it, the architecture speak for itself – and wonderfully eccentric. The antique swan taps in the bathroom, for example, and the Emery & Cie tiles that feature swirling grapevines and the odd frog, designed especially to border the kitchen floor, are full of playful personality. 
Nina is a painter who explores the effects of light and space. She builds up layers of egg tempera and glaze on a gesso ground, and then sands down areas, revealing hidden colours or the gesso surface beneath. It's a long and fairly complicated process. She draws inspiration from the way light hits a wall, or the view from under a bridge on a sunny day. "There is lots of luck involved in finding the subject matter," she says. "And then lots of luck involved in panting it! I'm never quite sure how it will turn out when I start." Nina won the 2019 ING Bank Discerning Eye prize, and, after a pandemic-induced postponement, an exhibition of her new paintings is on at ING's London office from 6 July to 30 September 2022. Another of her paintings is currently on display in the Royal Academy's Summer Exhibition.
Here, Nina reflects on family life at the house and tells us how her renovating process is similar to her own creative process as an artist.
"I designed our kitchen renovations using a shoebox. I made a little model of the house, with things like tin foil for mirrors. It was almost to scale. My uncle is an architect, so he then took my shoebox model and made it real. 
 "I planned the whole kitchen around this round glass-fronted cabinet I got at an auction. We had the kitchen units built to tie in with the cabinet. The gas stove, which dates to the 1930s, is from my uncle's house in Bristol. It's such a beautiful object and there's a similar one in the Science Museum. We opened up the ceiling into the roof space, added in the skylights and the folding doors. We wanted it to feel like it was part of the garden.
"When we were looking for a house, I bought a photographic atlas of London and found the roads with the biggest gardens. I wanted space to build a studio. This house is double the width of a normal terrace house, so the garden is bigger than most. My uncle helped me design and build the studio, which is where I paint. We kept it looking Victorian from the outside, so that it's in keeping with the rest of the house. But inside, with its double-height ceiling, it's very light and modern. It's a wonderful space – my haven, really.
 "I divided the garden up into sections, almost like different rooms. We planted 10 varieties of apple tree, a lemon, a quince tree and two fig trees. We've crammed in a lot of fruit! And we have a little stream that runs down the garden to a nature pond, with a fern garden and frogs. All the birds come and feed here – it really is like a little nature reserve.
"There used to be a garage on the side, but it's now our secret library behind the bookcase. It's a small room, but it has a huge glass door with curved Gothic woodwork, so we went with a theme of grandness. We painted the room dark green and hung all these old portraits that belonged to my dad on the walls. It has dark wood furniture and really thick curtains. It's like a mock stately home.
"In my daughter's bedroom, I cast the ceiling rose and the little swallows that surround it. It's almost like a palace, but on a very small scale. Let's call it 'miniature grand!' 
"We put back in some of the original features that had been taken out, like the marble fireplaces. We got rid of the modern intercom and put the original doorbell back in, a de-modernisation!
"We've turned the attic into a cinema. We painted the walls black and installed the screen and the theatre seats. And the mirror tiles on the ceiling. We kind of just thought, why not? We actually use this room all the time. It's fantastic. 
"The house and the garden both evolved, which is a bit like how I paint. The design of each room started or part of the garden started with one object, which led onto another and then another. We've lived here for such a long time that it's going to be hard to leave. We've been so happy here and it's such a friendly, lovely house. I hope the next people love it as much as we do."