Home Comforts: Jamb's Will Fisher and Charlotte Freemantle on the classics – from Roman relics to rap albums
For our next installment, we raid the Jamb founders' fridge – and leave feeling somewhat unsated. Until, that is, we catch sight of the Roman treasures prettifying their Palladian mantelpieces…
Illustrations

Grace Helmer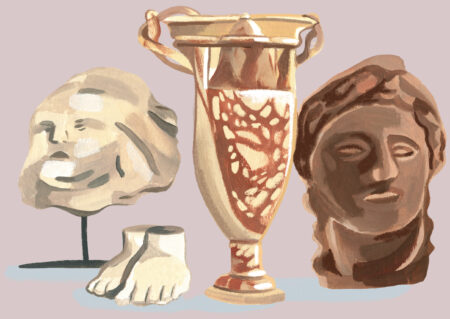 We're sure they wouldn't mind us outing them (their daughter's already done so), but it's perhaps a little surprising that Will Fisher and Charlotte Freemantle, the dynamite design and antique-dealing duo behind Pimlico Road's Jamb, have been known to have little more than a ropey old stick of celery in the fridge. But frankly, when you've an eye for style as refined as this husband and wife – just look at the wondrous wares they sell, from regal reclaimed fireplaces to glinting repro lanterns – who cares. Here, the couple – fond of a fancy dressing gown, we learn – let us peek through the keyhole into their lives at home in Camberwell.
Our most recent home improvement…
We changed both chimneypieces in the drawing room and TV room during lockdown. Both the mantles we chose are mid-18th-century Palladian designs and the alteration has worked beautifully. Jamb's antique fireplaces are among our favourite things we have in the shop.
It's amazing how profound the difference changing a chimneypiece can have to the entire aesthetic of a room. Both mantles we chose are unusually small for the period, but they add a certain gravitas to the spaces. Seeing them, it feels as if you're in a substantial country house – in the centre of south-east London!
The latest addition to our wardrobes…
Super chic lightweight dressing gowns from P. Le Moult. They are the sort of garment that is hard to find, even in the small boutiques of London. For us they are the embodiment of relaxation – and symbolise escaping the chaos of the working day.
The most useful item in our kitchen…
Jamb's very functional 'Pantry' rack has the quintessentially below-stairs vernacular of an English country-house kitchen. The one in our home is brimming with a whole host of glassware, ceramics and Victorian jars, as well as our cutlery tray and other objects. It's one of those simple pieces of kitchen furniture that works so well; it's extremely practical having everything close to hand and open.
What's always in our fridge…
Having once been publicly shamed on social media for only having one stick of rotten celery – by our 14-year-old daughter – this is a tough one to answer. It is often rather barren in there, but hopefully a bottle of white wine, preferably a Sancerre (to complement the celery).
The prize bottle in our drinks cabinet…
Little Bird's London dry gin.
Hanging on our walls…
An old master painting of Westminster Bridge, dated 1740 and the work of Samuel Scott, is something we both find extraordinarily soothing. The softness and flatness of the surface captures a moment in time from that period.
Centre stage on the canvas is the resplendent royal barge, while many of the surrounding buildings – and indeed the bridge itself – have long since disappeared. It's one of those paintings you can get lost in for hours.
The knick-knacks on our mantelpiece…
Endless Roman fragments and Grand Tour mementos, punctuated with architectural models close to our hearts. That small landing strip of our mantel shelf is an important part of our lives. All the objects there hold deeply personal meanings and we know exactly where, when and from whom we bought them.
Of particular note are a pair of giallo antico vases, bought during lockdown from a dealer in Munich. They will always be a reminder of the pandemic and of the crazy days of being incarcerated as a family
The books on our shelf right now…
Chatsworth, Arcadia, Now: Seven Scenes from the Life of a House and The Spy Who Came in from the Cold.
The music on our stereo…
A broad church! It ranges from reggae and rap – including a cherished Ludacris CD collection – to bands we've been introduced to by our teenage children. It's a constant education.
Growing in our garden…
Not a lot, as the dogs have systematically destroyed every living thing. Luckily, at the front of the house we have a new wisteria flowering.
Hidden away in our cupboards…
Art objects, pieces of marble and antiques, waiting to find their place in the house.
On our to-do list…
Build a wall around the herbaceous border to stop the dogs and cat chasing each other and trampling over the flowerbeds.
Further reading
Jamb on Instagram