A Maker's Story: saints, sexism, rebels and relics in the subversive ceramics of Pollyanna Johnson and Joseph Dupré
The couple that clays together, stays together (or something like that), which is why this pair of artists are so good at creatively encouraging each other. As Pollyanna pits her plates against the patriarchy, Joseph uses humour to question ways of seeing – and both are delightfully disruptive, as Inigo discovers
Words

Cici Peng

Photography

Chris Horwood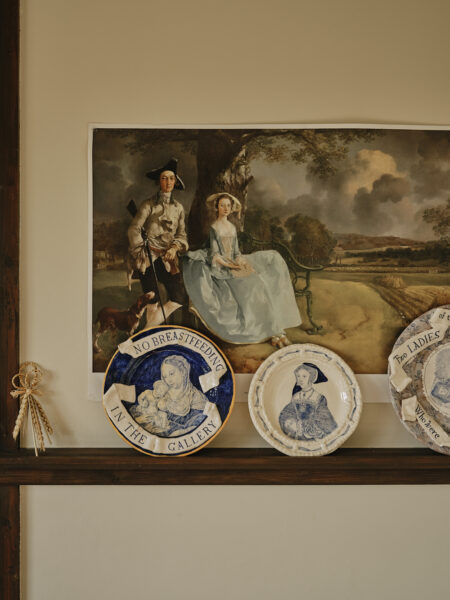 From the moment Joseph Dupré and Pollyanna Johnson met in a drawing lesson at the National Gallery, they have been nurturing each other's work. More recently, in the first lockdown, their mutual encouragement led the duo to start experimenting with ceramics, having only worked in 2D mediums previously. Their output is significant, as their home in Eastbourne – housing a remarkable display of their creations – shows. Here, thronging flocks of hand-built birds by Joseph sit alongside serried ranks of plates by Pollyanna, from which the shining eyes of plucky women return your gaze. The vibrancy of both of their work is infectious. It's no wonder both have had such enormous success selling their work with Partnership Editions, which will be releasing a new drop of pieces on 23 February.
Pollyanna's art interlaces tradition and modernity in subtle and sardonic resistance. Taking inspiration from 16th-century ceramics, she brings the lost women of the past to life, using blazing cobalt blue to describe them in meticulous detail – the floral embroidery of a sleeve, the ebullient bounce of a cuff. Her women are invited out of the shadows of art history, often appearing alongside pithy, jarring phrases that question the casual brutality of everyday sexism: "No breastfeeding in the gallery"; "Cheer up, love". Joseph's ceramics, however, explore the wonders of nature with a playful edge. As well as celebrating the beauty of the everyday, they are full of surprises: a plate filled with 3D fish, like a Friday-night dinner, for instance. Joseph himself is similarly full of surprises: he's a doctor. Having fully qualified as a GP, he now devotes half his time to medicine, half to art.
Pollyanna and Joseph have spent the last year working at his mother's dining-room table, but now, at their new home in Sussex, they've a studio to call their own. It's here that they spoke to us about how looking to the to the past helps in their fearless march forwards.
Pollyanna: "Ceramics is a very time-consuming practice, but lockdown gave us the opportunity to explore it. Because we started at exactly the same time, we've developed in step with one another – though in markedly different ways. Inevitably, though, we do influence each other; I can definitely see similar threads running through our work."
Joseph: "Delft blue, for instance, is something that appears in both our work. It harks back to traditional Dutch pottery and the people that made it. In the 16th century, Europeans were trying to recreate porcelain, which was only available in east Asia. It was difficult to reproduce the milky colour of the porcelain with the clay they had, so instead they came up with a glazing method that resulted in a shiny white surface. Because they would glaze the pottery and then paint it with blue – rather than painting first and then glazing – the finish was invariably imperfect. Pollyanna and I both try to recreate that."
Pollyanna: "Imperfections are important to us. We are not striving for something polished – which I suppose is quite good when you're new to a medium! Because we haven't been doing ceramics for long, there's a naivety to both our works. I like that you can see the human hand in the things we make."
Joseph: "There's a link between the natural world and the art I make – and it starts with the material, using the earth's clay to create something entirely new. I love the idea of turning nature into art to depict nature. When I decorate a piece, I glaze it after to seal in the paint – it feels like I'm sealing in its legacy.
"I love using terracotta, which will last for thousands of years after you fire it. That's a legacy! It's why it was used for the objects people place in tombs, for instance, or ancient relics. I've recently felt inspired by a sculpture of a hand in the V&A's collection of relics that I once saw. It was made entirely of silver, but there were gaps where the fingers should have been, where once there would have stood the preserved finger bones of saints. I wanted to recreate something like that, something with a lasting legacy."
Pollyanna: "I'm also interested in the legacy of women in art. I've come across such great characters in my research. I find Mr and Mrs Andrews, by Gainsborough, particularly interesting. The painting is all about the money the couple has, but Mrs Andrews' smirking face seems to say something else, like she's pissed off with the patriarchy. I love the idea of looking at the women in paintings on their own. It makes us consider who they are.
"My work is about modernity, though, too. My plates came out of both personal experience and the need to give agency to the women of art history, who didn't have a voice. They seem the perfect mouthpieces to me. Cheer Up, Love came about after a man shouted those words at me at a market. The casual catcalling of women and the constant violence against them makes me so angry! I came home and made that plate immediately. I've also made one that says: 'No Breastfeeding in the Gallery' after my friend was told off for feeding her baby. It's crazy that you can see a painting of a woman breastfeeding in an exhibition, yet you're not allowed to do the same."
Joseph: "There is great humour in Pollyanna's work. I really admire the way she sardonically turns sexism on its head. Her dishes sit in the tradition of motto plates, which were popular in the 17th century, but they weren't political. Pollyanna brings them up to date with her feminist slogans.
"All my pieces end up being quite humorous in the end. I take serious influences, such as Rodin, to different places. Picasso and Braque are both great inspirations too. One of my standing birds is inspired by Braque's birds. That period in art history could be so playful and experimental, which are things I want to embrace. But it's important to me that I don't explain how to interpret my art. I want people to interpret it in their own way, through their life and lens."
Further reading
Pollyanna and Joseph's new pieces launch at Partnership Editions on 23 February