Inspiration of the Week: a Cornish farmhouse, rooted in resplendence
While of course we love an interior scheme, as the weather brightens we feel ourselves drawn outdoors. Take a wander with us through the glorious grounds of Tredis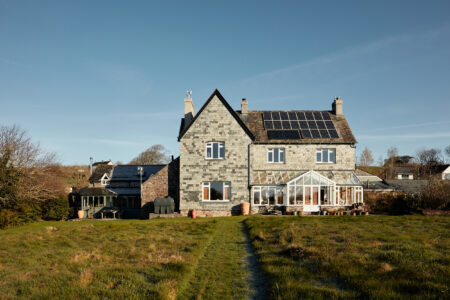 Cornwall's rough and ancient landscape has inspired pen-pushers and painters for centuries. Among the most evocative artworks it has inspired are the poems of John Betjeman, deemed by Corns a foreigner to the county, but undoubtedly one of its greatest champions. To read his Cornish Cliffs is to be atop their "thrift-encrusted height… where the slate falls sheer into the tide." Look at the hummocks and hills surrounding Tredis, currently on the market, and you'll see what we mean.
While Betjeman was largely writing about north Cornwall, the landscape surrounding this 19th-century farmhouse, not far from the riverside village of St Germans, has the same lifeblood in its veined slate. The grounds, mainly south-facing, include a five-acre field, but the views from the slate-clad farmhouse ("a usual Cornish scene," writes Betjeman), stretch far beyond, over a deep valley and on to the Channel. While you can't see Portwrinkle beach here, being too high, it's only a few miles away – perfect for a dip come summer.
As the weather finally brightens, a proper yomp beckons – and this part of the world offers some of the most wonderful walking around. Trundle along a section of the South West Coast Path, which is half an hour away on foot, or drive to the Tamar Valley – green, undulating and gorgeous. If rain threatens, stay closer to home: there's an orchard to wander through and a brook whose babbling should soothe any soul that requires it.
And, if it's really rough out there, retreat to the garden room to watch the storm clouds rolling over. Or just nip in for a zizz when the sun gets too strong. Whichever way you slice it, this is a house – and a landscape – for all seasons. To paraphrase that poet once again: here where the cliffs alone prevail, we stand exultant, neutral, free.