Home Improvements: Gabby Deeming of Daydress on perfecting pattern at home
Gabby Deeming's is a world of pattern. Her clothing designs are covered in it, her home is an homage to it. Here she explains the rules for incorporating print into your life. (Hint: there are none)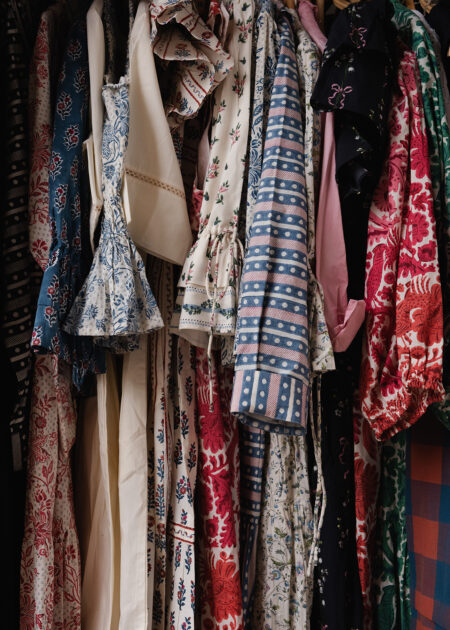 Gabby Deeming's Holborn hideaway is, perhaps, the perfect London flat. It's a bolthole in the truest sense: an escape from the city, bijou but perfectly formed. It helps that Gabby – designer, interior stylist and former creative director of House & Garden – knows a thing or two about putting things together. Every corner of her apartment is a picture of put-together prettiness – considered but not self-conscious, and enviably natural-looking.
It's a skill she's put to work at Daydress, the label she founded five years ago while still working in magazines (she has run the company full-time since May 2021). Her designs – Daydress' floaty frocks, swishy skirts and peplum blouses are soon to be joined by homeware – are alive with the spirit and spice of the textile heritage of India, where all her fabrics are woven and block-printed.
Gabby's impressive knowledge of textile history (and her own interest in collecting antique fabrics) feeds into her motifs: a toile's twiddle here, a fragment of Brussels lace there. Often drawing on (and redrawing) historic documents, Gabby has a knack for translating patterns of the past into prints for the present. "I'm always looking for things to have the aura of those antiques, to be recognisable," she says. "But to feel like they've moved on too." The wildness of her pheasants, flowers and fronds, her marching stripes and her jolly spots vouch for her success.
"Borrowing is in the tradition of printing," Gabby explains. Fabrics from the 18th century, for instance, were often reworked takes on earlier examples, and designs were passed from fabric house to fabric house by jobbing craftsmen. "Many textile designs feel familiar because they are," she continues, "but they're also always evolving." Chintz, for instance, first came from Hyderabad, its name a bastardisation of the Hindi for spattered, or speckled; Paisley, while Scottish in name, is also Indian in origin. This intercontinental cross-pollination of cloth is a legacy Gabby clearly feels proud to be part of.
Hers is a world of pattern. Gabby's clothes are, more often than not, covered with it; her home an homage to it. Here, patterned chairs are draped with patterned fabrics; a footstool sits swathed in squiggly aqua stripes (Viola Lanari's, we notice); a bed is canopied in cotton, beautifully block-printed like one of her gorgeous gowns. It seems only natural, then, that having worked in interiors for most of her career Gabby should want to start selling homewares too. "Back in the day, Laura Ashley and Cath Kidston owned archives that spanned all sorts of different products," she says. "As someone who has always embraced print and pattern, that feels very natural to me."
Ahead of her first tableware collection, which launches in early June, Gabby sits down with us (over a perfectly dressed table, natch) to share her tips for planning a panoply of pattern at home – and, importantly, how to live with it.
Variations on a theme
"My Daydress prints aren't exactly matchy-matchy, but they are of a piece. I do naturally think in schemes, which is certainly down to my background in interior styling. When it comes to designing a room, you might start with just one fabric. Pull the colours out and see what you can build on. Then pull the pattern out – see if you can find something similar in a bigger scale, or with an added stripe, or with a different motif woven in. Expand on and play with what you've got. You'll soon know if it will all work together.
"Some things in your rooms, like curtains or large upholstered furniture, won't change – at least not very regularly. Others are more mutable, such as napkins, tablecloths or cushions. They're the ones you can have more fun with."
Don't think of your rooms as fixed
"Rooms shouldn't be static. They grow and change in the same way you do, so I try not to ever think of them as finished. That finality feels a bit dangerous to me, because it makes it hard to evolve. You become scared to change things without redoing the whole scheme. Just because you've bought a new carpet it doesn't mean you need to repaint the room to match.
"It helps that I don't mind things being incomplete. Just look at my stripy lampshade, which is in reality only half-stripy, or the fact I've only half-painted my kitchen. I suppose some people might think I'm a commitment-phobe, but to me it just feels flexible. I don't think things need to be finished to be lovely.
"You need to leave space for serendipitous discoveries. Take the Indian quilt hanging above my sofa. I bought it years before I found the wallpaper in the hall, which is in fact wrapping paper from Choosing Keeping. The colours are perfectly in tune with one another, yet the patterns are entirely opposed. Standing in the kitchen and looking into the sitting room, you can see them both at the same time and they chime brilliantly. Yet that was total chance."
Give it a whirl – and don't get hung up on mistakes
"We're told there are all these rules that you have to stick to, when in fact there are no rules. All I know is that my motto is the more the merrier! And, if it doesn't work, change it. I don't mean that to sound flippant; there are mistakes and then there are costly mistakes. You don't want to spend lots of money on new covers for your sofa and realise you loathe them. But when it comes to buying smaller things, what's the worst that can happen? Also, remember you can always regift or recycle things, rather than chuck them.
"I have just always bought what I love. The only problem is that there's lots I love – so learning to let go of things is a really useful skill. I suppose it goes back to that the idea of rooms not being fixed things. Print doesn't have to be permanent. Sometimes I have moments of thinking I've reached saturation point and have a major clear-out so things feel a bit more spare. And then the seasons will change, there'll be lots of flowers about, for instance, and I'll want more pattern about.
"It's all about giving things a whirl. Let things move, let things shift. Just relax."
Further reading
Daydress on Instagram
Gabby Deeming on Instagram
Gabby's How to Style with Pattern and Colour course is available at Create Academy