All Rise: five baking accounts on Instagram to follow now
Inigo loves a meme as much as the next person, but sometimes we all just need a bit of sweetness and light on social media. From edible artworks to home cooks' creations, we've filtered our feed to find the confectioners putting a cherry on top of the scrolling experience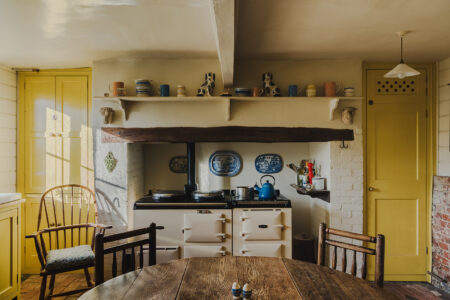 Food and fashion collide
We've bent the rules for Gabfoods. Founded as a paleo food-delivery service in Istanbul and now with an outpost in Madrid, it's not strictly a bakery, but having spent too much time salivating over its glorious pavlovas, plaited challah with butter candles (yup, you read that right), and lemon-meringue pies, we felt it deserved a spot on this list. Come for the cakes and bakes; stay for the soups and stews too – and all made with nutrition in mind.
We came across founder and chef Gabriela Palatchi Elhadef after she made some madcap marzipan cakes for a collaboration between Gucci Vaults, the fashion house's experimental concept store, and La Veste La Veste. Bold and bright and just a little bit wild, we've no doubt you'll agree they're utterly wonderful.
Let them eat cake!
How could we do a baking roundup and not mention Nez Beresford of Made By Nez, who made us our very own and supremely delicious birthday cake in celebration of one year of Inigo? London-based Nez, who is entirely self-taught, makes retro-looking bakes for parties and weddings, romantically ruffled with swirls and swags of icing that would make Marie Antoinette sigh.
Echoes of Delia Smith (remember the Rolling Stones' Let It Bleed album cover?) give Nez's creations a decidedly 1970s twist, updated with a more modern colour palette – though not without a nostalgic nod: lilac, pistachio, shell pink…
Having scrolled back a bit in her feed, we've learned we're in good company in Nez's fanclub: spot Romeo Beckham with a cake iced with his name. What very good taste he's got.
Trufflepig's treats
We're not only here for the pros. Our friend Genevieve Harris, or Mrs Trufflepig, whose house we visited earlier in the year, is a dab hand in the kitchen and rustles up sponges, tarts and biscuits on the reg.
While her perfectly imperfect bakes do make it to her feed, often prettified by petals from her gorgeous garden, keep an eye on her Instagram stories too, for a bit of behind-the-scenes action and a few recipes to boot. Having seen them, we've no doubt that when Genevieve says her mum's choc-chip cookies are legendary, she's telling the truth.
If in doubt, bake a cake
Head of the home-baking crew is surely Paula Sutton – aka Hill House Vintage. While we long to sample one of her delightfully airy sponges in her delightfully airy Georgian kitchen, we'll have to be satisfied by Paula's sumptuous pictures – and her sunny captions, which never fail to remind us that while cake won't fix everything, a sit down, a cup of tea and a slice of something nice often helps.
"Just scrolling through my camera roll," she writes, "and remembering that exciting, exhilarating, breathlessly happy feeling that I get before taking the first bite of a freshly baked cake… Just like having butterflies on a first date – only with a guaranteed happy ending!" We couldn't agree more.
Art you can eat
Watching cake designer Rustam Kungurov do his thing – as one half of Tortik Annushka – is like ASMR for the buttercream-inclined. The bakery's bio says it creates "wow-cakes to make the world a wow-place". And all we can say is, well, wow.
These goodies go beyond fondant fancies, stretching into the realms of iced innovation. This is cake as art: think spray-painted towers with Dalek-like spikes, and cakes made to look like letterboxes, tins of paint or blocks of unnervingly realistic terrazzo. We particularly like the sculptural, gravity-defying masterpieces inspired by the likes of Yayoi Kusama, Vincent van Gogh, Piet Mondrian and Andy Warhol.
Tortik Annushka's makes decorating seem a piece of cake, though we suspect it ain't as easy as it looks… There's only one way to find out: book on to one of its online courses and see for yourself. Piping bags at the ready.