Inspiration of the Week: the repurposed resplendence of a City gem
This exquisitely revamped apartment on London's Great Tower Street has a rich and varied history, having been a boardroom, a bank and now a two-bedroom home – and we think it's the biz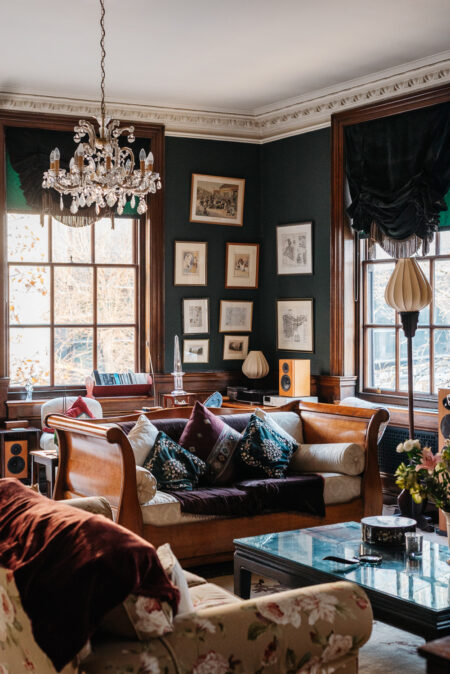 The City of London is a delightful, dizzying dichotomy. A thriving business district during the week, it's transformed when workers down tools on Friday night, becoming a peaceful urban enclave until the sun rises on Monday morning. The oldest part of the capital, it's home to Roman remains as well as soaring sleek skyscrapers. It defies definition.
Amid the metropolitan hotchpotch, the hallmarks of history persist; you just need to know where to look. This apartment is among them, a gem that glints all the brighter for its rarity. There aren't many homes like this – and now it's for sale. Opposite the Tower of London, within walking distance of the Barbican, the building in which it sits is a Medieval structure with a 1914 wing by Conran Blomfield. It brings a touch of early 20th-century swishness to the architectural patchwork of this part of town, with its Deco-ish fanlights and elegant arches.
Once inside, it seems surprising that the apartment's spacious rooms were conceived with anything other than comfortable city living in mind – yet these quarters once housed the chairman's office and boardroom for Christ's Hospital nearby and, in later years, formed part of a bank. A giveaway sign of its provenance, which has Inigo's heart aflutter, is the lamb – an emblem of the Christ's Hospital – carved into the master bedroom's marble fireplace. As any Almanac reader knows, we love a home that wears its past on its sleeve (or chimneypiece).
And while we can see why the generous proportions, glorious mouldings and fine panelling appealed to the paper pushers of the past, we're of the opinion that, as a beautifully bedecked home, this apartment has found its true calling. Now, sumptuous soft furnishings, squishy sofas and sparkling chandeliers have replaced desks, boring blinds and tellers' lamps – and we wouldn't have it any other way.