A Lesson in Craft: master restorer Greg Powlesland on his lifelong commitment to reusing and repairing
Inigo meets a man who has dedicated his life to the intricate restoration of neglected treasures, in scales ranging from Victorian sailing yachts to intricate Georgian architectural detailing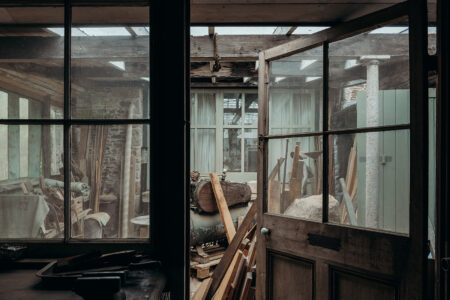 The patience of Greg Powlesland is outstanding – inhuman, even. Propped up in his workshop, a place filled with antique tools and paraphernalia from a life's work dedicated to restoring old boats, is a large antique mirror frame sourced at a local junkyard, half-covered in thick grey paint. The other half has had its paintwork painstakingly removed, chip by chip, by Greg with a small metal knife to reveal water-applied gilding.
The mirror is just one of the countless projects Greg works on in the evenings, when he's finished with his altogether larger project: a two-storey house for him and his wife, Inigo Guild member and Plain English founder Katie Fontana, on a hillside overlooking the Helford River in Cornwall. It's a project that's kept him occupied for the last six years, and is, in his own words, "A culmination of a life's work". He has poured everything into it, from the skills and techniques he's acquired over the years to materials he's been waiting decades to use – everything from local storm-fallen trees to parts of the Marigold, a Victorian yacht Greg restored to much acclaim in the 1990s.
Here, from his studio and workshop – themselves built by hand from reclaimed materials – Greg reflects on his life's work and considers why, for him, there is an inherent beauty in things that speak of time, craft and history.
"It all starts with drawing, because learning how to draw is learning how to see. And seeing what you observe is fundamental to everything. It's how you interpret the world. Drawing trains your awareness, opens you up to what's there.
"My father was an engineer and brilliant mathematician who was a wizard at doing unusual things, like crafting his own furniture or building us catamaran models. I grew up with the idea that doing work with your hands, or just taking something and getting on with it, is a way of life.
"I was born in London, but our family moved to the Essex coast, where the old fishing smacks took my interest. I went to Colchester to do a very intense drawing course, and then St. Martins and Chelsea to study sculpture and drawing.
"After art school, I was living in London. I saw a picture of the Golden Hinde replica, which had sailed up the Thames and was going to be based in the city for three months. I was interested, so went down to meet the captain, who liked my drawings and gave me a job as a rigger. We sailed to San Francisco, and I learnt all about traditional rigging. I became fascinated by historical vessels, which were once the lifeblood of this country, and I've sailed old boats ever since.
"Once I got to America, I spent time as a ship's carpenter on the square-rigger Balclutha at the San Francisco Maritime Museum. After that, I lived on the Yukon River with an Indian family and learnt how to make the Fort McPherson snowshoe. I then finally travelled north, spending time on Saint Lawerence Island off Siberia living with an Inuit family, before coming back to the UK to work as a design tutor at the John Makepeace School for Craftsmen in Wood at Parnham House.
"Perhaps my most famous project is the restoration of the 1892 Marigold, a 59ft Camper & Nicholsons-designed yacht found on the Isle of Wight in 1981. This project went from 1982 until approximately 1992. Since restoring Marigold, my wife and I have also taken on the restoration of a 1920s yacht, Patna.
"Restoring an old yacht, is very different from building a house, my current project here, which started six years ago. With a boat, if you've got all the original drawings and structural information, you are just recreating that.
"All these projects involved starting with drawings and working through the designs on paper, and many things were altered during the process – there was a lot of trial and error. But, in the case of the two boat projects I have worked on, when using the original designer's drawings, one is trying to reproduce a sense of accuracy to the original concept.
"With a drawing, one is able to see the design in the mind's eye. With a drawing in front of you and dimensions, you can then lay it out and ensure the plan works.
"With the kitchen in our house, for example, the first question is: where is the sunlight going to come in? And so you start with the openings in the building perhaps, and then work through the day, in both winter and summer. In the summer, the sun rises in the northeast and in the winter it's the southeast, so it's completely different. From there, you ask where are the windows going to be and how's that light going to play?
"If I am drawing it all out, I can imagine what it's like, as anyone can who's a designer. So that's where it starts. And proportions come from nature: people, animals, trees. That sense of proportion and scale is something the Georgians had down to a tee, but has been completely lost now. You'll look at a lot of contemporary concrete block, pebbledash houses in Cornwall, with big flat walls and plastic windows and there's no sense of any cohesion. It just looks completely arbitrary and random and doesn't fit into anything.
"Perhaps my biggest preoccupation is the aesthetics of the house. I want it to feel as if it's landed naturally in the landscape, so that it doesn't look like it's out of place. And inside the building, I want the interiors to work with the light and the use of the building, so every detail is considered.
"The house has become a companion, really, because it's taken so much time and thought, and not just through the work. I have gathered materials, bits and pieces, for years. I tend to buy things which are wonderful but have been damaged, like fallen trees, and then give them a new life.
"I try to avoid plastics at all costs. I just don't like the material because it's out of kilter with the natural world. There are so many stages to get to plastic that defy nature. It's completely waterproof and breaks down over thousands of years into tiny molecules which go everywhere. And it comes from fuel, the very thing destroying the world.
"It's a shame because it is an amazing material in some ways, especially in medical contexts. That's what I think we need to use it for, and we need to revere it, not use it once and throw it away.
"I find that natural materials have a sort of internal harmony, and they are crying out to be reused. Take the wooden stem from the Marigold, for example, put in place in 1892. As a structural piece of wood on a ship, it's useless, but I've used it instead to support a fireplace in the house, and it's more than good enough for that. And now it carries its character, built upon over hundreds of years, in a new context, and that's a beautiful thing."