A Night Away: the fairytale escapism of House of Hackney's guesthouse at the centuries-old Trematon Castle in Cornwall
An 11th-century Norman castle, Georgian manor house and verdant, sub-tropical gardens comprise the storybook-like setting for a magical weekend away at Trematon Castle
Words

Cici Peng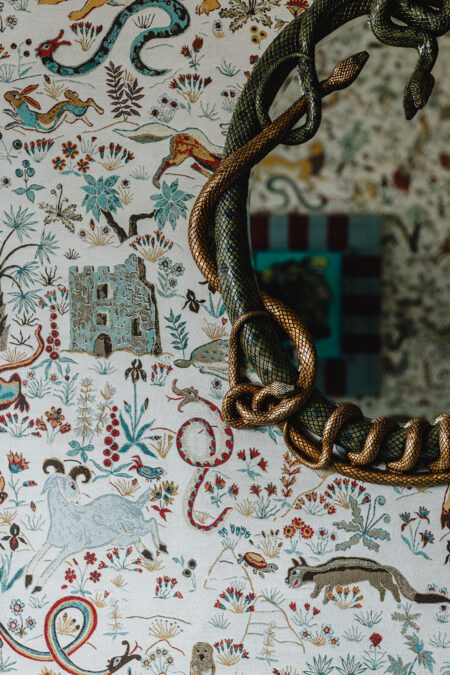 This summer, we are all itching to replace the monotony of lockdown with a renewed sense of magic in the everyday. On the grounds of Trematon Castle, an 11th-century motte-and-bailey keep, nine acres of meandering gardens and a Georgian manor house with lush, anachronistic interiors make for a fairytale-like escape. Here, we pay a visit to the castle's current custodians, House of Hackney's couple-founders Frieda Gormley and Javvy M Royle, who are opening up the house as a B&B for select dates this summer.
The picture-perfect Norman castle, the sort that a child might draw, was built in 1068 by Robert, Count of Mortain, to preserve the powers of William the Conqueror following his victory at the Battle of Hastings. From being bestowed to Edward the Black Prince in 1337, to stashing looted treasure for Elizabeth I, the castle has a long and colourful history. In 1807, the Duchy of Cornwall (who have owned the estate since 1337) granted a lease and permission to build a house to naval man Benjamin Tucker – as well as a swimming pool and an Indian-inspired pavilion in 1812. Sitting at the heart of the castle's courtyard, the sprawling nine-bedroom Georgian house complements the image of the castle ruins with a grand neo-classical counterpart. Higher Lodge, as the house is called, was designed by Tucker, himself an avid follower of Sir John Soane, the esteemed British architect known for his imaginative reconsiderations of neo-classical architecture.
Since Frieda and Javvy have become Trematon Castle's guardians, the interiors of the house have been extensively redesigned with the signature playfulness of the east London-based brand, known for their vibrant Victorian-inflected wallpapers and fabrics. Before opening the studio, the duo brought House of Hackney to life in their family home, using their private space as a showroom for their early collections. At Trematon, the duo once again brings their creative vision to life through domestic space – only this time at their very own "huge dollhouse", as Frieda likes to call it.
The pair transformed the Georgian bones of Higher Lodge with a whimsical flair, an irreverent amalgamation of traditional and modern. As Frieda says, "For us, there are no rules to interior design. We were really exploring the playful possibilities of juxtaposition, taking a traditional British aesthetic and mixing it with modern art, for example. Who says you can't hang art on wallpaper?!"
The result is a riot of pattern, print, antiques and curiosities, all sourced from House of Hackney's own library of designs, or from a roster of British brands that champion traditional techniques – like the Royal-warranted Titchmarsh & Goodwin, furniture makers who made the four-poster beds for each room. The fairytale theme plays out throughout the design, as in the castellated curtain pelmets throughout the house. And there is even a happy ending to be had – everything you see, minus the odd antique, is for sale, meaning guests can take a little piece of Trematon home with them.
"Trematon is very much a fairytale setting," says Frieda. "We wanted to draw on our sense of playfulness yet simultaneously respect the aesthetic surroundings of the house". The couple initially fell in love with Trematon after a chance visit to the Edenic gardens – formerly tended to by renowned landscape designers Julian and Isabel Bannerman – on a family holiday. Composed of a colour palette of varying greens, browns and earthy reds, the interiors draw inspiration from the foliage and flowers which surround the estate. Here, art not only imitates nature but dances with the verdant surroundings in perfect harmony.
Wandering through the palm-dotted gardens, we can't help but feel a sense of rejuvenation, held in the embrace of the natural world. Ensconced within romantic meadows and 11th-century ruins, time seems to stand still. Frieda says, "We want to restore people. We see people arrive exhausted, then leave with a new lease of life". And that, in itself, is a special kind of magic.
Further Reading
Castle Trematon is open until 22 August – book via the House of Hackney website
House of Hackney on Instagram
0