A Room of One's Own: how parties and changing paint colours have shaped Ben Spicer and Scott Mellis' sitting room
Inigo talks to the couple, who have lived in the same flat for two decades, about how history hangs in the air and adds to the aura of their favourite room
Photography

Kensington Leverne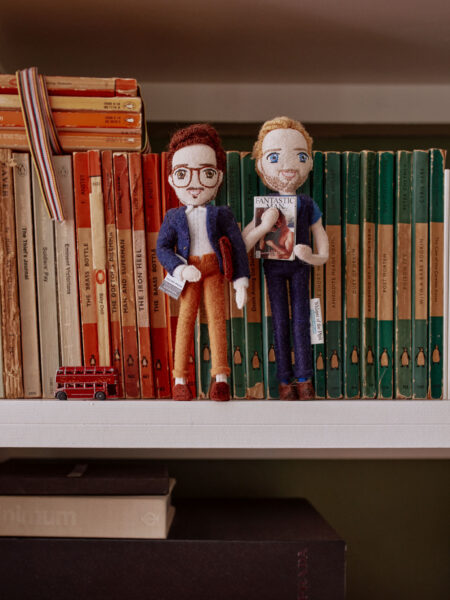 Talent and brand consultant Ben Spicer and his husband, Scott Mellis, international head of menswear at Helmut Lang, have lived in their split-level flat in Leytonstone for 20 years. Over this time their home has, in many ways, changed and grown up as they have. Nowhere is this more apparent than in their sitting room, the focal point – and largest room – of their bijou apartment.
The riotous knees-ups of years gone by have been replaced with dinner parties around the antique table, or evenings in with Dora the diminutive dachshund puppy. Today, it's a calm space, the walls painted in a soothing shade of green. That's not to say that it's devoid of pizzazz, however. Displaying some of the couple's most treasured objects and artworks, the room and its contents feels sentimental but never mawkish, thanks to the pair's (unsurprisingly) discerning tastes. There's humour and a touch of kitsch too – spot the Blythe doll and the Tom of Finland ephemera.
Over the course of their conversation with Inigo, it became clear that such a stretch of time spent living in one place had imparted some lessons upon the couple, namely that bigger doesn't always mean better, owning fewer things with more meaning pays off – and that itchy feet can sometimes be cured by a rejuvenating paint job.
Scott: "We'd lived in the area for a while before we moved in, in 2001, but this was always the street we wanted to live on. We've since thought about moving, maybe three or four times, but in the end we've just redecorated."
Ben: "There's definitely something about the house that keeps us here. It's weird. We've tried to move, but it's never really worked out. It's almost a blessing in disguise that we haven't craved more space. It's not a big flat, but there's just us two and the dog and it's all we need. The community in the area, which has really changed in the last few years, is really sweet. We've grown fond of the place. I'm not sure we would have said that 15 years ago!
"The changes that we've made have all been fairly cosmetic – when you put a new lick of paint on, it really feels quite cleansing. We hate to be cliché, but it's Farrow & Ball – it's called 'Calke Green'. We tried 20 different shades and that was the nicest one."
Scott: "It's really warm. I love it. It has totally transformed this room. Before, it was very grey; before that, we had wallpaper at one end, back when feature wallpaper was a real thing. I remember it cost us a fortune just to do one wall. It was black with a matte black pattern on top. I would hate it now! It was very dated."
Ben: "This room has seen everything – we've lived here for so long. We've had massive house parties in here… I worked in here for six years… Scott's working in here now. It's a room for every occasion, really, which is nice, and it kind of serves the purpose for every occasion.
Ben: "I think one thing to say of this space is that we're always playing with it – not trying too hard, but constantly moving things around, adding artwork that we like, replacing pictures. I feel like it's a space where we can really portray ourselves and our personalities; what our interests are at a particular time. And our pasts, as well. There are things in here that really sum up our past as a couple and as individuals. It's a place for us to be who we want to be."
Scott: "It has so much character. One nice thing that has happened over the last year is that we had a real clear-out. It's been really cathartic to get rid of things, like all the magazines I'd hoarded – fashion, interiors. It was such a great thing – it felt like something had been lifted. It was a fresh start."
Ben: "The pictures in here don't constantly move, but I do constantly think about moving them: how we could do it, what I might have forgotten about, things I haven't had framed yet. I used to work in the art world, first for Marc Quinn and then for Sam Taylor-Johnson, and fortunately, I've got some really nice pieces; some I bought and some I was lucky enough to be given. One of my favourites is a painting we commissioned – something we'd been meaning to do since we got married in 2016. It's by Lisa Maria Ortiz. She's relatively unknown, but we fell in love with a picture of hers that we saw in the RA. It was a one-off, so we commissioned her to make us a piece. It's quite refreshing to have something newer in here."
Scott: "I like the leather armchair. It was a present from my mum and dad for my 30th birthday. Our old dog chewed the bottom and we haven't had it fixed. I think that's one of my favourite pieces."
Ben: "We buy things because we like them, not because we're trend-led. Sometimes the two things cross over accidentally, but it's more to do with what we're feeling at the time. I'm quite driven by my mood – and my mood often changes. I think it's probably a godsend we live in such a small flat. If we had a big house it would be full of stuff and we'd never have any money, because we'd spend it all on art."
Scott: "Occasionally we buy things on a whim, but generally we really think about what we're buying and about whether it will work in the space. It's really quite relaxed in here – it's not contrived in any way. And now we've stripped it back, it means you can actually enjoy what's here."
Ben: "It's got everything we want in here. Before, we had lots of nice things, but we had everything in here. Some things were hidden or forgotten. It's definitely changed as we've got older."