For the Library: rarely seen architectural drawings from Soane's collection confound and delight
A new book by Frances Sands explores some of the most beautiful and important works from a vital but often overlooked discipline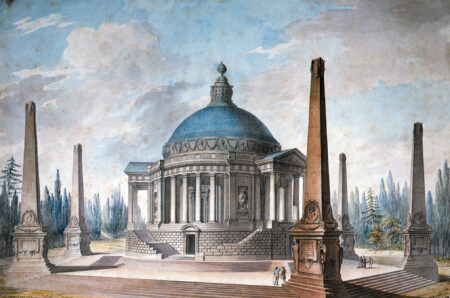 Though few of the buildings designed by Sir John Soane have survived, the visionary architect shaped a legacy that managed to both innovate and respect the architectural principles of the day. In those that do remain – the Dulwich Picture Gallery, or his country house, Pitzhanger Manor – it is still possible to experience his typically inventive use of light and space.
His London house, in Lincoln's Inn Fields, which he restlessly remodelled during his lifetime, was preserved as a museum after his death in 1837. It is now home to the cornucopia of art, artefacts and architectural curiosities that he amassed throughout his life. An important but little-known part of the collection are some 30,000 architectural drawings. Often too fragile to be exhibited, these intricate, exquisitely rendered works were produced by a number of different artists and architects as lifelike evocations of proposed designs, records of projects for archives, or intellectual exercises. In a new book published by Batsford, Dr Frances Sands, the curator of drawings and books at the museum, seeks to foreground these drawings as beautiful works of art that, as well as offering an insight into Soane's practice and influences, are exemplars of a very particular artistic discipline.
Many works in the collection, such as the progress drawings of the Dulwich Picture Gallery during its construction, were made by Soane's pupils when they were set as exercises. Great architectural drawings, best demonstrated by Soane's long-term collaborator Joseph Michael Gandy, combined artistry with architectural vision and involved interpreting plans and sketches to create expressive scenes to appeal to clients. In Gandy's view of the interior of the transfer office at the Bank of England, for example, sunlight falls through the rotunda onto busy staff below. It feels more like it was drawn from life, rather than Soane's plans.
However, some of the most intriguing works in this book are those depicting imaginary places; for instance, some show two buildings, in reality hundreds of miles apart, side by side. There are fantastical Piranesi-inspired capriccios by Soane's contemporary Robert Adam. In the same spirit is a work showing Soane's designs for the Bank of England in ruins, using crumbling walls and collapsed vaults to reveal intricate details, evoking the Classical ruins so romanticised at the time.
The conjuring of new worlds in accurate scale is remarkable. In the book's section on the drawings Soane commissioned for lectures at the Royal Academy, there are comparative elevations showing St Peter's Basilica in the Vatican with London's St Paul's Cathedral, in which Michelangelo's vast dome towers over Wren's. In one particularly powerful work, Stonehenge is shown from above, lit by ghostly moonlight. The perspective is intended to demonstrate the organisation and orientation of the stones, but the drawing's greatest achievement is that it imagines a bird's-eye view some time before anyone could have possibly seen it from this angle.
As well as work by Soane and his students, the collection includes drawings by Wren, Hawksmoor, Vanbrugh, Nash and Reynolds. Soane is presented as a humble enthusiast, collecting the work of his contemporaries with a wide-eyed appreciation that belies his prominent position among them. One of the first comprehensive collections of architectural drawings in the world, it remains a unique resource, both of the draughtsman who made them and of architectural history as a whole.
All images © Sir John Soane's Museum
Further reading
Architectural Drawings: Hidden Masterpieces from Sir John Soane's Museum, by Frances Sand, is published by Batsford