A Place Like No Other: tales of the unexpected at Derek Hill's house in Donegal
Eccentric, exacting and exceedingly well connected, the artist had an eye not just for a bargain, but for undiscovered talent too. As comfortable with friends like Greta Garbo as he was the fishermen-painters he met on his travels, Hill created a home of similarly vibrant variation. Wandering its rooms, his great nephew (and Inigo co-founder) paints a picture of an adventurous aesthete and artistic advocate
Words

Albert Hill

Photograph

Elyse Kennedy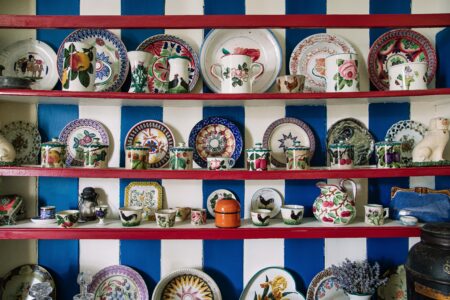 I have travelled from London to the banks of Lough Gartan in Ireland, to visit a house that I may or may not have been to before.
Glebe House, an elegant 19th-century rectory in rural Donegal, belonged to my great uncle, the artist Derek Hill. He donated it to the Irish people in 1981 and it has been open to the public ever since. In the entrance hall, painted a dazzling electric blue to match the Chinese scrolls hung on the wall, I flick through the visitors' book to see if there's any evidence that I may have stayed as a child. I can only find the signatures of Derek's starry friends – actress Greta Garbo, poet Seamus Heaney, former Irish president Mary Robinson ­– alongside the endearing teenage scrawls of my (now elderly) relatives.
Even if my memories of the house are unreliable, I remember the owner of the home well. Derek was described by his biographer, Bruce Arnold, as "a benevolent, greedy, jolly giant of genius", and I certainly recall a large, charismatic man, always in handmade Donegal tweed suits with soup-stained ties.
Some of Derek's tweed suits (alongside a natty crushed-velvet Dior number from his younger days) still hang in one of the bedrooms at Glebe House, which has been kept largely as he left it – although slightly tidier. The sense of artful chaos still pervades, however, and what is perhaps most thrilling about the house is the lack of logic to the collections and the charming incoherence of the interior scheme. High Victoriana sits alongside Bauhaus detailing, museum-quality glass alongside boot-sale chintz, Islamic tiles alongside Irish art. Everything bears testament to Derek's life as a geographic and intellectual rover.
Born in Hampshire in 1916, Derek first came to Donegal in 1952. He fell in love with the wild, deep green of the landscape and spotted a house on the market that had once been a small hotel but was now abandoned. Too small to be run as a productive farm but too large for most local buyers, the property was still unsold and unoccupied when Derek visited again in 1954. Always drawn to a bargain, he bought it for a knock-down price of £1,000 and set about restoring the house with the help of his brother (and my grandfather), the interior designer John Hill.
My father, who would have been about 10 years old at the time, remembers visiting and listening to squabbles between Derek (who had trained as a set designer so had strong ideas of his own) and John about details such as the particular shade of lilac to be used for the fireplace. Today, the remarkable original paint schemes are still in place (strong, dark colours for the rooms on the gloomier side of the house and paler hues for the brighter ones), but perhaps more even impressive are the wallpapers.
John, at the forefront of a revival of interest in the designer William Morris, had been diligently acquiring original 19th-century Morris fabrics and wallpaper; this home is one of very few left where one can find originals on the walls. In Derek's study, it is particularly extraordinary to see the sweeping arboreal motifs of 'Blackthorn' not just around you but above, all across the ceiling. It made Derek, sitting at his desk, feel like he was under a large tree.
His love of a bargain is in evidence throughout. The four Edwin Landseer paintings that hang in the dining room were bought when Abstract Expressionism was in vogue, so were picked up for a song. The exquisite 18th-century Italian inlaid table in the same room cost a fiver from a Belfast market (the top didn't match the base). Many of the more distinctive elements of his home were bought from local house clearances, including an extraordinary Italianate balcony, now on the western side of the house, that once adorned a much grander mansion in County Monaghan.
Perhaps my favourite room, the kitchen, has none of these ostentatious flourishes however – unless you count the primary-coloured pipes, inspired by Derek's interest in the Bauhaus. This was the domain of Gracie McDermott, Derek's live-in helper, known in my family as a legendary cook. It seems that we were not the only ones that adored her food, though; on my recent visit I learn that Seamus Heaney published poems about Gracie's meals, and Elizabeth David spent more time with Gracie than with Derek when she visited. Vogue even published some of her recipes.
Derek's portrait of Gracie now hangs in the kitchen alongside the exuberant work of the Toraigh Island Painters. Derek's discovery and promotion of these artists is one of his most enduring legacies – and a principal reason behind Ireland granting him honorary citizenship in 1999.
The story of how Derek met James Dixon, the most celebrated of the Toraigh Island Painters, is a good one. Derek had been travelling by train in Ireland when he started talking to the lighthouse keeper of a tiny, rugged island off the coast of Donegal called Toraigh (or Tory in English). Derek, coming true on his promise to visit the island was so inspired he would return every year to paint, weighed down with Gracie's cakes and roses from his garden to trade for fish and eggs.
On one of his annual trips, Derek was approached by a local fisherman who stood looking at his work. Derek asked him what he thought; the fisherman declared himself unimpressed, saying that he thought could paint Toraigh rather better than any Englishman.
He wasn't wrong. James Dixon's powerful depictions of the land- and seascapes he'd known all his life were magnificent. With Derek's support and connections they were soon exhibited worldwide, inspiring other fishermen on Toraigh to take up painting too, using brushes made on the island using hair from donkey's tails. A movement was born.
Such are the stories that come tumbling out of Glebe House (others include Yehudi Menuhin joining a local ceilidh, and Ian Fleming spending a snow-bound Christmas here, writing Diamonds Are Forever). I soon cease to care if I've been here before. All I know is that I'll certainly come again.
Further reading
Glebe House and Gallery is open to the public. For details, visit its website