A Maker's Story: the fiery beauty of Jess Wheeler's forged foliage
This young metalworker is on the make – in all senses. Her lustrous lighting designs, inspired by the leaves and other natural treasures she finds when out and about, have caught the eye of the cognoscenti, John Derian among others. We take a trip to her Welsh workshop to hear how her career is hotting up
Words

Sophie Barling

Photography

Ellen Hancock

Production

Harry Cave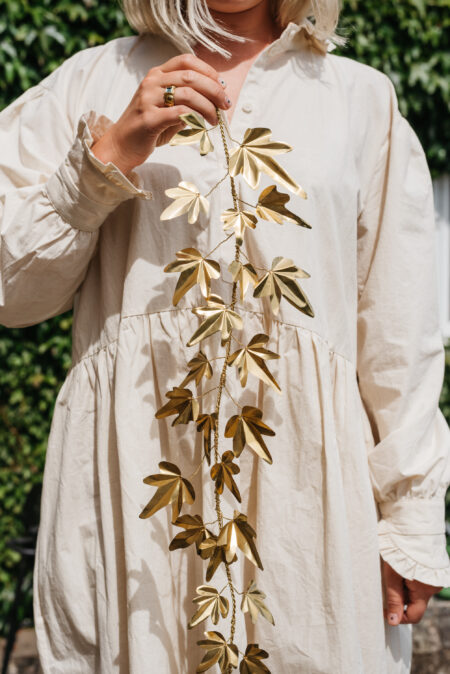 Driving west from the Shropshire town of Oswestry, you hardly need the sign that says 'Welcome to Wales' to tell you you've crossed the border. The landscape changes immediately and dramatically, announcing the beginnings of the Berwyn mountains, which run, further west, into Snowdonia.
Jess Wheeler has lived and worked in these lush green foothills since March 2020 when, with her career as a fashion set designer stalled by You Know What, she and her composer boyfriend, Benjamin Baker, accelerated their planned move here from London. "It was a great time to do it because no one was doing anything anyway," Jess says, "so we just knuckled down and made some work."
In Jess's case, that was metalwork – "an itch I'd wanted to scratch for a long time but I'd never had the space or time to do it". With the help of one of their newly made local friends, Stan Jankowski – "a sculptor who works a couple of valleys along" – she learned to weld, specifically to make herself an oak-leaf wall sconce for the house. That first creation, in steel, hangs on the stone wall of the couple's conservatory. "I was going to paint it," Jess explains, "but I thought I could try making it in a nicer metal." Fast-forward just a couple of years and her brass versions of the delicate-leafed fitting are now being stocked by découpage doyen John Derian ("the absolute dream"). At the time of our visit, Jess is also about to record an online course for Create Academy, on how to make botanical art with sheet metal and wire.
Walking out to her workshop among centuries-old outbuildings at the back of the house, Jess points to the nearby peak of Gyrn Moelfre, which starred in the 1995 film The Englishman Who Went Up a Hill but Came Down a Mountain, starring Hugh Grant. "You're always looking at the landscape here," says Jess, "and I spend lots of time walking, putting interesting objects into my pocket, then bringing them back and working out how to turn a really delicate thing that is going to wilt in a few hours into something that lasts forever." Inside, a constellation of dried oak leaves has been pinned to the wall above a worktable busy with the accoutrements of her craft (solder, brass sheets, wire, soldering torch). The leaves come from an ancient oak near the house and provided the template for the forms of her sconces.
On the (slightly) less wild side, the kitchen garden has served up inspiration for her latest project: a limited series of bronze uplighters cast from the leaves of a savoy cabbage, a fig tree and some rhubarb. Re-examining the first finished savoy cast – deliciously weighty, vein-glorious in its detail – Jess explains its genesis, and what it is about metalwork that gets her so fired up.
"The cabbage sconce has been cast in bronze using the lost-wax process at a local Welsh foundry. It's an incredibly ancient and time-consuming procedure, but the detail you can get is unparalleled. I did a week of work experience there and learned how to do it; it's such an interesting technique and the detail you can get is amazing. It's been a funny process, designing these objects, because I've been waiting for things to grow to a certain size and to pop up from the vegetable garden. They're burnished; I use a patina chemical to make it very dark and then a dremel – a rotating drill-type tool – with a brush at the end, which removes the patina on the veins so they're highlighted. I quite like the darkness of it against the brighter bits. I've kept it quite raw, too – you can see the blobs of wax – because I actually really like the wobbliness of it. You just want to touch it, don't you?
"I think my work occupies an interesting space, because I'm somewhere between an artist and a homeware designer: everything that comes out of my workshop is unique, the way that all my leaves are different and arranged differently on my candle sconces. No one would ever have two of the same thing.
"I studied illustration in Edinburgh, but I've always made stuff, which translated well into the set design and floristry that I did before I moved to Wales, because I was always interested in materiality and how things work. As a florist, I was known for making botanical sculptures and designing catwalks through meadows; I loved the making and the building, working out how, for instance, a huge cloud of euphorbia could hang from the ceiling.
"I also made lots of things with wood and wire, which is why I wanted to learn how to weld. It's such a juicy process, all the flames and the extremeness of the whole thing: you get things really hot, they melt and stick together – and then they're bound forever. Welding is something that people don't really associate with art, more with farriers and practical, hefty things, so it's extra satisfying to use this incredibly dynamic process to make delicate stuff.
"I use silver solder, which normally you'd use for making jewellery; it's expensive, but I find it's the best way to get a really delicate join. And it's really strong. I like the idea of making things that will last forever and that people will hand down; something that's more than a quick purchase. That's why I use pure silver. Some people think it's bonkers, but I'd rather know that what I'm making and selling is the best that it could be."
Further reading
Jess Wheeler on Instagram
Jess' bronze cabbage, rhubarb and fig-leaf lights will be on display at 2 Blenheim Crescent, London W11 from 27 September to 2 October
Her Create Academy course, Making Botanical Art with Metal, is coming soon