A Night Away: at the Star in Alfriston – a champagne supernova in East Sussex
Mother-and-daughter hoteliers Olga and Alex Polizzi have transformed an ancient coaching inn into a hotel of stellar style and comfort. We're in heaven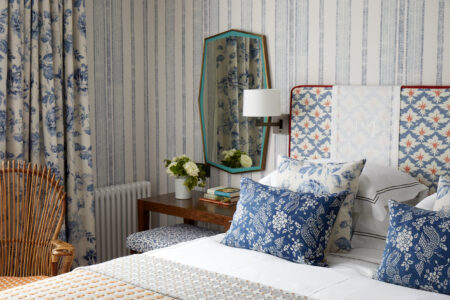 Sometimes, when you're spending a night away, you want to feel at home. You want to know you can help yourself or curl up on the sofa, that you're part of the family. Such B&B-style bonhomie is, of course, completely delightful (in fact, it's what we're often in search of for this particular series). But sometimes, when you're world-weary and feeling frayed, you want to stay in a hotel – a proper bells-and-whistles establishment, with waistcoated waiters to pour your water, with room service and fluffy dressing gowns. For times like this, when a true treat is called for, there's the Star, a 15th-century tavern recently transformed by Olga and Alex Polizzi on Alfriston's Medieval high street, in the bosom of the South Downs.
It's been raining stair rods on the day of Inigo's visit, making the thought of a turned-down duvet all the more appealing. Edward, one of the Star's general managers, rings us to warn of flooding on the roads, in case we want to replot our route. Such thoughtfulness, it seems, is par for the course here; in our bedroom, a notecard bids us to call down for a complimentary glass of champagne. It would be churlish not to make the most of such a gesture; besides, we've time to kill while the bathtub runs before dinner.
Flick through the literature left in every room and you'll be left with the impression that those running the Star really do want you to have a good time. There are leaflets filled with lovely things to do (walking in the Downs, opera at Glyndebourne) and ideas to make them even better (picnic baskets and dinner hampers). Downstairs, on your way to breakfast, you'll note serried ranks of bottle-green wellies in every size, hooks hung with hooded cagoules, and alcoves stuffed with sun hats and water bowls (dogs are warmly welcomed here, even in bedrooms). Even if you don't fancy a yomp around the Cuckmere Valley, there are striped blankets to swaddle yourself in – perfect for when the wind blows across the Italianate terrace.
Each of the Star's 30 rooms is a variation on a theme – one of comfort, texture and quiet opulence. Every one is individual, but all share the same sensibilities; lavish textiles, stacks of books, a mix of mid-century design pieces and polished brown antiques, and some very good paintings, largely modern British in flavour and superior to most hotels' framed fare. In Inigo's room, Bloomsbury-ish nude stood quietly over the tub – a gentle reminder that the delights of Charleston, Berwick Church and Rodmell are just down the road.
Such consideration is unlikely to be subconscious. Olga Polizzi – daughter of hotel mogul Charles Forte – knows a thing or two about kitting out rooms. Alex, her own daughter, is similarly well-versed ("Like mother, like daughter," the Star's other general manager, Sergio, explains on our tour); she's even made a television career of it, as Channel 5's The Hotel Inspector. Together the Polizzi pair now run a coterie of three equally classy concerns: Tresanton, in the Cornish town of St Mawes; Endsleigh, wrapped in a Humphrey Repton-designed garden in Devon; and now this, a timber-framed merchant's house turned pilgrim's tavern, which – in a quirk of fate – used to be owned by Forte.
The duo's extensive renovation (they bought the Star in 2019) have seen the place transformed. In the 1960s wing, spaces have been knocked through to form generous suites, while in the original beamed building (mind your heads), Medieval magic meets modish touches in the Heritage Room – windows and early oak furniture, free-standing tubs and prettily patterned fabrics. Lots of items here are one-offs, many bought locally. (Incidentally, if you've an empty morning while here, wander over to Emmett & White's antique shop, on the other side of the street, before getting lost a while among the stacked shelves of Much Ado Books, a shop of uncommon charm with a splendid selection of new and second-hand tomes).
Speaking of local legends, the menu at the Star makes a big deal of provenance. Head chef Tim Kensett prepares ingredients from local dairies, farms and smokeries – all namechecked, most within the county's borders – with gentle Mediterranean flavours at the fore, doubtlessly inspired by his training at the River Cafe. For us, supper took the shape of seared scallops with aubergine; linguine with clams and mussels; and tiramisu, extravagantly pillow-like.
There's only one place to go after such indulgence: bed. Those at the Star are sumptuous, huge and ridiculously comfortable. That climbing beneath the covers – something we do every day – should feel quite so extraordinary is testament to the Star's sensibilities. A night here is nothing like home – and it's all the better for it.
Further reading
The Star on Instagram