A Home with a History: how a twist of fate – and a change of scenery – transformed Alexandra Tolstoy's life and work
Evicted from her home, the adventurer and founder of The Tolstoy Edit needed somewhere for her family – and fast. Turning a run-down rental in Battersea into a haven of handsome objects inspired by her heritage has, she says, opened more doors than she could have imagined
Words

Charlotte Evans

Photography

Chris Horwood

Production

Harry Cave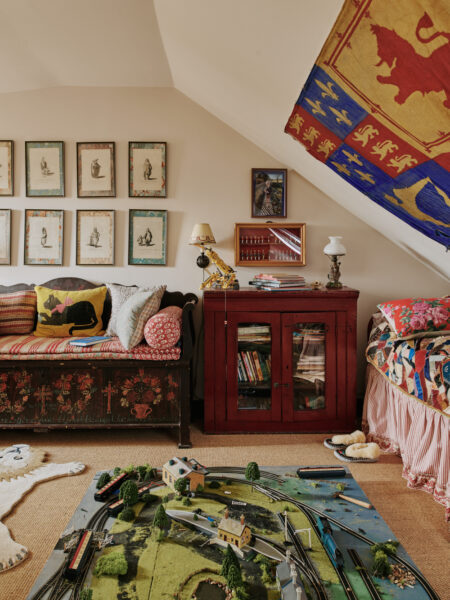 Just as Lucy Pevensie presses deeper into the wardrobe and finds herself enveloped in the magic of Narnia, so the unwitting visitor feels they are transported upon entering the London home of British equine adventurer Alexandra Tolstoy.
This street of Victorian red-brick houses in Battersea is an inconspicuous front cover to an unexpected argosy of stories. Influenced by her travels across Central Asia, her Russian heritage and that inimitable stamp that only three young children can leave on a person, Alexandra's home is – like her – both resourceful and remarkable. In the time since she's been here, it's become not just a family home, but a backdrop to her business, The Tolstoy Edit, through which she sells antiques and collaborates with designers on collections. Earlier in 2021, her website also launched a design raffle that raised more than £30,000 for the Red Cross working in Ukraine.
Her arrival at this house, however, was rather less enchanting. Alexandra, who had split from her partner was evicted from her home by the Russian government during lockdown and was given just a few fraught weeks to find somewhere new to live. Needing to be near her children's schools, so as not to disrupt them further, it didn't take long to narrow down her rental options.
Here, in just 10 days, Alexandra turned sorry student dig into a warm and comfortable home for her family. Her love of colour, texture and pattern is apparent at every turn. A bold Kyrgyz shyrdak rug, picked up on her travels, sits happily among a chorus of antique fabrics, carefully crafted Orthodox icons and folk art. Family portraits, an antique sheep and a Hornby train set chime joyfully.
This home is undoubtedly a magical one, full of warmth and worldliness. But above all, as in the stories of Narnia, it is a place to escape to in difficult times.
"Our eviction was very sudden. It happened during the first lockdown in 2020, so I had little time in which to move and my options were quite limited. That said, having too much to choose from can be overwhelming. I always remember when I did an exchange with a Russian boy aged 18; he fainted when he first went to a supermarket in the UK because of the sheer amount of choice. I feel so lucky because there was only one house I could afford and it was in the perfect area.
"It was in a terrible state, having been rented by students. I needed to relocate urgently, so negotiated a quick move-in with the landlord in return for funding towards the redecoration. They agreed and it meant I was able to choose exactly what I wanted, so it all seemed to work in my favour.
"I never had a whole vision of what I would do to the house as I'm very spontaneous and make decisions quickly. The first things I chose were the colours. My friend Emma Burns, a decorator at Sibyl Colefax & John Fowler, put me on to a wonderful, unusual paint called 'Pimlico Green'. Inspired by another house I'd looked at, I paired it with an almost black, which I used on all the woodwork. All the antiques I have work so well with this background. From there, the interiors just grew organically. Some people ask me if I would ever want to be a decorator. I would never, because I'm not good at envisaging an end result. This place is still evolving.
"I was fortunate that the house is brilliantly designed – a typical Victorian townhouse. One of the bedrooms had been made into another bathroom some years ago, so I have a wonderful, big en-suite. I had to make some changes, including ripping out an awful walk-in shower, but otherwise everything about the house was structurally perfect – the layout was a dream. It was ideal for me as I'm not really into tearing down walls. The cosmetic work is much more satisfying. And we did it all in just 10 days.
"The house has tall ceilings, generous rooms, beautiful cornicing and Arts and Crafts tiles around the fireplaces, all in the earthy colours that I love. Underneath the laminate flooring in the kitchen were original wooden floorboards. We swapped the Ikea kitchen for antique freestanding furniture and a second-hand Aga. In the bathrooms I put in some Topps tiles – they're really sweet and simple. It has been satisfying turning revolting bathrooms into lovely, clean spaces.
"My children lost their home unexpectedly, so I was keen to create new rooms just for them. They're getting older now and sometimes say things like: 'Why does our house not look like other people's?' I tell them it's good to be different! When they come home after school, I know they are happy. One of my sons is very creative and loves making things. He has the little room in the attic and can just escape into a world of his own.
"My favourite room is my bedroom. I used to be a terrible sleeper until I moved here. I lie with my head against the window – it's very bright and in spring there's a beautiful tree that blossoms outside. It feels so open and light. I also have that absolutely lovely en-suite. I don't think I've ever had such a gorgeous free-flowing bathroom. If I had more time, I would probably sit in there reading.
"I bought the most personal things from our old home with me and, during lockdown, I started an antiques business called The Tolstoy Edit, focusing on painted Eastern European furniture and textiles from places I've travelled. The house became the perfect space to showcase all these things. In every room I've put something I've sourced through my business.
"Even though I wasn't brought up speaking the language or having much to do with the country, my family is Russian and I used to feel at home there. These days, sadly I don't, though I am now fluent in Russian, which is enormously helpful for my work. Russia is a dichotomy of big cities and wilder rural areas. I have travelled round these places on horseback and met the amazing, resourceful people who live there. They find beauty in simple things – it's quite a contrast to the more artificial ways of decorating we're used to.
"Since I've lived here, I've bought lots of 19th-century Russian plates, originally made for the Central Asian market. They are so modern and exotic. Robert Kime had some and I always admired his, so I was delighted to find some of my own, which now live on the wall in my bedroom. They are not just beautiful but they come from a special place, so they carry a lot of memories.
"My main business is a travel company, Alexandra Tolstoy Travel. I take people riding in Kyrgyzstan. But I feel like moving house has given me so many other opportunities too. It's an important backdrop to my antiques business, something that has, in turn, has led to some lovely collaborations. I've recently designed an armchair for Love Your Home – I used an antique Russian fabric for the loose cover – and it would never have happened if I hadn't been living here. I also recently collaborated with Brora on a range of knitwear.
"To be happy, I think it's crucial that your whole life is harmonious, and you are not living in a different way to your work. I often hold meetings here and when I get asked to talk about Russia and Ukraine for TV, they always ask to film me in my home. It has become this wonderful, happy backdrop for my life and work."
Further Reading
Alexandra on Instagram